Start Summer Early with a Trip to Aquatopia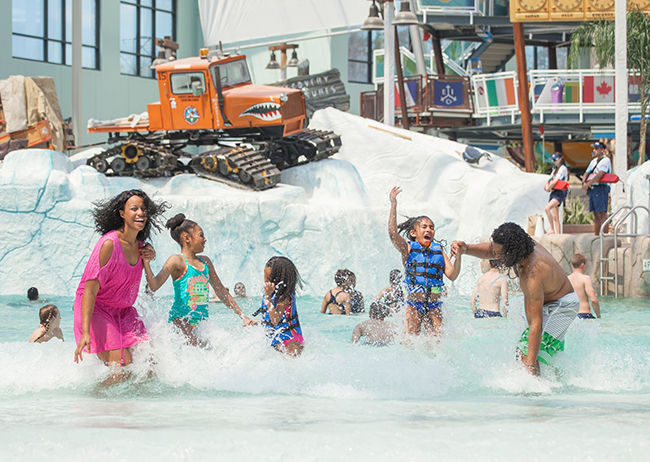 By Sandra Mardenfeld
Can't wait for summer to arrive? This spring get a head start on splashing at the pool with a trip to Camelback Resort's year-old indoor waterpark, Aquatopia, the biggest one in the Northeast. Voted Best Indoor Water Park 2015 by USA Today Readers' Choice Awards, it features 13 water slides, seven pools, a wave pool, a Bombora FlowRider and a myriad of other aquatic delights.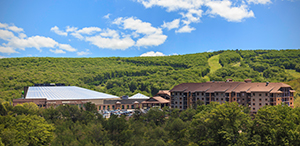 Located in Pennsylvania's Pocono Mountains, just 10 miles west of the Delaware Water Gap and a few minutes off of Interstate 80, the $163 million resort project opened last May. The waterpark's special transparent roof allows visitors to bask in the sunshine from inside—which is always 84-degrees—so, entering the park feels like a vacation.
Aquatopia is one of two waterparks at Camelback. The other, Camelbeach, is open just during the summer months and is the biggest outdoor waterpark in Pennsylvania with 37 rides, slides and other wet attractions. Especially popular is its Vortex & Spin Cycle—the only duo bowl slides in the country—and Titan, a great family raft ride that takes you down Camelback Mountain as you travel the equivalent of three footballs fields.
The indoor waterpark is part of an ongoing expansion by Camelback Resort co-owners Arthur Berry III and Ken Ellis (also CEO/president of Aquatic Development Group, Aquatopia's builder and lead designer). Friends since college, the twosome purchased the resort in 2005, and have expanded the outdoor waterpark, as well as created Camelback Mountain Adventures, a section open from June to November that offers zip-lining, tree-top courses, rock climbing wall and a 4,500 foot steel-track mountain coaster. Aquatopia was part of a 533,000-square-foot extension that included a hotel, gift shops, and adult and children's spas. A guest can stay in one of 453 rooms and suites, available in 24 configurations—from family style suites with bunk beds and one- and two-bedroom executive suites.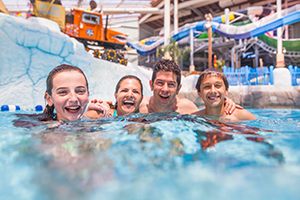 The waterpark starts with a story. The legendary, but fictitious, explorer Kartrite Van Der Berris filled Aquatopia with some of the amazing souvenirs collected during his global expeditions. Like the death-defying Venus SlydeTrap, which combines three thrilling experiences into one ride. Brave passengers board a circular raft—up to six at a time—and slide down a twisty tube into a 16-foot translucent sphere as they hit a mini-funnel, darkness and eventually rushing waters that lead to a pool.
Another thriller is Storm Chaser, a 756-foot long water coaster with five crazy drops. Yep, that's FIVE. Oh, and it's the longest water-coaster in the country. You'll travel by tube (one or two people at a time) moving 35-feet per second up and down hills—in light and darkness—while you chase the storm.
Other adventures include: The Himalayan—the only indoor, headfirst mat waterslide in the region—will plummet you 300-feet downward past colored light strips. Outa-Space Race, a 294-foot long body slide with twists, turns and drops. Mountain Mayhem, a 54-inch fully enclosed aquatube that's 403-feet long (not for the claustrophobic). Two free-fall body slides—the Paradise Plunge, which is 216-feet long with a 60-foot vertical drop and a trap-door that ensures your fall is a surprise every time, and the Skydive Plummet Free, a similar slide that's 312-feet long with a 360-degree figure-eight loop and trapdoor (Oh, and this one is translucent, so your friends can watch). Finally, the Bombora Flowrider is a boogie/flow boarding adventure in a safe, controlled environment. You'll feel like a star in its multi-colored spotlight.
For the more fearful at heart or just the younger set, there's Kartrite's Quest, a four-story play center with 84 interactive features, such as water cannons and guns to geyser jets. The site also contains five different water slides, a 1000-gallon dumping bucket 52 feet overhead and zero-depth pool at its base. Penguin Play Bay, a kid's shallow lagoon play area, also provides the preschool group entertainment with a zero-depth interactive pool, sprinklers, geysers and other water spouts.
The Great Ka-Na-Gawa Wavepool, with an Artic Circle backdrop that Kartrite "brought" back from his travels provides good, wet fun for young and mature adventurers. This ocean simulator wave pool creates four-to-six feet waves in its deeper waters and one-foot waves in the shallow end. A good ride for all ages is The Lost River. Grab a tube, made for one or two, and let the rapids push you along. You can just laze and enjoy the water's slight movement or try to get wet by its omnipresent sprinklers.
Finally, there's Ally-Oop Lagoon - a court for playing water basketball and Croc-O-Nile Crossing for swimming and challenging yourself as you try the-cross-the pool course. Top off the day with a visit to Mystic Springs, an indoor/outdoor spa with hydrotherapy jets that'll massage those aches from all those twisty rides.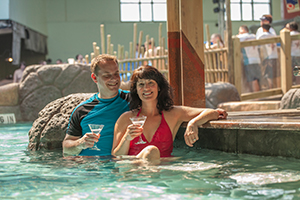 For those who want a bit of private space amid this water wonderland, cabanas that seat eight are available for rent. Each one includes a TV, ceiling fan and a cabana person who is available to bring you food and other things you might need.
There are plenty of places for restoratives in Aquatopia: Flyboys, a swim-up bar and concessions stand, provides adults some child-free time; Colonial Commons, a quick-service joint, offers American comfort foods (think burgers, fries and the like); and Moroccan Nights, a bar on the mezzanine level that overlooks the waterpark and serves drinks and snacks (a great place to grab that frozen piña colada). If shopping calms you down, visit Relic Retail, an archeology-themed shop where you can purchase all sorts of water-themed sundries.
Aquatopia is only accessible to hotel guests. Camelback Mountain or Camelback Mountain Adventures guests may buy a day pass after showing proof of purchase (based on Camelback Lodge and Aquatopia occupancy).
When you're ready to get out of the water, guests can head over to the Arcadia Family Adventure Center, which provides two levels of activities—choose from more than 100 video, interactive and ticket redemption games to ropes courses and rock climbing for adults to mini-golf, black-light laser tag, bowling and paint your own pottery for kids.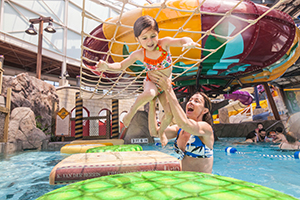 If the amount of activity becomes anxiety provoking, be sure to include a visit to Serenity Spa (for adults) where there are nine treatment rooms ready to pamper you. Give the young'uns a treat (in the form of manis, pedis or facials), too, with the Oasis Kids Spa for ages four and up. Or you can have a mommy/daughter treatment time together.
Three sit-down restaurants are also available for meals: Hemisphere, a buffet-style eatery ($23 each for adults and $11 for kids 4-12; ages 3 and younger eat free); Trails End Pub and Grille, a ski-in/ski-out pub near the Stevenson Chair Lift; and Neptunes, a lounge-like sushi, salad, flatbreads and small plates establishment that overlooks the indoor water park.
For more information, check out:
camelbackresort.com/waterparks/aquatopia/