Pat Collins' Picks of New Home Video Releases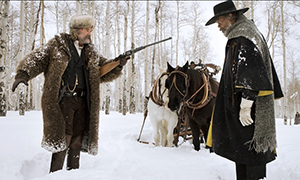 The Hateful Eight
Rated R
Tedious, pointless and interminable, The Hateful Eight further confirms my opinion that Quentin Tarantino has nothing new to say, but still commands the loyalty of top notch actors including Samuel L. Jackson, Jennifer Jason Leigh and Tim Roth, who are among the cast members in Mr. Tarantino's bloody western. The setting is Wyoming in the late 1860's and two bounty hunters (Mr. Jackson and Kurt Russell) have separate missions, but both are dangerous men to be reckoned with. Russell travels via stagecoach to deliver a fugitive (Leigh) to the executioner. Jackson, another passenger headed west, reminisces about his experiences as a former slave and a Union officer in the Civil War. Their destination is Minnie's Haberdashery, where the eight nasty characters of the film's title hunker down during a raging blizzard to drink whiskey and talk. So verbose is this group that all of them risk being talked to death before the shooting begins. Tarantino deserves the criticism he received from critics and other commentators for a violent scene in which Ms. Leigh is a punching bag for the drunk and abusive male characters. The close quarters of Minnie's store and a collection of disreputable characters prompted some critics to observe that Tarantino was influenced by Agatha Christie. Somewhere in the great beyond, Dame Agatha just dropped her Aynsley teacup and buttered scone.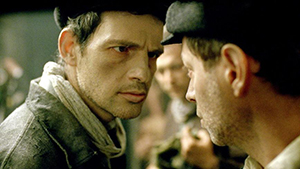 Son of Saul
Rated R
The Academy Award for best foreign language film was awarded in February to Hungary's entry—the exceptional and gut-wrenching Son Of Saul, which is set inside Auschwitz in 1944. The title character played by Géza Röhrig is forced to move bodies from the gas chamber to the pyres for burning. One of those bodies is that of his young son. In his Oscar acceptance speech the film's director Lészló Nemes said "Even in the darkest hours of mankind, there might be a voice within us that allows us to remain human. That's the hope of this film".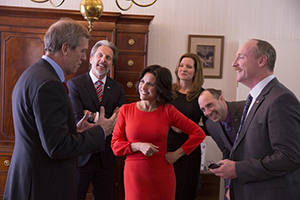 VEEP - Season 4
Digital HD, DVD and Blu-ray
There are few intentionally funny moments in the current election cycle, but my favorite fictional politician Selina Meyer and her West Wing staffers continue to provide laugh-out-loud political satire thanks to a team of clever writers and a first-rate cast. Julia Louis-Dreyfus, who was the Veep of the title until she moved into the oval office, has four Emmys and several other awards on her bookshelf for her role on the show. The series' fourth season was an Emmy winner last year in the outstanding comedy series category.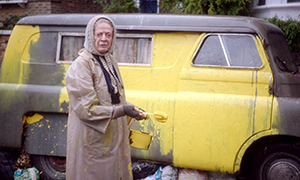 The Lady in the Van
Rated PG-13
Maggie Smith, whose portrayal of the Dowager Countess in Downton Abbey was one of the series many delights, moves to the other end of the economic ladder to play the homeless titular character in The Lady in the Van. She is stubborn, cantankerous and ungrateful and refuses to accept help. Director Nicholas Hytner repeatedly reemphasizes her independent streak without expanding the plot until the very end when this Van takes a wrong U-turn. The film is based on playwright Alan Bennett's relationship with Margaret Fairchild aka Mary Shepherd (known only as the "lady" in the movie). Bennett allowed Ms. Fairchild to live in her van in his driveway in one of London's posh neighborhoods for 15 years.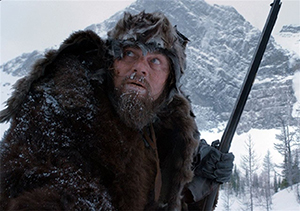 The Revenant
Rated R
Leonardo DiCaprio's Oscar winning performance playing real life 19th-century frontiersman Hugh Glass is the one and only reason to spend two and half hours (it seemed longer) watching The Revenant. A Grizzly bear attack, which Glass barely survives, is but one of many bloody encounters in director Alejandro Iñárritu's film that combines fact and fiction. According to a must read March 4 Hollywood Reporter article, Glass did not find shelter within a bear's carcass or father a son whose fate figures prominently in the plot. A story of revenge and survival against all odds is also one of endurance not only for Glass, but also for moviegoers.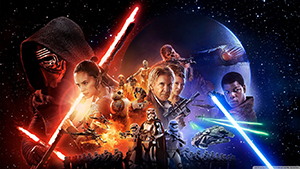 Star Wars: The Force Awakens
Rated PG-13
The word "awakens" is the right verb. Patient and often rightfully disgruntled, Star Wars fans endured sequels and prequels that varied in quality and ingenuity. Who can forget Jar Jar Binks? Director J.J. Abrams resuscitated the franchise with a seventh installment that rewarded fans for their patience. He reunited original cast members Harrison Ford, Carrie Fisher and Mark Hamill; and introduced new characters played by Adam Driver, Daisy Ridley, John Boyega and Oscar Issac. The film's stated budget was $200 million; the global gross adds up to $2,054,708,260.