Kola House: Pepsi's New Hip Restaurant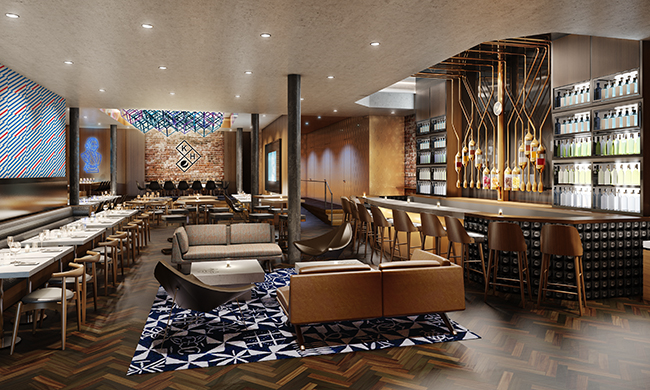 By Anthony Rapacciuolo
What Do You Get When Pepsi, Live Nation, Lenny Kravitz and hospitality group The Metric form a partnership? Kola House, New York's newest dining experience based on a caffeinated nut to cater to the city that never sleeps!
New York is known for many things including being the hub of corporate America, the home of some of the finest cultural institutions, and of course for its world-renowned restaurants and chefs. PepsiCo is looking to combine all of these elements into a new dining experience in its restaurant (yes, I said restaurant) located in Manhattan's Meatpacking District.
Kola House, slated to open later this year, will be a 5,000-square-foot venue featuring handcrafted cocktails and unique artisanal plates, and of course to keep with the theme, there will also be specialty drinks and culinary dishes inspired by the kola nut. Originating in Africa, the kola nut is a caffeinated fruit whose extracts are used to create, you guessed it, Pepsi Cola.
New York Lifestyles Magazine had the pleasure of speaking with Lisle Richards and Eric Marx, Co-Owners of hospitality group The Metric, for an inside exclusive on what to expect from this seemingly unexpected dining venue.
What's it like to partner with Pepsi on this concept?
We both believe that you need to find people that are smarter than yourself and partner with them, find people that are great at what they do and partner with them. We're really excited that Pepsi reached out to us to partner up on this brand to help bring it to life. We're focused on what we are really good at, which is food and drink and creating a great vibe. Pepsi has an amazing brand that means a lot of things to a lot of people, and I think they're trying to enhance that by creating an authentic experience at Kola House. We hope we're able to help them add that layer.
We hear you've also partnered with Live Nation to host live musical showcases inside Kola House. What's that experience going to be like?
It's an intimate venue that holds no more than 225 people and it's something really exciting when you get the level of talent they [Live Nation] will bring. It will be almost like a one-on-one experience. We're excited to add that layer, so to speak, of Live Nation to the restaurant.
Tell us about the space itself and how the finished product will look and feel, and who you think its clientele will be?
The venue was designed by Lenny Kravitz Design, Inc., and has a really great living space feel to it; it's going to be very comfortable and inviting. There will be a living room area near the bar and wood throughout the space as well. If it makes any sense, the goal is to make it feel lived in and I think we've achieved that atmosphere. I think our clientele is going to be local New Yorkers in the real estate, finance, art and fashion crowd, but the restaurant has been created to be inclusive of everyone and have something to offer them.
In New York it's all about location. Tell us about the decision to open in the Meatpacking District.
The Meatpacking District as a whole is a melting pot of different experiences. At one point it was known exclusively for its nightlife, but if you look at it now, there's shopping, the Whitney Museum of American Art and great restaurants. I don't think it's viewed any longer as a specific destination for one thing in particular, but rather an area with many diverse offerings.
Give us some background on the kola nut and how it's being used as an ingredient on the menu.
The menu is an American menu with some international flair to it. The kola nut is derived from Africa and is the original base of Pepsi Cola, and it's a very interesting ingredient to work with. It has rich, acidic and dark qualities to it. We aren't at liberty to discuss the menu itself yet, but let's just say it goes great in sauces, cocktails, and even candied on top of certain dishes.
Tell us about Alex Ott, your "alchemist" (Mr. Ott prefers not to be called a mixologist), who will be spearheading your beverage program. Alex is a one-of-a-kind alchemist, and he is really focused on a customer's total experience rather than simply the beverage experience. He's conscious of how the ingredients in his drinks will affect your body and what type of mood it may put you in. I don't know of anyone else using the kola nut in their cocktails, so they will all be very unique.
How is the space going to complement the social media age?
The social media age is about a unique way of communicating and a unique way of visually organizing and sharing things, and I think it's important to be aware of that. As a restaurateur, you need to be cognizant of the menu and the presentation of the plate and how "shareable" it is.
How do you plan on marketing the venue when it launches?
I think there's already a lot of interest and people are naturally inquisitive about these venues and the products they offer. I also think there's going to be a lot of interest surrounding the music concept within the restaurant. Finally, there's a lot of great partnerships involved—Pepsi, Live Nation, Lenny Kravitz—and that in and of itself will generate some buzz, and I feel that we are lucky to already have a strong following without our even being open yet.
Tell us something they haven't heard about Kola House from what's been written already.
I can't tell you anything in detail, but what I can say is that there is going to beautiful eye-catching pieces within the space, and also a lot of surprises!