Mr. Purple: Lower East Side Chic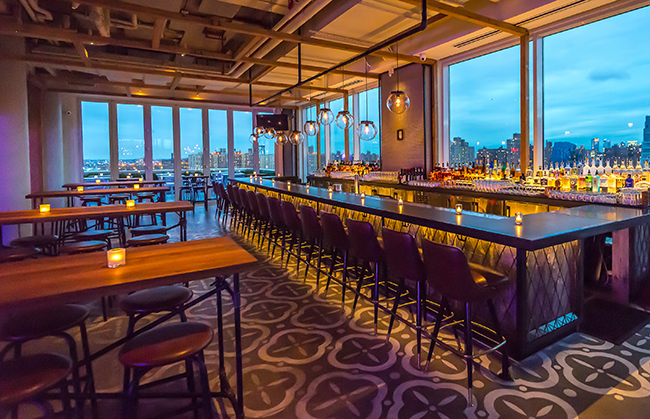 By Daniel J. Bollinger
The Lower East Side is one of the hippest parts of New York City and Mr. Purple has matched the vibe of this area with a great restaurant and bar. Located at 180 Orchard Street on the 15th floor of Hotel Indigo in LES, Mr. Purple is one big open space with a long bar centered directly opposite the elevators. You have the choice of sitting at tabletops, bar stools, or couches in the dining area/bar. They have outdoor patios on both sides of the restaurant—the left patio has tables and stool seating facing the great Manhattan views. This patio is available for private parties. The larger patio has a pool, yes, a pool, lounge chairs, benches, and table tops. On a nice day in Manhattan this is definitely the place you want to spend the day dining outside. The views at Mr. Purple are unparalleled. You can view the Brooklyn Bridge, Manhattan Bridge, Williamsburg Bridge and even the Verrazano Bridge. You will also see the "new" Brooklyn rising across the river and many construction projects going on all over Manhattan.
Mr. Purple's brunch menu definitely matches the wonderful design and views of the space. I started off with an old fashioned made with Old Forester Bourbon 86, which was stirred 53 times to ensure that all the ingredients were properly mixed. They serve their drinks with an ice-block ice cube—one big fat square of ice, so that your drink will never get warm. From the bar menu, I had the tuna tartar with avocado, radish, harissa and wonton chips. The presentation was beautiful. A perfectly circular culinary treat with the avocado on the bottom and diced tuna layered on top, sprinkled with sliced radishes and harissa sauce drizzled on the side. The wonton chips were crisp and light and provided a nice crunch to the light creamy texture of the tuna and avocado.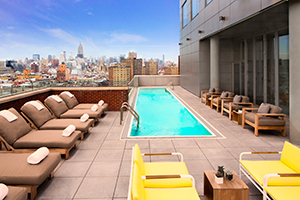 Mr. Purple's brunch menu has a wide variety of selections. There's something on the brunch menu no matter what you are in the mood for and they source many of their foods from local vendors in the area. For instance their lox is sourced from Russ & Daughters, a fish and specialty foods market located on the Lower East Side not too far from Mr. Purple. I have to specifically point out Mr. Purple's Nueske's Applewood Smoked Bacon side dish. The bacon is perfect—thick-cut slices with a meaty bite and cooked slightly crispy, exactly how bacon should be. And like their Beecher's Baked Mac & Cheese, it is served in a cute little cast iron pan. Speaking of the Beecher's Baked Mac & Cheese, I sampled that too. I'm not a huge mac 'n' cheese fan, but Mr. Purple has made me a believer. Served in a hot cast iron skillet, it was steaming hot; the pasta was cooked perfectly; the cheese was tasty and gooey; and the breadcrumbs on top provided a nice crunch. If you are a mac 'n' cheese fan, I highly recommend Mr. Purple's take. The two other brunch dishes I enjoyed were their Greek Yogurt with Granola and Avocado and Spring Pea Toast. The Greek Yogurt with Granola was comprised of Greek yogurt, granola, blueberries, blackberries, strawberries, walnuts, raisins, and honey. A perfect blend of each ingredient provided a sweet crunchy taste. I liked the fact that they use Greek yogurt. You can eat each spoonful of this with the spoon upside down without dropping a morsel of granola because of the Greek yogurt. Lastly, the Avocado and Spring Pea Toast was amazing. The big open-faced sandwich with avocado, spring peas, and cucumbers was creamy in texture and sweet. The thick-cut country toast it was served on proved a nice crunch to compliment the creaminess of the avocado, and the accompanying salad made an extra healthy side. The chefs at Mr. Purple have perfected making dishes of soft creamy textures with the right amount of crunch (i.e. the bacon, mac 'n' cheese, granola, and avocado spring pea toast). I also had a pint of their signature beer, Mr. Purple IPA by Captain Lawrence located in Elmsford, NY. It is a light, crisp, refreshing brew and I recommend it on those hot sweltering New York City summer days.
Of course, brunch wouldn't be complete without dessert. Mr. Purple offers a variety of 'chipwich' style ice cream sandwich-like desserts. I was torn between the Lovelet (Red Velvet meltcakes and cream cheese ice cream) and the Morticha. I had the Morticha, made of crackly chocolate cookies and malted chocolate rum ice cream. Not your typical desserts. Definitely try one of these after your brunch.
Overall, Mr. Purple is a cool spot located in one of the coolest parts of the city. The food, the drinks, the ambiance, the views, Mr. Purple has perfected the coolness factor. Kristen, the manager, tells me Saturday brunch is "a big insane party brunch with a DJ". I visited on a Sunday and it was a mellow, quieter experience. Thank you Kristen, Kendra, and Sai for a wonderful brunch experience.