New Yorker Around the World
Text and photography by Lee Abbamonte
As a New Yorker who has traveled to every country in the world and makes a living by traveling, I feel like I give some pretty good travel advice. With Spring and Summer fast approaching and a new season of travel ahead, I thought I would offer up 5 places worth considering for your next trip in different parts of the world.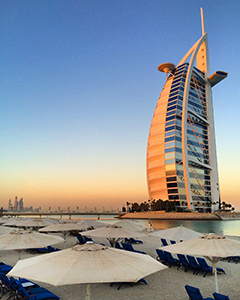 Dubai, UAE
You've been hearing about Dubai for a decade now and if you don't believe the hype then you don't know what you're missing. Dubai is over the top, yes; but at the same time it is over the top in a fun, non-offensive manner that makes you want to go there again and again to see what's new. In fact, you could live in Dubai. It has everything you need and everything you don't, plus it's just really, really nice.
Dubai is the fastest growing transport hub in the world and soon will have the world's busiest airport. Emirates also happen to be one of the best airlines in the world and there are direct flights from New York to Dubai everyday.
Dubai has something for everyone and people tend to forget that it has some really nice beaches and while it's obviously in the desert, it's also on the Gulf and the water is perfect. You can stay at any number of amazing hotels on the water or downtown in the city. My two favorites are Fairmont The Palm for a nice resort feel in the Palm Islands of Dubai just across from Dubai Marina. This hotel is fantastic, has amazing service, great restaurants and will let you feel like you're really on vacation. Another excellent choice is the world famous seven-star Burj Al Arab Hotel. It's possibly the most famous or at least most recognizable hotel in the world. The service is impeccable, the views are fantastic and the suites are to die for. The smallest suite is 1800 square feet. It's as tacky and over the top as any hotel I've ever stayed in, but you're in Dubai so embrace it and roll with it.
There is so much else to do in Dubai that it would take a whole feature, but here are a few to not miss. The Burj Khalifa is an architectural marvel and the world's tallest building. The Mall of the Emirates is an opulent mall with an indoor ski hill in it. Dubai Mall is just ridiculous and at the base of the Burj Khalifa, so you'll see it regardless. Also, get out into the desert and do some quad biking in the sand dunes or falconry. Plus you can always sky dive, as Dubai is one of the most popular sky diving destinations in the world.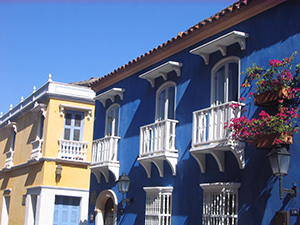 Colombia
Colombia is a country on the northern coast of South America. It's known mainly for amazing coffee and its past as an illegal drug-producing nation during the 1980's. Many people have incorrect assertions about Colombia being dangerous or unfit to travel to. This is false. Colombia has something for everyone, including some of the best food in the world and unforgettable cities and islands.
Cartagena is the jewel of Colombia and one of my favorite travel destinations anywhere in the world. The Old City is an incredible place to stroll around, do some shopping, eat at top restaurants and have a cocktail on the perfectly preserved ramparts of the walled city. For a tourist visiting, Colombia doesn't get any better than Cartagena.
The capital city of Bogota, once feared and dangerous is now alive and very safe. Bogota is a city at altitude with a bit of an attitude about it. Explore the city on the clouds from the Main Square and trendy neighborhoods bustling with youth up to the church in the sky. Just don't forget to look everywhere in between because Bogota has arrived.
Finally, a favorite of mine and an often-overlooked place in Colombia are the islands of San Andres and Providencia. It's a short flight to San Andres, but the island is well worth a little effort to get there. Great beaches, nice resorts, shops and restaurants greet you, but the star of the show is the beach. My favorite beach is Johnny Caye, just a short boat ride from the main beach on San Andres. It's stunning and makes you feel like you're in the South Pacific although the Caribbean is not a bad alternative.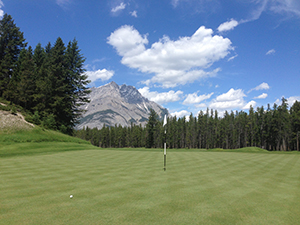 Alberta, Canada
Alberta is a province in Western Canada and in my opinion it is the most beautiful part of North America. Alberta possesses the Canadian Rockies, which are far more picturesque than their Colorado counterparts in the U.S. Alberta also features mind-blowing places like Banff and Jasper. Banff is a full-on tourist town that has everything you're looking for, from amazing scenery and great golf courses to challenging hikes and great restaurants and hotels. The Fairmont Banff Springs Hotel is unmistakably iconic and is the best place to base yourself while exploring Banff National Park. Jasper is another stunning national park in Alberta that stretches to the British Columbia border. The small town of Jasper is a cute little western transport town with excellent restaurants, fun bars and is encapsulated by stunning mountain scenery. The Fairmont Jasper Park Lodge is where you want to stay for the incredible scenery, great service, and golfing—as it's Canada's top golf course.
Alberta is also the home of two fantastic cities that hockey fans may be familiar with—Calgary and Edmonton. Calgary is one of my favorite cities in the Americas. It was the host of the 1988 Winter Olympics and still has a lot of those facilities active for public use. It's a modern city with some of the best restaurants of any North American city. If you head there in July, be sure to bring your cowboy boots for Stampede, one of the greatest annual events in North America. Edmonton is a city on the rise. It has really transformed itself from an oil town to a hip city with a lot going on. The revamp of downtown centered on a new stadium for the Edmonton Oilers has brought in tremendous investment to the city and people no longer ignore Edmonton. It's here to stay and is only getting better.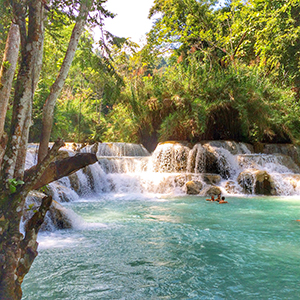 Luang Prabang, Laos
Have you heard of Laos? If not, you're missing out on a great country in a great area of the world. It's beautiful, it's cheap, it's interesting, it's fun and you will not soon forget your time in Laos. My favorite spot in Laos is the enchanting town of Luang Prabang. Luang Prabang is the most unassuming town you'll ever see. Set in the hills in central Laos, Luang Prabang is the most laid back place I've ever been. The feeling of peacefulness is intoxicating and you'll be adjusted to the laid back vibe in no time. Even the hardest New Yorker will let their guard down and actually relax.
I suggest staying at the Belmond La Residence Phou Vao Hotel. It's a beautiful oasis and by far the most luxurious option in Luang Prabang. It has great views, two pools and a fabulous restaurant with excellent breakfast. Not to mention the rooms are pure perfection.
Waking through the streets of Luang Prabang, you'll need a few things: a bottle of water because it's really hot and humid; a hat to protect your head; sun screen for your skin; and a camera because you'll be snapping photos left and right. The best spot for sunset viewing is atop the Phusi Temple. Outside of town is where Luang Prabang really shines. The Tat Kuang Si Waterfalls are truly breathtaking and well worth the effort to get there. They're located about 30 minutes out of town. Bring your bathing suit and a camera, as they are some of the most photogenic waterfalls you'll ever see.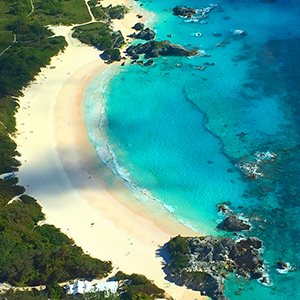 Bermuda
Bermuda is one of the best islands on the planet. It's less than a two-hour flight from New York and has some of the best beaches in the world. The island is chock-full of amazing restaurants, hotels and things to do. Did I mention it's less than two hours away from New York?
New Yorkers often overlook Bermuda for a variety of reasons. I assume it's because it doesn't sound exotic enough or it isn't far away enough. However, that's exactly what's so amazing about it. It's a secret destination that isn't a secret. You can either stay in the capital of Hamilton or over by the beaches. I recommend the Fairmont Hamilton Princess if you prefer to stay in town because you can walk around town. There's a Marcus Samuelson restaurant in the hotel and transportation is easy from there. By "transportation" I mean you should rent a scooter to get around the island. If you prefer the beach, check out the Elbow Beach Hotel. It's a little pricy, but worth the splurge. The Elbow Beach Hotel also has some amazing restaurants and one of the best beaches in Bermuda.
You can make a weekend out of beach hopping, but there is more to do in Bermuda than just eating, drinking and lounging on the beach. Check out a scenic flight to really get your bearings on the island or do some caving in the immaculate caves far beneath the surface of the island.
Get on your scooter and just explore the beautiful island and enjoy the culture and scenery. You can't get lost because every road eventually leads you back to a main road. Do wear a helmet though and be patient. Bermuda is extremely wealthy and first world, but it still operates on island time.
New Yorker Lee Abbamonte is the youngest American to visit every country in the world. He's is an entrepreneur, multimedia travel personality and global adventurer who frequently appears on national TV, including FOX 5 New York. You can find more about Lee at LeeAbbamonte.com and follow his adventures on Instagram @LeeAbbamonte.