Sesame Street: Sunny Days from New York to Around the World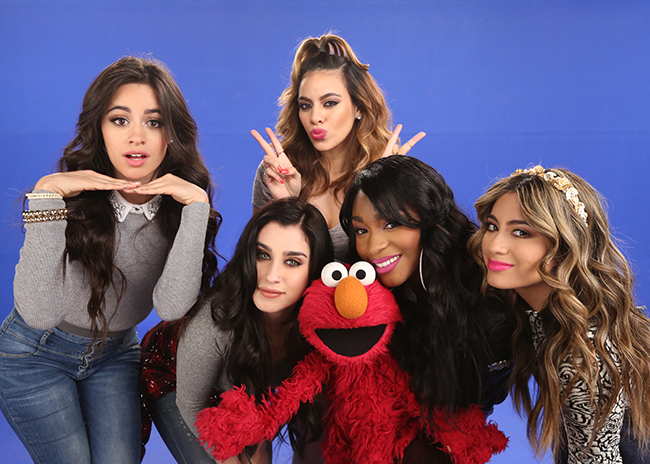 Musical sensation Fifth Harmony visits Elmo as part of Sesame Street's 46th season. Photo by Jesse Grant.
By Ivette Manners
For over four decades, 46 years to be exact, Sesame Street has educated and entertained millions of children—through television. One big parenting no-no is plopping your little one in front of the television to keep them busy, however parents of all backgrounds, socioeconomic status, and cultures have trusted this Muppet-based television show to teach and amuse their children. The preschool educational show, which first aired on November 10, 1969, has introduced children to a neighborhood where furry creatures live happily among humans, new lessons are learned every single day, and compassion for our neighbors is cool. Popular children's songs and games like "One of These Things [Is Not Like the Others]" came out of this show and almost everyone—young and old—has a fond memory of Big Bird, Cookie Monster, or Oscar the Grouch. Here's a look at the pioneering children's show that started in a studio in New York City and touched many a generation and homes around the world.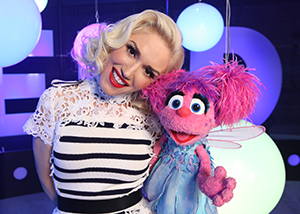 Grammy Award-winning artist Gwen Stefani visits Abby as part of Sesame Street's 46th season. Photo by Jesse Grant.
Early Start
The idea for Sesame Street stemmed from Children's Television Workshop's cofounders Joan Ganz Cooney and Lloyd Morrisett's drive to prove television can be used to teach young children. They wanted to create a vehicle to help reach the millions of children in underprivileged communities around the world prepare for school. During a dinner party in New York in 1966, Cooney, then a public television documentary producer, and Morrisett, an experimental psychologist, discussed their mutual interest in finding an effective way to improve access to preschool learning for disadvantaged children. As vice president of the Carnegie Corporation of New York, a philanthropic foundation focused on education, Morrisett conducted several experiments to test children's responses to the current teaching methods. His aim was to find a way to reach the large number of children who didn't have the resources for an early start in school; Cooney's goal was to merge education with entertainment. Cooney teamed up with Morrisett on a study to test their theory, build a proposal, and raise funds for their project. Total funding of $8 million finally came in from the Carnegie Corporation, the U.S. Department of Education, the Corporation of Public Broadcasting, and the Ford Foundation; and in 1968 the duo formed Children's Television Workshop (renamed Sesame Workshop in 2000), which produced its first series—Sesame Street.
The model for the show was quick-pace programming with different education segments to hold children's interest. Cooney assembled a multicultural cast of actors and hired puppeteer Jim Henson to create the now-iconic Muppet characters. The setting of the show was, and still is, a friendly street in a New York neighborhood, complete with a subway station, corner store, and brownstones. By the end of the show's first season, it had reached millions of preschoolers. Cooney and Morrisett's dream was in full force. In 1972, the show launched its first international co-productions with Brazil and Mexico. Today, Sesame Street is locally produced in more that 30 countries and watched in over 150.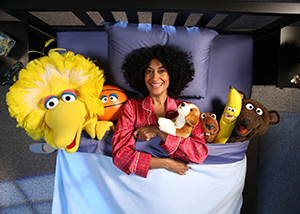 Black-ish star Tracee Ellis Ross talks about bedtime with Big Bird and friends as part of Sesame Street's 46th season. Photo Jesse Grant.
It's only fitting that Sesame Street was born in the 1960s, when there was a major shift in culture, especially in the United States. Since then, Sesame Street has stayed ahead of the learning curve by combining the latest forms of media with education.
Socially Aware
On Sesame Street, there are always sunny days; not in a naive way, but as a positive outlook on even the most difficult situations. In addition to teaching kids their A, B, C's, the show has aimed and succeeded in breaking down stereotypes, discussing complicated issues that families face, and helping children understand their emotions. "From the start, everything that Sesame Workshop does—from the show to online content—is aimed at making children smarter, stronger, and kinder," says Sherrie Westin, EVP of Global Impact and Philanthropy at Sesame Workshop. "We go beyond basic learning. We believe that child development is not just educational, but also social and emotional."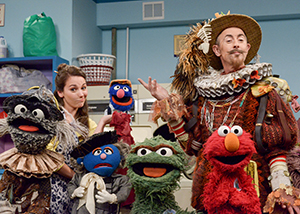 With the help of Mucko Polo, played by Alan Cumming, Nina, Grover, Oscar and Elmo use their five senses to search for grouchy things as part of Sesame Street's 46th season. Photo by Zach Hyman.
Even with Sesame Street's recognizable name, characters, and actors, most people don't realize the amazing work the show does around the world. The multi Emmy Award-winning show has become a solid platform in initiatives that help young children, their families, and communities work through issues like coping with death, illnesses, and prejudices. After the death of one of the show's main characters in 1983—Mr. Hooper, played by actor Will Lee—the producers took the opportunity to talk to kids about death and grieving. Teaching these tough life lessons has become a trademark of the show. Sesame Street has helped parents face and discuss complicated situations with their children. "We have seen how by touching one child we reach parents and a whole community," said Westin. "Our Muppets have become a powerful teaching tool to change the behavior in children and parents."
The most recent initiative that Sesame Workshop has launched is "Sesame Street for Military Families: Transitions", which is geared to help young children cope with issues, such as parents deployment, parents coming home injured, and grieving. "There is a large number of American military families transitioning out of their military base and back into civilian life, and we want to help make the process easier," says Westin. "We want to offer parents the tools to help our children flourish. It's all about giving children their best chance to succeed in life."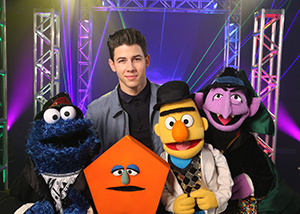 Pop sensation Nick Jonas sings about shapes with Cookie Monster, Bert and The Count as part of Sesame Street's 46th season. Photo by Jesse Grant.
Star Power
From the very beginning, Sesame Street has incorporated celebrity guests to entertain children, as well as their parents. In 1960, actor James Earl Jones appeared as the first celebrity guest on the show. Since then, more than 500 big-name actors, sports figures, and musical artists—including Robert Di Niro, James Gandolfini, Alec Baldwin, Lupita Nyong'o, David Beckham, B.B. King, and Usher—have visited Sesame Street. This has helped solidify the show as a major television program.
The Muppets have become celebrities themselves, appearing in not only their own Hollywood films and spinoff shows, but also guest starring on other popular shows like Late Night with Jimmy Fallon and Jimmy Kimmel Live!
The show has even incorporated political figures to help children work through their everyday issues and stay aware of the world around them. In 2002, then United Nations Secretary - General Kofi Annam appeared on the show to help teach children about conflict resolution. And to help kick off the show's 40th season in 2009, President Barack Obama gave a congratulatory message reminiscing on how he himself grew up watching the show and how his own children learned from watching Elmo and his pals. He also remarked on how "the world is a better place for the world [created] on Sesame Street."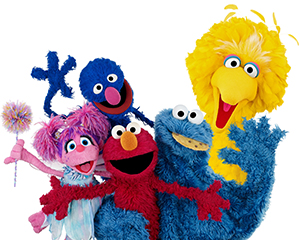 Cooney and Morrisett's hard work has paid off in spades; Sesame Street now reaches over 150 million children around the globe. Studies show that there are high early-academic success rates among children who watch Sesame Street in areas where there is little or no means of education. "In areas where there isn't much access to television we reach children by radio. For example, in India we also broadcast over radio and children gather to hear Galli Galli Sim Sim, the Indian co-production of Sesame Street," says Westin. Methods like this have been effective. In Bangladesh, 4-year-olds who watch their local version of Sesame Street have literary scores that are 67% higher than those who don't watch. Bringing it back home, American children who watched Sesame Street as preschoolers achieved almost a 16% higher grade point average than those who didn't.
Sesame Street may be disguised as a fun, innocent show for preschool learning, but it's a powerhouse that has helped change how teachers work in the classroom, raise children's literacy, and unite people around the world on one happy little street.