Bateaux New York: The Big Apple's Love Boat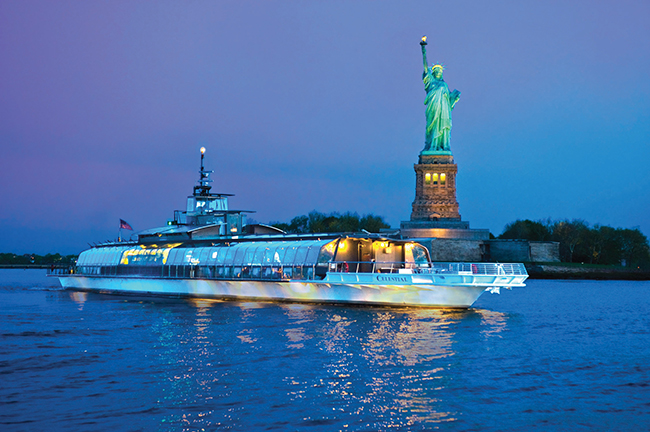 By Daniel J. Bollinger
For those looking to enjoy the Manhattan skyline up close and personal, set sail on the Bateaux New York, the city's premier dining cruise. Bateaux (French for a boat) is European-inspired and designed by Gerard Ronzani. The vessel features glass ceilings and walls to offer unparalleled views of Manhattan and its sights. There are two dining rooms, a centrally located hardwood dance floor, and a full-service bar.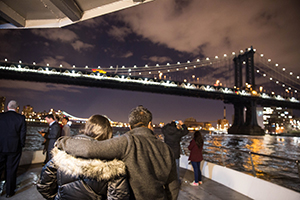 Bateaux New York departs from Chelsea Pier 61 and offers a variety of cruises including brunch, lunch, dinner, and cocktail. However, for an unforgettable romantic night, we recommend the dinner cruise. Sip wine and signature cocktails from the bar, savor creative cuisine from the dinner menu and enjoy attentive service throughout the evening. Live music is provided playing an incredible mix of jazz favorites, classic hits, and soulful sounds. Requests are always welcome! By the way, as diners begin to step on the dance floor, don't be surprised to see someone appear on one knee. Marriage proposals are a common occurrence on Bateaux. It's also a wonderful way to celebrate a birthday, anniversary or other special occasions. Guests can pre-order flowers and have them waiting at your table. With New York City as the backdrop, romantic music to set the mood, all you need is love!
The prix-fixe sumptuous dinner menu will please even the most discerning palate. All food is prepared daily on board with choices that includes a variety of chicken, beef, vegetarian, and fish options. The list of options changes annually and has in the past introduced such specialties as Blue Stone Crab dusted with Blue Cornmeal with Cilantro Corn Salad, Amish Chicken with Herbs de Provence, as well as Ginger-Seared Mahi-Mahi with Roasted Pineapple and Mango Chutney. There are special seasonal Chef's selections as well. A gluten-free menu is available and guests with certain food allergies are encouraged to make special requests when making reservations. The culinary team is happy to accommodate.
Remember to leave room for dessert. The Signature Warm Butter Cake is outstanding and would remind you of a warm waffle served with vanilla ice cream and blackberry sauce.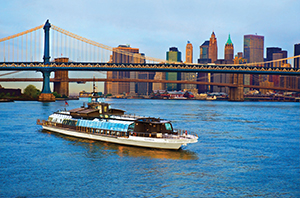 Throughout the cruise, you'll glide along the waters of the Hudson and East Rivers sailing under the Brooklyn, Manhattan, and Williamsburg Bridges. Diners enjoy New York City's iconic skyline and marvel at the grandeur of the Statue of Liberty. Cruises also include fabulous views of Brooklyn and first-hand looks of some neighborhoods including Brooklyn Heights, Downtown Brooklyn, and the hip and trendy DUMBO.
A Bateaux Cruise is a good excuse to dress up. For dinner, cocktail wear is recommended for all. Brunch, lunch, and moonlight cruises require dressy-casual. Although dark-colored jeans are acceptable, it is advised not to wear casual jeans, T-shirts, shorts, or athletic shoes.
Bateaux New York brings an unmatched level of sophistication to New York sightseeing that can only be experienced from this unique perspective. It's a cruise even die-hard landlubbers will love.
Bateaux New York departs Pier 61, off the West Side Highway. And since you'll already be in Chelsea, you can make a day of it. If you enjoy art, there is a plethora of art galleries one block away between 10th and 11th Avenues, from 20th to 27th Streets. You can also tour the Highline Park, which is a public park built on a historic freight rail line elevated above the streets on Manhattan's West Side. It runs from Gansevoort Street in the Meatpacking District to West 34th St. You can access it from one of the many entrances on either 20th or 23rd Street. Spend the afternoon in the neighborhood enjoying all its culture, and then enjoy a cruise around Manhattan on the Bateaux New York in the evening.
For more information on available cruises, visit: bateauxnewyork.com