Footprints in the Sand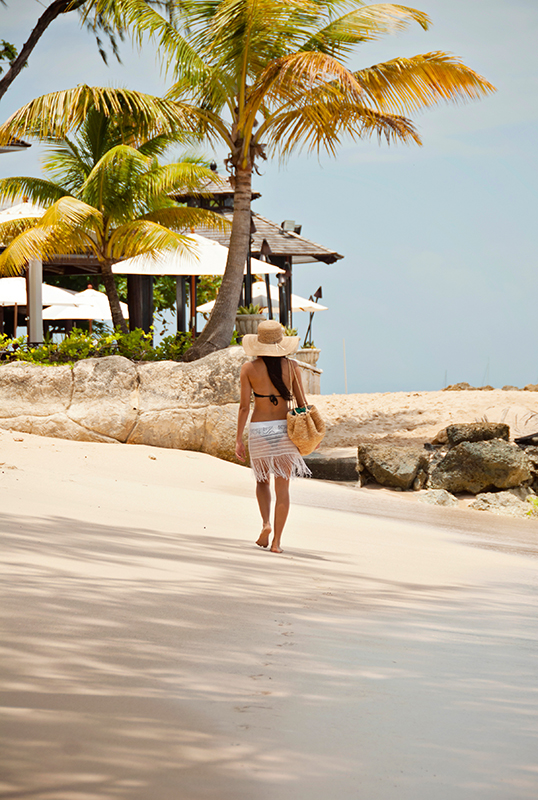 By Patricia Canole
The main ingredient for a relaxing getaway is a fabulous beach. Spending lazy afternoons lying out in the sun is the perfect way to unwind. Fortunately, the Caribbean and the Bahamas offer dozens of beautiful stretches of sand. So, the question is, which beach should you choose to make your own? Follow us and discover some spectacular places under the sun. Then all you have to do is pack your sunscreen, sandals and swimsuits, and away you go.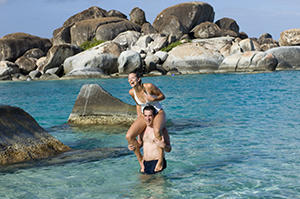 BEST FOR ADVENTURERS
THE BATHS, VIRGIN GORDA, BVI
This stretch of sand is a natural wonder. After you've surveyed the huge boulders scattered along the shoreline like giant beach balls, plan to explore The Baths' grottoes and hidden pools, which can be reached only by crawling through caves and climbing over rock walls. Just beyond this natural wonder, you'll find that the sand is powdery with calm waters protected from the tides by the rock formations. Because this is a popular beach, don't expect to have it all to yourself, and be sure to wear reef shoes!
Where to Stay
The laid-back luxury of Rosewood Little Dix Bay (rosewoodhotels.com) offers guests plenty of sun and surf activities and excellent restaurants. Villas and suites offer guests absolute perfection with ultimate amenities. Landscaped gardens are a joy to behold!
---
BEST FOR LONG WALKS
GRACE BAY, TURKS & CAICOS
On the island of Providenciales is one of the longest stretches of powdery beach in the Caribbean. The white sands come fringed with swaying palm trees and some of the most elegantly luxurious resorts found in the Caribbean. The beautiful shoreline seems to stretch forever with water that invites a calm mood. So much so, that you may want to extend your getaway a few days.
Where to Stay
Look no further than the Meridian Club (meridianclub.com), which sits on the private island of Pine Cay. This resort is for guests who seek to unplug from the world: there are no phones or TVs. The superb accommodations provide a relaxing stay. Off property, there are nature trails to be explored by bike or on foot.
---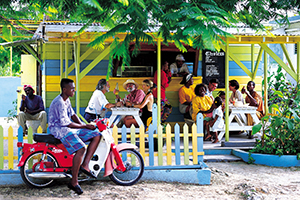 BEST FOR SUNSETS
SEVEN MILE BEACH, JAMAICA
This long band of golden sand has made Negril a hot beach destination since the 1960s, but what's truly special about this place are the amazing red, cliff-framed sunsets. Head for the part of the beach that's called the West End, where a ridge of cliffs rise above the sand and none of the hotels are taller than a palm tree. Grab a table at a local café and sip Red Stripe, the local brew of choice, and drink it all in!
Where to Stay
Once the tropical hideaway of screen legend Marilyn Monroe, Jamaica Inn (jamaicainn.com) still thrills as the island's grand dame. Located in Ocho Rios, it features beautifully designed suites and cottages with views of the Caribbean Sea. Go ahead and indulge in a relaxing waterfront treatment at the Ocean Spa before dining al fresco. Late night dancing with a live band is a bonus.
---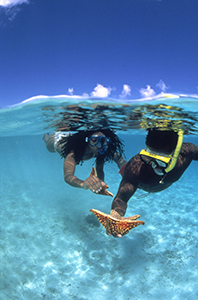 BEST FOR SNORKELING
TRUNK BAY, ST. JOHN, USVI
It's the most photographed inlet on St. John for good reason. Trunk Bay, a National Park, is a sparkling jewel with striking white sand bordered by coconut palms, tropical blooms, and sea grape trees. An offshore coral reef is home to colorful fish and bottom-dwelling stingrays. Snorkelers can explore underwater trails and the abundance of marine life. Back on the beach, the park service maintains a picnic area with outdoor grills, a gift shop that rents snorkel equipment, a snack bar, and showers.
Where to Stay
Located near Cruz Bay, Gallows Point Resort (gallowspointresort.com) provides island views and stunning sunsets on a lush five-acre peninsula. Catch the breezy trade winds from your villa featuring tropical-themed décor. Guests are encouraged to visit the town to shop for handcrafted treasures or eat at roadside eateries specializing in local fish cuisine.
---
BEST FOR WINDSURFING
FISHERMAN'S HUT BEACH, ARUBA
Thanks to the hearty trade winds that blow across the southern part of the Caribbean, Aruba is a top-rated place to provide some truly challenging windsurfing adventures. The prime spot: Fisherman's Hut, located on the end of Aruba's western coast. Here, you can rent equipment and sign up for lessons right on the shore. After, head to nearby Palm Beach, where the white sand is welcoming and the wind is much calmer.
Where to Stay
The Aruba Marriott Resort & Stellaris Casino (marriott.com) has it all. One of the first high-rise beachside properties, it offers family fun vacations and lots of romance, too. Couples should book a room at the resort's Tradewinds Club—a totally private adults-only experience. Families will have a great time, as well. Organized activities for the younger set and playground keep kids entertained during the day. Dining options range from romantic to a family-style buffet. Guests enjoy the 24/7 snacks in the lobby before striking it rich at the onsite casino.
---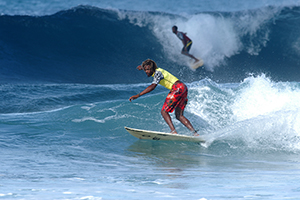 BEST FOR SURFING
BATHSHEBA BEACH, BARBADOS
This is the easternmost island in the Caribbean, and its exposure to the mighty Atlantic Ocean makes it a great place to catch some waves, whether you are a beginner or an expert. Most islanders recommend heading to the island's east coast, home of some hearty swells. Tops with surfers is Bathsheba Beach. Here, the sea pounds the shore at a spot called the Soup Bowl.
Where to Stay
Run by the same family for more than 50 years, the upscale Coral Reef Club (coralreefbarbados.com) provides visitors beautiful suites with an inviting ambiance. Set on 12 acres of land, the tastefully appointed rooms (some with a private plunge pool) provide seclusion amidst beautiful views of the lush, flower-filled gardens. For sheer relaxation be sure to make an appointment at the spa for a luxurious Lemongrass and Ginger Rub. Sounds like heaven!
---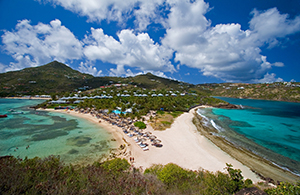 BEST FOR PRIVACY
TOINY BEACH, ST. BARTHS
Beautiful St. Barths attracts jetsetters from around the world. However, if you need an afternoon away from the trendy lifestyle setting, head to the quiet sands of Toiny Beach—one of most beautiful beaches on the island. For an extra special touch, have lunch at Hotel Le Toiny's restaurant (letoiny.com), an enchanting hideaway set on the hillside overlooking this spectacular beach. Here you can indulge in superb French cuisine with a Caribbean flair.
Where to Stay
Le Guanahani (leguanahani.com) appeals to the active traveler who enjoys tennis, fitness, and water sports. Or, if you prefer, just chill out at the spa for the new Expressement My Blend Treatment facial at the Clarins Spa. Luxurious suites include butler service and other creature comforts. Le Guanahani is also a great destination for families. Children enjoy special program activities at the beach, as well as spend fun time at the Kid's Club.
---
BEST FOR ROMANCE
PINK BEACH, THE BAHAMAS
Harbour Island may not be the easiest place to get to—you have to fly from Nassau or Miami/Ft. Lauderdale, and then take a ferry—but that's why it's so wonderfully tranquil. In fact, you could have the wide, three-mile-long band of Pink Beach almost entirely for the day. The soft sand gets its lovely color from coral and shells that were pulverized by the sea eons ago, so you can consider this a historical excursion, as well. Stretch out in the sun, cool off in the Atlantic and feel free to take a well-deserved snooze. Chances are nobody will be there to see you!
Where to Stay
Harbour Island's most luxurious hotel is Rock House (rockhousebahamas.com), an intimate haven for the international crowd. Tropical flowers are a welcoming touch to the sophisticated tropical accommodations, cabanas line the courtside pool, and the celebrated restaurant awaits diners to end another day in paradise.
---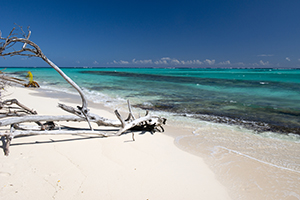 BEST FOR A PICNIC
LITTLE BAY BEACH, ANGUILLA
For a totally relaxing half-day excursion, set your sights on tiny Little Bay Beach, surrounded by cliffs and accessible only by boat. As a result, this stunning beach is surprisingly secluded. Pack a picnic lunch (your hotel's concierge will make the arrangements), then hire a fisherman at Crocus Bay to take you in his boat (it's a mere five-minute ride). There are no sailboats for rent here; although, if you're lucky, you may spot a stingray. Trust us, if it were easier to reach, Little Bay Beach would be packed!
Where to Stay
Look no further than the ultra-luxurious Viceroy Anguilla (viceroyhotelsandresorts.com). Overlooking tranquil Meads Bay, the fashionable resort features five restaurants, fully equipped gym, a spa, and loads of activities including a camping program for kids. Accommodations are stunning. The exclusive villas provide visitors that wow factor with private infinity pools, indoor/outdoor showers, and a fully stocked kitchen. And that's just the beginning.