Fine Dining at Bull & Bear Prime Steakhouse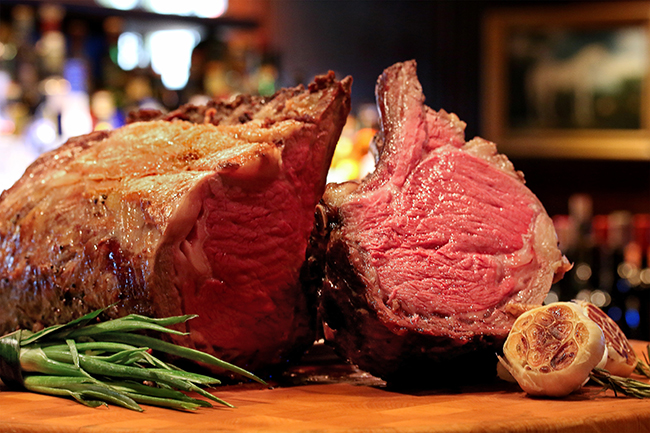 By Daniel J. Bollinger
Located in the Waldorf Astoria, one of New York City's most iconic hotels, is Bull & Bear Prime Steakhouse. Occupying the bustling corner of Lexington Avenue and East 49th Street, this restaurant can be easy to miss but once inside you'll be pleased you found this tucked away spot, which makes you feel as if you've been transported to another time and place.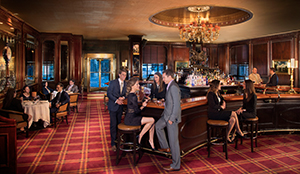 With a history that dates back to the 1930s, it's little wonder that this is one of New York City's favorite bars for travelers and locals alike. Cited as one of the top three in the world, this legendary four-sided mahogany bar is a true sight to behold. Combine this with the restaurant's Art Deco elements and you've got sumptuous décor with a welcoming atmosphere.
THE GREEN THEME
Bull & Bear is a leader in the organic revolution because their host hotel is the only one with a beehive and garden rooftop, which is evident in the restaurant's cuisine. They take pride in their menu made up of dishes using locally grown and organic ingredients wherever possible. To reduce their footprint, all of their food and beverages are purchased in bulk and they work with other hotels to purchase from one centralized location; plus you can't get more local than your rooftop beehive and garden.
TO START
Try their East Coast oysters, which they source from Long Island's south bay, as well as The Blue Oyster Company. These tender and sweet oysters are complimented by a perfectly tangy cocktail sauce. You might also want to try the Yellow Fin Ahi Tuna Tartare with Soy Sesame, which is diced and placed on seaweed that is pickled in house. Their homemade honey is drizzled on the side, so that you can add a bit of sweetness to play off of the sourness of the seaweed. The chef created a five-spice lavash for this dish with ingredients from the hotel's rooftop garden, so the flavor is unique and unlike any other five-spice lavash you may experience elsewhere in the city.
I highly recommended the Sizzling Thick-Cut House Bacon appetizer, which is cured for 12 days with honey from the hotel's rooftop beehive. This starter dish is more like a small slow-roasted pork tenderloin—a half-inch thick with a crispy outside and tender and moist center.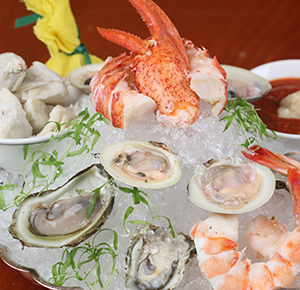 THE MAIN EVENT
I found the Jumbo Shrimp Scampi superb. It's not overly garlicky like many similar dishes I've had. Here, you can taste the shrimp in a nice creamy sauce made with herbs sourced from their rooftop garden. The star of the evening, however, is the Prime Rib Chop. General Manager Damien Collins claims it to be the best in the city and I totally agree with him. The restaurant ages their prime rib for 35 days and slow roasts it for nine hours. This exclusive dish is only available on the weekends, so I recommend you make a reservation to dine on a Friday or Saturday.
Usually a prime rib is fairly uniform throughout, but Bull & Bear's rendition offers different layers of flavors. After the savory bark, you get to the center of the meat that is tender and juicy. This dish is served with horseradish and béarnaise sauces, but it's not the sauces that complement the prime rib, it's the prime rib that helps balance the sauces. In fact, you don't even need sauce for this prime rib, as it stands on its own in terms of texture and flavor. I would be hard pressed to find any restaurant in the city that can compare to the brilliance of Bull & Bears' Prime Rib Chop.
THE RIGHT STUFF
Bull & Bear Prime Steakhouse is an ultimate luxury experience. During its long history, it has perfected a stellar menu, service, and all around ambiance. The attentive staff and managers Damien Collins and Justin Sugarman visit dining guests to ask if everything is to their satisfaction making me give Bull & Bear five stars on service. The fresh ingredients from its rooftop garden and beehive ensure you'll enjoy the exceptional flavors in each dish.
For more information visit bullandbearsteakhouse.com