On the Big Screen this Month
By Pat Collins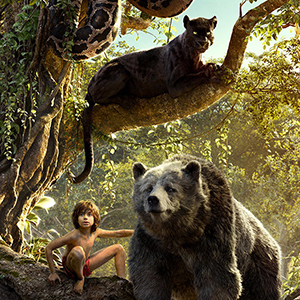 JUNGLE BOOK
Rated PG
Visually dazzling in IMAX 3D, Jungle Book is an eye-popping adventure with a stellar voice cast. Under Jon Favreau's direction, the film, inspired by Rudyard Kipling's popular stories, will delight children and grown-ups alike who are eager to experience a world inhabited by creatures large and small and cuddly and deadly. Mowgli (Neel Sethi), the man-cub raised by wolves (Lupita Nyong'o and Giancarlo Esposito) learns the jungle's survival-of-the-fittest law at age 10. During the course of his adventures, which may frighten children under 6, Mowgli is befriended by Bagheera, a black panther (Ben Kingsley); nearly killed by a gigantic snake named Kaa (Scarlett Johansson); threatened by a ferocious Siberian tiger Shere Khan (Idris Elba); and rescued by Baloo, a gigantic lazy bear (Bill Murray). All the furry costars are CGI animals. Favreau's decision not only won PETA' s seal of approval, but the computer-generated four-legged stars and that slimy reptile are dazzling to behold on the big screen. There are innumerable memorable scenes and one of them is Baloo singing "The Bare Necessities." I predict Jungle Book will be among the Oscar-nominated animated feature films next year.
---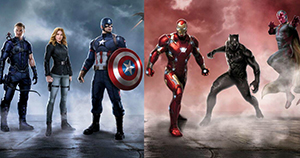 CAPTAIN AMERICA: CIVIL WAR
Rated PG-13
"Sometimes I just want to punch you in your perfect teeth," says Tony Stark (Robert Downey Jr.) to Steve Rogers (Chris Evans). The issue is dividing the two men, whose alter egos are Iron Man and Captain America, concerns government oversight of superhero activity. Politicians and the public alike are demanding accountability after a recent mission went terribly wrong. Their rift forces the Avengers to choose sides. War Machine (Don Cheadle) and Black Widow (Scarlett Johansson) are among those remaining loyal to Stark. Hawkeye (Jeremy Renner) and Falcon (Anthony Mackie) are on team Cap. Political pundits may be tempted to draw comparisons between the divided superhero universe and the American electorate, but moviegoers are counting on Marvel's popular characters to provide a much-needed escape from the real world. Directors Anthony Russo and Joe Russo have a few surprises in store for the Comic Com crowd and everyone else. It's not a spoiler to mention Spiderman's appearance. The web-slinger is briefly seen in the movie trailer.
---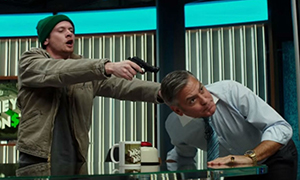 MONEY MONSTER
Rated R
Lee Gates (George Clooney), whose on-air personality resembles that of CNBC's Jim Cramer, anchors a financial advice show produced and directed by Patty Fenn (Julia Roberts) The live broadcast is violently interrupted when Kyle Budwell (Jack O'Connell), an investor of modest means, kidnaps Gates demanding payback. With millions of viewers watching, Gates attempts to explain to his increasingly agitated captor the intricacies of the global markets while wearing a bomb attached to his chest.
Director Jodie Foster coincidentally benefits from perfect timing. Her film opens during a presidential race, which has forced candidates to debate Wall Street's power and income inequality.
---
LOVE & FRIENDSHIP
Of all the films and mini-series based on Jane Austen's novels, none can be described as an uproariously funny romantic comedy. Set in the English countryside of 1790, director Whit Stillman's film combines romantic rivalry and duplicity as much as not more than love and friendship. The newly widowed Lady Susan (Kate Beckinsale) leaves London for the countryside to escape its well-bred gossips who have many reasons to shun a beautiful, conniving flirt. Lady Susan soon directs her attention to a wealthy young man and sets her sights on an eligible older aristocrat as a potential mate for her flighty 18-year-old daughter. Mr. Stillman deftly makes his point about women's social and financial status in another century. To quote Lady Susan: "We are who we marry". In addition to Ms. Beckinsale's sublime performance, there are two others—Chloe Sevigny as Lady Susan's American best friend and Tom Bennett playing the amiable nitwit. In the trivia department, Ms. Beckinsale and Ms. Sevigny costarred in Whit Stillman's Last Days of Disco in 1998.
---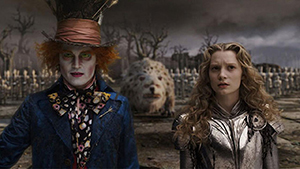 ALICE THROUGH THE LOOKING GLASS
Rated PG
Don't be late for a very important date, which is May 27th when the highly-anticipated sequel to Tim Burton's 2010 blockbuster arrives in all its 3D splendor. The titular character played by Mia Wasikowska escapes from a mental hospital and returns to a visually amazing Wonderland to save the Mad Hatter (Johnny Depp). Helena Bonham Carter and Ann Hathaway return as the Red Queen and The White Queen respectively. Michael Sheen bounces back in the White Rabbit role, and Stephen Fry recreates the Cheshire Cat's grin. Mr. Burton handed the directorial duties to James Bobin but remained involved as the film's producer.
---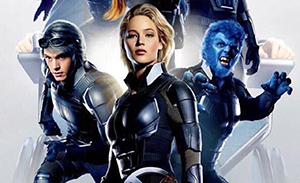 X-MEN: APOCALYPSE
Rated PG-13
The immortal mutant of the title (Oscar Issacs) awakens from a thousand-year nap and vows to destroy the world. The looming end of days catastrophe propels the X-Men into action in the franchise's ninth installment, which features Jennifer Lawrence (Raven/Mystique), Michael Fassbender (Erik Lensherr/Magneto), and James McAvoy (Charles Xavier/Professor X) to name a few. Hugh Jackman's Wolverine character makes a brief appearance, as does X-Men's co-creator Stan Lee. Rose Byrne (Moira MacTaggert), the CIA agent who is new to the X-Men universe, uncovers the clock is ticking doomsday plot.
---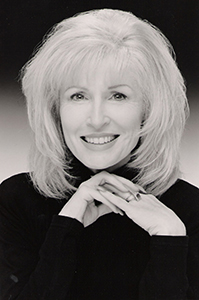 About Pat Collins
Pat Collins is a three-time Emmy award-winning film, theater and entertainment critic/reporter. Her outstanding media credits include WCBS-TV, Good Morning America and WWOR-TV. She is a contributor to CUNY-TV's Arts and The City program and the host of several Broadway specials including Kinky Boots On Broadway, Fiddler On The Roof: Back On Broadway, and The Road To The Tonys.