Our Picks for Getting Into Summer Shape
By Sandra Mardenfeld
Starting—and keeping—an exercise regimen often seems challenging. After all, most people forego their New Year's resolutions for a healthier, more physical lifestyle by the third week in. But the latest fitness trends almost make the pursuit of sculpted abs and a healthy heart—dare we say it?—fun. So, if you're bored with your usual treadmill-squat-stretch routine, how about a spin from the comfort of your home, an hour of rowing, engaging in a bout of kickboxing, a ballet class, or, even, a go at aerial yoga.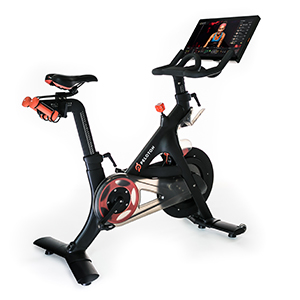 The Spin Cycle
Going to the gym becomes tiresome day after day. So don't do it. Instead, try Peloton, a special bike that allows you to access up to 12 live classes a day and thousands of on-demand selections. The cycle contains a 22-inch waterproof tablet, so you can access classes with a swipe of your hand. Over time, the live instructors even get to know you—just as if you attended a spin session at the local Y. If you miss the camaraderie of a class, you can coordinate and exercise with other at-home riders from all over the country. Currently, Peloton has 11 retail showrooms (including one in Chelsea) where you can check out this exercise option or you can just visit pelotoncycle.com.
Even without a Peloton bike you can become an indoor cycling enthusiast with Peloton Anywhere. This iPhone app offers on-demand classes—well, everywhere, providing you're on a stationary bike, that is. There are several plans, including a 14-day free trial, one-week pass ($5.99), and a monthly membership ($12.99 per month). Peloton bike owners receive a free year of usage.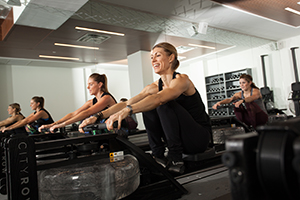 Row, Row, Row Your Boat
Want a workout that gives you biceps Michelle Obama will envy? The latest fitness craze gives new popularity to the gym's once-scorned rowing machine. CityRow offers a quick, 50-minute routine that combines rowing intervals with strength training on their cool WaterRower machines, which mimic the feeling of actually being on a river. Forget that robotic back-and-forth pace of your daddy's old-fashioned model—this apparatus is fun to use. Plus, the low-impact exercise provides maximum results without taxing your body. Some classes even throw vinyasa yoga into the mix, allowing you to break a sweat and calm your mind. Even if you've never done this type of workout, there is no reason to feel intimidated; especially since CityRow's fundamentals class tutors you in the form while you burn those calories. Check out a list of their locations at cityrow.com.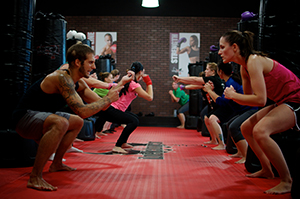 Kick It Up a Notch
Want to burn up to 800 calories in an hour—and, um, who doesn't? iLoveKickboxing offers a full-body workout (cardio and resistance training) that combines martial arts, boxing and aerobics.
Think of it as sweat with fun. You'll do your toughest work at the class' beginning before your energy and spirits lag. During the workout, you'll strap on gloves, hit a punching bag, and generally kick, jump and dance around like a prizefighter. As an extra benefit, these movements will make you more flexible, improve balance and agility, and will make those anger management classes unnecessary. iLoveKickboxing works for both fitness buffs and newbies. You can stand in the back and copy the movements until you're comfortable—but, don't fret, it's not a Zumba class. You'll catch on quickly. Just keep moving. Go to Ilovekickboxing.com for locations.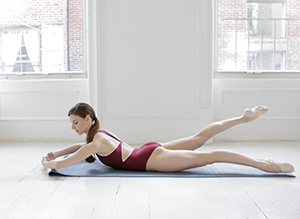 At the Ballet
Get beautiful... Ballet Beautiful, that is, with a method created by Mary Helen Bowers, a former ballerina who trained actress Natalie Portman for her Academy-Award-winning scenes in Black Swan. Ballet Beautiful combines extensive stretching and barre and mat routines to produce a lissome, graceful and strong body. If ballet keeps stars such as Portman, Alexa Chung, and Gigi Hadid fit, why not you?
So, if you've missed those childhood dance classes, Bowers offers you another chance to plié through private and group sessions. She also has DVDs, a $40 monthly subscription service that includes more than 100 workouts (they add two new ones every month) and live one-on-one lessons for those who want that sylphlike dancer's body without the commute to barre class.
Their custom workout program will create an exercise schedule using the company's material—it's like having a virtual personal trainer. If you're not ready to opt for that big commitment, though, start small. You can just stream individual downloads, such as the ultimate supermodel workout to your computer, iPhone, or iPad for $8. Find more details, go to balletbeautiful.com.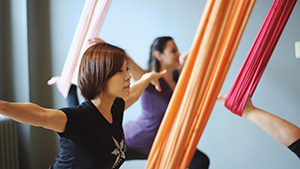 Namaste from the Sky
Forget Bikram, join celeb healthy living devotees, such as Gwyneth Paltrow, in working out several inches off the ground by practicing the very hot (in popularity, not temperature) aerial yoga. This gentle form of obtaining nirvana dangles participants as they pose inside a silk cocoon suspended from the ceiling. Some aerial yoga classes, such as Unnata Yoga in Brooklyn, even combine on-the-ground and air work. You'll see that downward dog takes on a whole different meaning.
The form focuses on recalibrating your mind while healing the body using therapeutic movements and inversions within the silk. Doing asanas while encased in cloth supports the body against gravity and makes yoga more accessible to those with wrist problems. It also encourages better alignment and lengthens your spine. Remember when singer Pink combined acrobatics with song during the 2010 Grammys? The silk she used was an AntiGravity hammock, created by gymnast and acrobat Christopher Harrison in 1996. But don't worry if don't have the singer's abs and you're currently hiding last year's skinny jeans; Harrison's equipment holds up to 1000 pounds and is accessible to anyone who's reasonably healthy and can do three consecutive sit-ups. Visit antigravityfitness.com and aerialyoga.com for class locations.