Lin-Manuel Miranda's Family takes Center Stage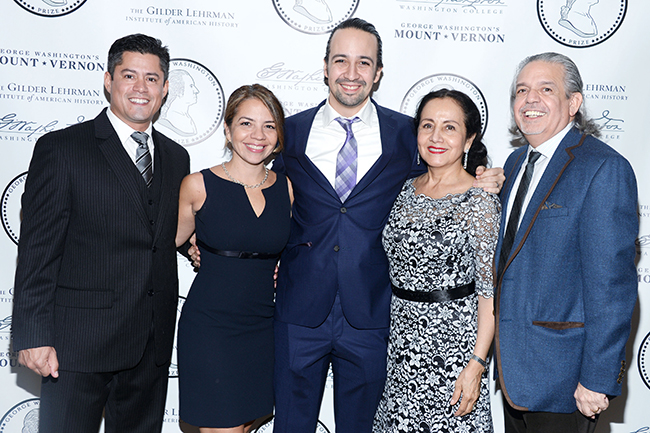 Louis Crespo, Luz Miranda-Crespo, Lin-Manuel Miranda,
Dr. Luz Towns-Miranda and Luis A. Miranda, Jr. Photo By PatrickMcMullan.com
By Ivette Manners
Genius isn't just born, it's a natural gift that's cultivated and nurtured by hard work, experience, and encouragement. Such is the case with award-winning composer/lyricist/actor Lin-Manuel Miranda, creator of the hot Broadway play Hamilton. Miranda, who recently won a Pulitzer Prize in drama for his hip-hop musical about U.S. Founding Father Alexander Hamilton, is also the brilliance behind In The Heights, which won 4 Tonys and a Grammy in 2008. New York Lifestyles Magazine got some exclusive airtime with the multi-faceted talent, who's at the top of his game, and his family who helped him get there.
The hard work, experience, and encouragement that helped inspire Miranda's genius started at home. He learned the importance of the family bond from his Puerto Rican-born parents who are fully committed to each other and their children. For Miranda, family comes first and is a big part of who he is as a person and a success. In fact, he was on his way home from his 11-year-old nephew's birthday party with his wife Vanessa and their 17-month-old son Sebastian when we caught up with him for our interview. "We are a tribe," says Miranda's father, Luis. "Tribes enjoy each other's company together, suffer together, and travel together. They get into each other's business and give opinions when they shouldn't. That's all part of being a family."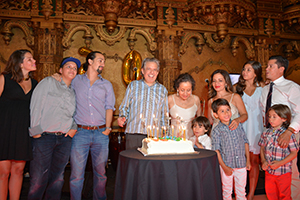 The Miranda family at Luis' 60th birthday Photo by Luis Crespo
Miranda doesn't talk about his success without mentioning his parents, Luis and Luz, or sister, Luz Miranda-Crespo; who have helped shape the star he is. The star that was evident from a young age. While growing up, Miranda's home was always full of music—from the Spanish songs played at family parties to Broadway show tunes he sang in the car with his parents to hip-hop that his sister listened to in her room. "My sister gets a lion's share of the credit for any cool musical taste that I have," says Miranda. "All of my first hip-hop albums were stolen from her collection. She's older than me, so she had all the albums before I did, like Black Sheep's A Wolf in Sheep's Clothing." During his stage debut at his kindergarten talent show, the then six-year-old Miranda lip-synched to "Land of Confusion" by Genesis with the help of his sister. "I remember Luz writing out the words for me, so that I could memorize them and she gave me the Benetton sweater that I wore." Luz interjects with a laugh, "Yes, I think I dressed you up!"
"Being on stage was sort of what he did," says Luis. "The arts have been his passion throughout his life—whether it was film, animation, theater, or music." As a teen, music became a part of his social circle. "It was everything," says Miranda. "I had friends that I wrote hip-hop with and I had a Doo-Wop group. Making music and movies with my friends were my big pastimes. In college, I was always trying to act and write in equal measure." While attending Wesleyan University, Miranda would spend time writing his own work (some of which ended up being the beginnings of In the Heights) while auditioning for other people's plays. "For me, creating and acting has always been two sides of the same coin," says Miranda. "I think that being a writer helps me be a better actor because I'm thinking a lot about what the writer had in mind for the character. And in turn, I think the better actor you are, the better you are at writing characters."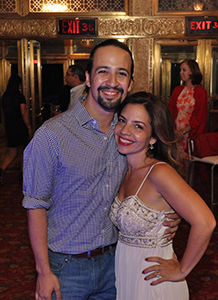 Lin-Manuel Miranda with his sister Luz Miranda-Crespo Photo by Luis Crespo
Miranda's ambitious drive comes from his equally overachieving parents. His father first came to the United States at the age of 18 to attend graduate school at New York University. "He was the youngest student ever accepted into their clinical psychology program," says Luz, Miranda's mother who met Luis while attending the same graduate program. "My wife brags about me every now and then," says Luis teasingly. "It's very nice." After graduation, Luis realized he didn't want to go the route of a clinical psychologist; he had other plans in mind. "My wife has been happy in clinical psychology for a very long time now, but that was too deep for me," says Luis. "After graduation, I spent a decade doing different things, mostly in government and non-profit." This included a job working for Mayor Ed Koch in the 80s when he founded the Hispanic Federation. He then went on to start his own company to pursue his passion for politics. "But before I was able to start my own company, my wife and I worked really hard to raise our two little kids. We wanted to be sure we could provide for them and put them through college. Once that happened, I knew I could then go out and pursue my passion."
"I come from a family of really hard workers," says Miranda. "My parents worked the entire time we were growing up. That was sort of the ethic we had. When Luz and I were in high school, we were the odd little worker bees. It was always about getting something done, even if for me that was writing songs with my friends. I think my parents inspired that in us at a very extreme degree. Even when we're having fun we have to feel productive." Miranda's sister Luz also inherited the boss gene. After earning her MBA at NYU, she is now CFO of the family's companies, which includes Miranda's 5000 Broadway Productions.
Miranda's parents not only encouraged his career by sending him to the best schools, they were also there to offer anything he needed to reach his dreams. "At the end of the day, our job was to support our son's passion," says Luis. "As parents, you help in both big and small ways. When he talks about fundraising for In the Heights, he remembers our allowing him to raid our refrigerator, so that he didn't have to buy food and letting him empty his mom's closet, so that he could have a garage sale."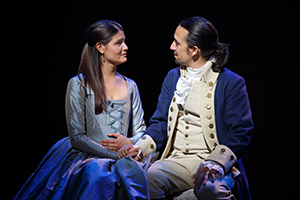 Phillipa Soo and Lin-Manuel Miranda Photo by Joan Marcus
Miranda's mom likes to give all the credit to her husband's guidance as a huge part of her son's success. "I think Luis has been the bedrock of how things moved forward for Lin-Manuel since the days of In The Heights," says Luz modestly. "I'm not a critic. As far as I'm concerned, everything that my son does is amazing. His dad, on the other hand, can be a great critic. Our main concern was: Would what Lin-Manuel wanted to do be viable? Before Hamilton, a hip-hop musical about the Founding Fathers with a cast of colors was not imaginable. It could have gone either way, but it's been amazingly well received. I think the timing has something to do with it." And indeed, America was ready for it.
Miranda's sense of community, his Latino background, and political opinions are very prominent in his work; but his messages transcend the stage. In a New York Times Op-Ed column this past March, Miranda speaks out about the current financial struggles in Puerto Rico, and similar to what Alexander Hamilton historically did in 1772 for his countrymen in St. Croix, Miranda made a plea for help for his fellow Puerto Ricans on the island. But Miranda is not all talk. He is a man of action, and his father is all in with him to make a change. Luis worked hard to secure resources for the newly launched Hamilton Education Program. The program was born from a partnership between the Gilder Lehrman Institute of American History (a non-profit dedicated to the improvement of history education in grades K-12), The Rockefeller Foundation, and the producers of Hamilton—brought together by Luis. "Patrick Brennan, a friend of mine who is chief of staff at The Rockefeller Foundation, had seen Hamilton and was amazed at its historical value and educational potential," says Luis. "We sat down and talked about working on a project together and he presented the idea to the president of the Foundation." While Luis helped make the connection with The Rockefeller Foundation for funding for the program, the producers of Hamilton had been talking to the Gilder Lehrman Institute about brining in the educational curriculum. It was the perfect collaboration, and last month all of their efforts paid off. The program kicked off on April 12, and it brought 1,200 students from 12 low-income high schools around the New York City boroughs to Broadway.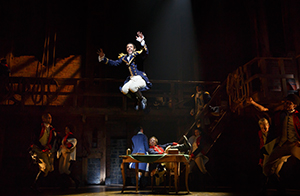 Photo By Joan Marcus
"This isn't just about bringing students who have never been to a Broadway show to see Hamilton," says James Basker, president of the Gilder Lehrman Institute. "It's about teaching history to kids who thought that it had nothing to do with them and giving them an opportunity to achieve." In lieu of taking an exam or writing an essay, students participate in the program by composing an original song, poem, or dramatic scene based on a historical character or event they learn about through Gilder Lehrman's curriculum. Then they perform their pieces in their school and the best students are chosen to perform live in the theater on the day they come to see Hamilton. "Lin-Manuel personally greets the students and the performances are introduced by actor Christopher Jackson, who plays George Washington in Hamilton. After their performances and seeing the play, the students get a chance to have a Q&A with the cast," says Basker. "These are some of the brightest kids you'll ever meet."
The Hamilton cast has been very active in the program, which will continue with a May 11 performance and extend throughout the year and across the country. "Our goal is to make this available to every school in America. Every kid should be involved in this program," says Basker. "And we're so thankful for Miranda for his involvement and dedication. He's a genius. He's the Shakespeare of our time." No doubt.