A Luxurious Mountain Retreat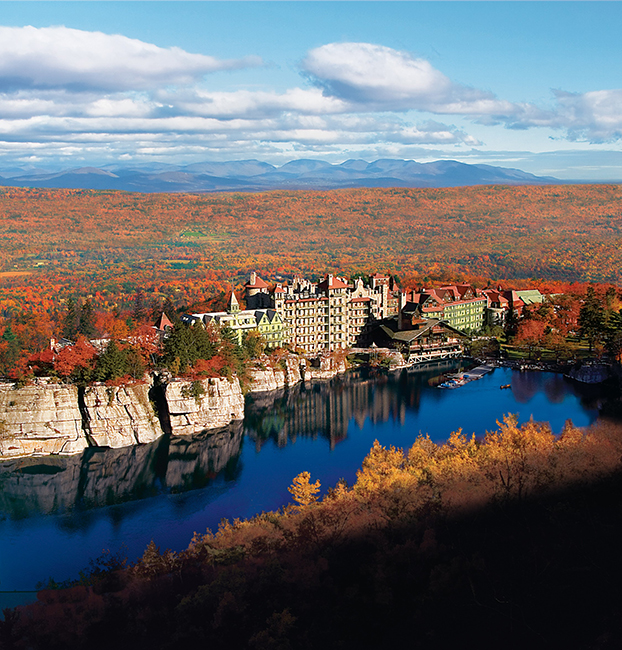 By Jeff and Stephanie Sylva
All photos courtesy of Jim Smith Photography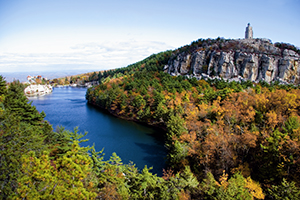 Set in the heart of a scenic natural area comprised of more than 40,000 acres of state park, private preserves, and resort property, a spectacular "Victorian castle" stands as a relic of graceful hospitality. Perched above the shimmering waters of New York's Lake Mohonk in New Paltz, Mohonk Mountain House offers a unique opportunity to commune with nature in grand style.
Founded in 1869 by Albert Smiley with the purchase of 280 acres and a ten-room inn, the historic house has grown into a legendary resort that attracts all types of visitors, from octogenarians to families who have vacationed at Mohonk for generations. Our first visit to Mohonk more than 20 years ago made quite an impression on us, just as it did on a New York Times writer in 1882 who said, "There is nothing in the world exactly like Lake Mohonk. It is famous, yet it has the kind of fame that people and places had before newspapers were known."
A LASTING STATUS
Mohonk's reputation continues to be celebrated by many of the leading travel magazines such as Conde Nast Traveler and Travel and Leisure for three years in a row. These, as well as many other accolades garnered by the resort, reflect this national historic landmark's commitment to providing guests with "opportunities for recreation and renewal of body, mind, and spirit in a spectacular, natural setting."
The Mountain House has retained its original Victorian character with beautifully carved woodwork and antique furnishings. One would spend the better part of a day trying to count the number of fireplaces that adorn the guest rooms, parlors, lounges, nooks and alcoves providing guests a warm, inviting environment to relax and renew after a day full of activity. (There are 138 working fireplaces.)
ENDLESS ACTIVITIES
Much of the charm of Mohonk Mountain House stems from the gracious sense of timeless luxury of its guest rooms and many hospitable parlors. But the grandeur of the resort is found outside amidst its colorful gardens, invigorating hiking trails and challenging rock scrambles, and its most spectacular centerpiece, the sparkling Lake Mohonk.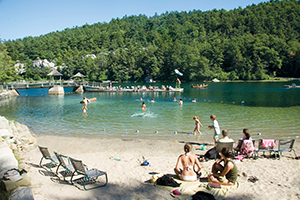 The views of the lake are surpassed only by those from the more than 100 gazebos that dot the lake's trails and paths. You'll find many of them perched on cliffs overlooking the lake, offering breathtaking views of the glacial-formed lake and the castle-like mountain house.
Mohonk has many inviting places, both inside and out, where people can find a tranquil spot to relax and lose themselves in a book. For those looking for a more active lifestyle, this mountain retreat offers plenty of choices, such as the guided hike or rock scramble—which are hikes on trails that look more like demolition sites. We especially enjoyed the rock scramble through The Labyrinth and the Lemon Squeeze. It provides excellent views of the lake and mountain house before it deposits you at the mountain's pinnacle and Skytop Tower, erected as a monument to Alfred Smiley offering panoramic views of up to six states on a clear day.
Guests can also enjoy a variety of water sports including canoeing, kayaking, stand-up paddle boarding, as well as lake swimming. Landlubbers have just as many activities available: croquet, mountain biking, tennis, golf, shuffleboard, yoga and fitness classes are some favorites.
In addition to these active choices, a variety of more leisurely options, such as guided garden strolls, narrated house tours, art exhibits, and carriage rides are available. You will want to check out Mohonk's wide selection of theme programs from music ("Jazz on the Mountain") to dance ("Ballroom Dancing Weekend"). Also, there are outdoor-themed activities ("Cyclist Training") and restorative activities ("Spring Yoga Weekend"). A complete list of theme programs is available on the resort's website.
SEASONAL SPECIALS
Be sure to check Mohonk's seasonal specials, such as their Hudson Valley Getaway; offered midweek, April through November. You can discover why the region around Mohonk is being called "the Napa Valley of the East." Mohonk's "Hudson Valley Getaway Map" highlights the region's many "trails"for exploring what the area has to offer, such as the seasonal "Pick Your Own Farms", the expansive Wine & Spirits, and the not-to-be-missed Hudson Valley History trails, plus more.
DON'T FORGET THE KIDS
Another amenity offered to guests is Mohonk's Kids' Club, a program designed to include plenty of playtime while exploring the natural wonders of Mohonk. During the summer months, the program is divided into three age groups and is available daily, while a modified program of two age groups is available most weekends and holidays the rest of the year.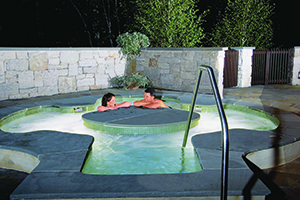 SOOTHE THE BODY & SOUL
Mohonk Mountain House has always been a perfect place to relax and restore. That goal is further enhanced at its award-winning Spa at Mohonk Mountain House. Again, the offerings of both spa services and fitness programs are endless and include the unique experience of "Mindfulness in Minutes—Meditation" in a private session with Nina Smiley, Ph.D.
The Spa building is a marvel in itself, as the structure blends a modern, environmentally-conscious design (a geo-thermal heating/cooling system and a 2,000-square-foot "green roof" garden are prime examples of this design). With more than 200 windows overlooking a majestic natural backdrop, together with local timber beams, cedar shingles, and native foliage, The Spa at Mohonk Mountain House creates a relaxing atmosphere by "bringing the outside in."
Sixteen treatment rooms, a heated outdoor mineral pool, a full-service beauty salon, as well as a comprehensive fitness center and yoga/motion studio, provide guests with a full array of therapeutic and fitness options. The Spa wing also features an indoor heated swimming pool with an underwater sound system.
A TASTY DELIGHT
Dining at Mohonk is a delight as the food is both bountiful and exquisite. Overnight guests enjoy three meals a day included in the price of the room. Breakfast and lunch feature extensive buffets with a few options, the best of which is the Granary Outdoor Barbeque for lunch offered weekends from early May until late October and every day during the summer months. The sumptuous Mohonk DinnerFest Buffet is offered late June to early September, holidays, and many Friday and Saturday evenings year round. A traditional three-course menu is also available for dinner and provides a true gourmet dining experience. Appetizers are simply enticing as are the delectable entrees including Seared Scottish Salmon or a Roasted Moroccan-Spiced Boneless Rack of Lamb.
The Mohonk Mountain House is full of life. Our recent visit to Mohonk confirmed to us the Smiley family's commitment--that this national historic landmark remains "the same, only better."
For more information about Mohonk Mountain House and its rates visit mohonk.com