MAMMA MIA! 5 Getaways to Make Her Day
By Patricia Canole
It's a bond that can never be broken. Mothers and daughters have a unique relationship which seems magical—an exclusive union that can be strengthened even more with a weekend getaway. Sure, everyone remembers their first family road trip as a child; but years pass and as adults there comes a time when we realize that a mother-daughter trip is just as equally important.
Mother's Day started well over a century ago and was the inspiration of Anna Jarvis, who in 1905 wanted to honor her mom. Anna, a peace activist, cared for the wounded and sick; she also created Mother's Day Work Clubs to address many public health issues. Anna persevered and believed that a day should be set aside to honor the women who have "done more for you than anyone in the world." Finally, in 1911, Woodrow Wilson designated Mother's Day as a national holiday.
Take a look at these quick getaways that will create a fun opportunity to get to know your mom in a whole new way. Go ahead, pack your bags and splurge. Each of these trips is ideal for bonding, relaxing, and learning something new. These trips don't have to be limited to just the girls, as mothers and their sons deserve some quality time together, as well.
---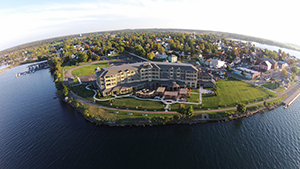 1000 ISLAND HARBOR HOTEL
Clayton, New York
Tucked into a seven-acre parkland setting fronting the St. Lawrence River, 1000 Islands Harbor Hotel offers a full-service resort experience for travelers to one of upstate New York's most picturesque getaway destinations: the Thousand Islands region. The AAA Four Diamond-rated 105-room hotel affords guests deluxe rooms and dining options, as well as an indoor swimming pool and a fully-equipped fitness center. Mothers and daughters seeking an idyllic retreat on the water's edge can choose from several package options. The "In-House Massage" package offers accommodations, a soothing massage for each guest, and breakfast at the Sea Grille restaurant. Adventure seekers will enjoy "The St. Lawrence Sports Package", which provides half- and full-day kayaking or bike rentals to make the most of the region's scenery. Breakfast included.
Its riverfront location in the historic town of Clayton puts guests just minutes from renowned vineyards; plenty of quaint shops (girls need some retail therapy); exceptional museums and performing arts centers; and a wealth of outdoor activities including river cruises, kayaking, fishing, hiking, and golf. 1000islandharborhotel.com
---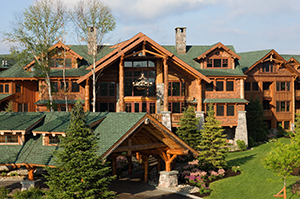 WHITEFACE LODGE
Lake Placid, New York
The 98-suite Forbes Four Star Whiteface Lodge, surrounded by the beauty of the Adirondacks, has everything mom needs for a luxury getaway. The "Pamper Yourself Spa Package for Two" includes two 50-minute massages at the award-winning Spa at Whiteface Lodge, plus access to health and wellness classes, cedar wood saunas, eucalyptus-infused steam room, indoor/outdoor pool and hot tub. A stay at Whiteface Lodge comes complete with suite accommodations boasting a balcony; jetted tub and fireplace; full breakfast daily; warm, homemade cookies at turndown; nightly s'mores; and access to all resort amenities. Guests can unwind in Kanu Lounge over dinner and signature cocktails, with live music enhancing the casual ambiance. Outdoor amenities include an ice rink, year-round hot tub, and two handcrafted lean-tos that provide an inviting, sheltered spot for guests to gather for hors d'oeuvres by the fire pit. thewhitefacelodge.com
---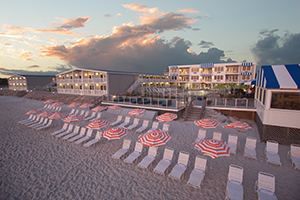 SEA CREST BEACH HOTEL
North Falmouth, Massachusetts
Make it a three-generational mother-daughter retreat, or add a sister or two by booking the three-bed cottage at Sea Crest Beach Hotel. These escapes feature a private deck and backyard, fire pit, kitchenette, and large fireplace that's perfect for family bonding. The main hotel enjoys a prime beachfront setting on Cape Cod's Buzzard's Bay and is located just minutes from seafaring attractions, such as Woods Hole Oceanographic Institution and Marine Biological Laboratory. Ferries to the neighboring islands of Martha's Vineyard and Nantucket are within walking distance.
Guests of Sea Crest Beach Hotel can step directly onto a private stretch of Old Silver Beach, one of the finest beaches on the Upper Cape. Later, enjoy a relaxing meal at the hotel's Red's restaurant offering fresh takes on American Cape cuisine or relax in the saline pool with deck and bar. For even more pampering, mothers will enjoy the "Beach Stone Package" in partnership with Bellezza Salon Medspa, which includes overnight accommodations, a Hot Stone Massage, and a spa-themed welcome bag. Guests should book at least four days in advance to ensure spa availability. Upon booking, Sea Crest Beach Hotel's reservation department will assist in scheduling spa services. seacrestbeachhotel.com
---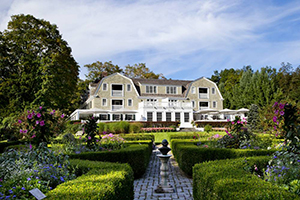 THE MAYFLOWER GRACE
Washington, Connecticut
Located in an idyllic New England town, The Mayflower Grace is an exquisite Relais & Chateaux country retreat set on 58 acres of exquisitely landscaped gardens and woodlands. With just 30 luxurious rooms, it is renowned as one of the Northeast's most distinguished hideaways. The sumptuous Mayflower Dining Room offers excellent service and cuisine serving upscale contemporary American cuisine by incorporating fresh local ingredients into each dish.
Mothers and daughters will enjoy a weekend of relaxing in the award-winning 20,000 square-foot spa, offering highly personalized wellness programs, as well as fitness classes such as power yoga, body sculpting, cardio fitness, and Pilates. For ultimate relaxation, the spa recently introduced Forest Bathing (Shinrin-yoku), a healing therapy that promotes health and wellness by integrating the natural outdoor world by engaging all five senses. Studies have shown Forest Bathing can lower blood pressure, heart rate, and stress levels, as well as boost immunity. This two-hour session embraces the mind, body, spirit, and soul as you experience the healing effects that only a "bath" in nature can provide.
Additionally, guests enjoy acres of other outdoor activities including hiking on the nature trails within the nearby Steep Rock Reserve. For less strenuous activity try your hand at tennis, fly fishing, archery, or kayaking. For more information, visit: gracehotels.com/mayflower
---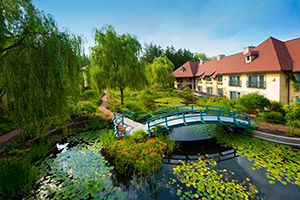 MIRBEAU INN & SPA
Skaneateles, New York
Situated on 12 acres in an upstate New York storybook village, Mirbeau Inn & Spa combines the amenities of a French country inn, a world-class spa, and nationally acclaimed fine dining, all with the elegant comforts and residential feel of a wine country estate. The 34-room hideaway is clustered around sumptuous Monet pond gardens. The exterior architecture, interior décor, and landscape design are reminiscent of a Provençal French country estate. "The Perfect Getaway" package for two includes luxurious overnight accommodations and a spa treatment credit for use in Spa Mirbeau. For guests who are wanting multiple treatments, it's suggested to have the resort's personal wellness advisor design a customized experience. You can choose from facials, massages, anti-aging treatments, and even holistic health and nutrition counseling.
The Mirbeau Dining Room serves breakfast, lunch, and dinner offering global cuisine inspired by French-speaking populations around the world. Classic methods using only local sources, Finger Lakes organic, and regional produce, dairy and meats grace the tables and satisfy the palate. Afterward, take in The Wine Bar & Bistro, which showcases interactive, self-service wine stations with 24 unique wines to explore. Wine Stations frequently change with such themes as "The Nose Knows—Aromatic Whites," "Pretty in Pink-Blush Lovelies," and "White Wines We Can't Pronounce." It's the perfect way to end the evening. mirbeau.com