From Classroom to Boardroom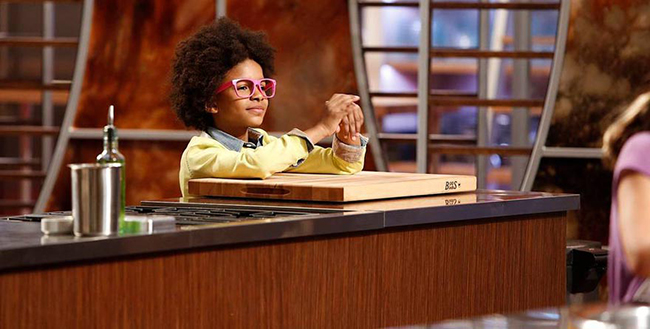 By Anthony Rapacciuolo
It's safe to say that most kids enjoy cookies, but 11-year-old Cory Nieves, Mr. Cory as he prefers to be called, has taken that love of confectionary treats and turned it into a business that's garnered national acclaim. How, you may ask?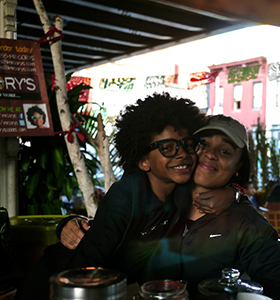 When Cory was five years-old he asked his mother Lisa Howard, who now works for Mr. Cory's Cookies as the company's Chief Operating Officer, why he had to take the bus to school each day. When Lisa told him it was because she couldn't afford a car, that sparked an entrepreneurial fire inside little Cory that's resulted in his being a guest on The Ellen DeGeneres Show (which ended up giving his mother a car), a contestant on FOX 5's MasterChef Junior, and landed him in the Cake Boss, Buddy Valestro's, bakery where he currently runs his cookie operation while seeking a permanent location of his own.
Before all the attention, however, he and his mom initially began selling hot cocoa, as well as lemonade and cookies outside of a friend's business on the weekends, and later in front of their apartment building. Word spread quickly about the well-spoken and fashion-forward little boy and his delicious treats. After selling multiple items for a while, Mr. Cory realized that cookies were by far the best sellers, and he decided to focus exclusively on them. After hundreds of batches and taste tests, he finally came up with the perfect chocolate chip recipe, and most recently even created a sugar-free oatmeal raisin cookie for his health-conscious clients. His cookies are made with all-natural and mostly organic ingredients, but most importantly "with love".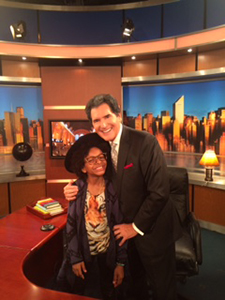 New York Lifestyles Magazine had the pleasure of speaking with Mr. Cory, who by the way is quite possibly the most eloquent 11 year-old on the planet, and his mom Lisa about how a dream six years ago has today become the reality of a successful business.
Mr. Cory, give us a little background on the business, how did you start and what was your inspiration?
I started doing this so that I could save enough money to buy my mom a car, and also so that I could start saving money for college. My mom is my role model and my inspiration. She always told me to never give up, keep your eye on the dream, and dream impossible things before you wake up in the morning—and that's what I do.
Lisa, tell us what it's like to not only be your son's inspiration, but business partner?
I never thought my son would look up to me like he does, it's an amazing thing. Kids tend to look up to celebrities and famous people and forget about their parents. What I will say is that I never imagined that I would be working for my son, but he manages it very well. We started doing this together on the weekends when he was five years old, and the best part about being in business together is the bond that we have. Most parents are out there working and don't have time be with their children as much, but now we are together all the time.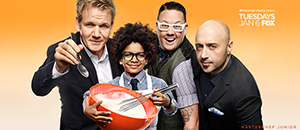 Mr. Cory, let's fast forward a little bit and talk about the experience of being on MasterChef Junior?
It was a little crazy, but a lot of fun. I learned all kinds of new techniques and got to use a lot of equipment for the first time, some of which I'd never even heard of. Chef Ramsey taught me not to mess up my food or else it's not going to be good.
You've accomplished so much, but you're still only 11 years old, what do you enjoy when you're not working?
I don't always work, sometimes I have fun. I like to read books and golf, and I also really like Taekwondo. I'm also into fashion, fashion and me are close. I think you should dress the way you want people to treat you, and that's why I've always had a thing for fashion.
What's in store for the future? A cookbook, perhaps a clothing line?
That's G-14 Classified information! What I can tell you, is that we are working very hard and taking it one step at a time to be able to deliver our cookies nationwide, and we're spreading love. I'd also like to thank all the fans on social media for continuing to support me.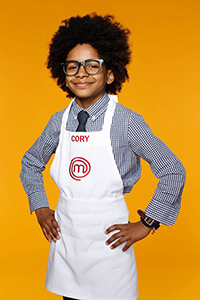 Mr. Cory's Cookies are currently available at several local markets and bakeries in New York and New Jersey; and local customers, as well as corporate clients can place orders through his website mrcoryscookies.com. He is also using his website to raise money through an Indigogo campaign, which will allow him to sell and ship his cookies and cookie dough nationwide. Don't forget to follow him on Facebook at mrcoryscookies, Twitter @MrCorys, and Instagram @MrCorysCookies.