My New York Story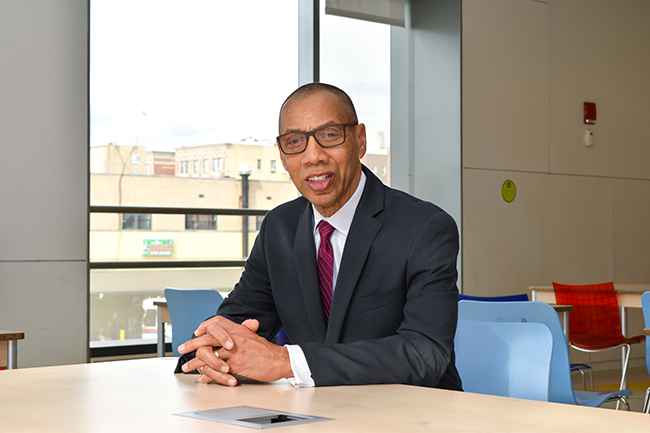 By Dennis M. Walcott
New York Lifestyles Magazine is excited to introduce our new column, "My New York Story" to you, our readers. This series will share personal stories from interesting New Yorkers on their work and experiences in the city. Enjoy !
One of my favorite slices of New York life is riding the subway, especially the #7 train. I notice the diversity of the people speaking so many different languages. I observe the changing neighborhoods, and watch who gets on and off. Are they students? Healthcare-providers heading to hospital shifts? Exhausted construction workers going home? They are lost in their own thoughts and their own lives, but everybody is going in the same direction. It is New York at its best. I love it.
For much the same reason, I love watching the interactions in the public library. There is no place that demonstrates how the sum of the parts adds up to more than the whole quite like a public library. On the surface: shelves of books, computers, a handful of staff... but it is so much more. In my new position as President and CEO of the Queens Library, I chose to locate my desk on the main public service floor. It gives me an opportunity to observe the "street life" of the library. Library customers regularly engage me in conversation. They are not shy—this is New York! I try to gently probe, to gain a greater understanding of what they want and need from us. As the saying goes: there are eight million stories and they take their questions, wants, needs, and dreams to the public library. And no matter what, the library staff rises to the occasion. They are unflappable.
During my very first week, a man recognized me and introduced himself. He had just been released from prison after a very long time. He did not mention why, but had done hard time. Now, he needed to find a job and gain the skills to keep it. He had come to the library for help with his resume and to sign up for computer workshops. I met a woman who told me she had recently earned an online doctoral degree using the library's computers and resources, since she does not have a computer or broadband at home. I met a roomful of Korean-American parents with their babies who had come to the library for bilingual toddler story time. They know the importance of early literacy activities in developing good readers. I met a man in his mid-90s who usually receives Mail-A-Book service to his home, but who took advantage of mild weather to come to the mobile library, so he could update his reading preferences and give the staff his very strong viewpoint on the upcoming presidential elections. I met a group of seniors who come to the library every day to read the Greek-language newspapers. They can get the papers at home, but who wants to sit home all day alone, reading the newspaper? I met a woman who credits the library for her business success and for allowing her to write and publish a book. I have met adult learners who credit the library with helping them write simple sentences in English.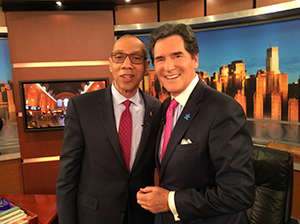 Dennis M. Walcott and Ernie Anastos in the New York Fox 5 studio
I have also had the privilege of meeting many of the hard-working and dedicated library staff, who come to work every day ready for anything. New immigrants with questions about their immigration status are referred to free legal assistance. Students with research projects (already overdue), are directed to age-appropriate reference materials with a good dose of advice about not leaving things until the last minute. Girls from difficult circumstances are discreetly slipped packets of personal hygiene supplies. People who are new to the neighborhood want to find a doctor who will accept their insurance and who speaks Pashto or Italian or any of the dozens of other languages. Red-faced teens whisper questions about their reproductive health. Too many people, in dire need of social services, just need help, every kind of help. All of this happens in parallel with a book discussion on a popular novel, a flamenco performance and a workshop on using social media to promote a home business.
The Queens Library staff is as diverse as the customers. They speak dozens of languages and have many interests and skill sets. How can they possibly serve the broad range of informational needs of a place like Queens? They are also New York at its best and I love it.
Dennis M. Walcott, president and CEO of Queens Library, is a lifelong resident of Queens and has spent his entire career in public service and education. His positions held include state-appointed monitor of the East Ramapo School District, chancellor of the NYC Department of Education, and Deputy Mayor for Education and Community Development. He has served on the Board of Governors Island Preservation and Education Corporation, Board Chair of NYC's Fund for Public Education, Co-Chair of the Mayor's Commission for Construction Opportunity, and president and CEO of the New York Urban League. He began his career as a kindergarten teacher.