15 Minutes with Laura Benanti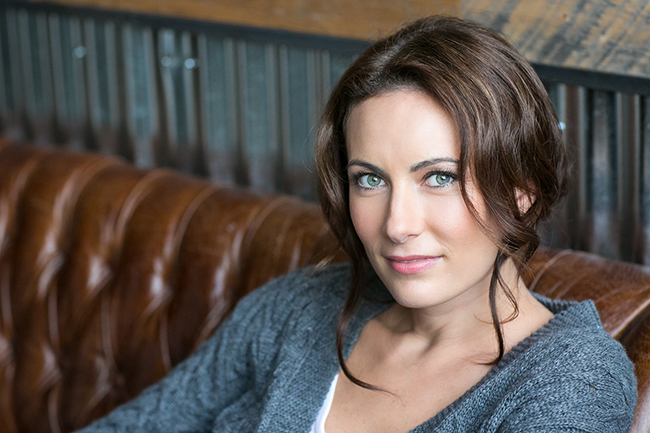 By Ivette Manners
It's said that when an actor or singer makes it to the Broadway stage, they've really made it big in their career. So what do you say about an actress who launched her career on Broadway, then soon after hits the silver screen and moves seamlessly between the two? I'd say she's a real star. Tony award-winning Laura Benanti is one such blazing comet. The charming New Yorker who recently won over viewers as the rising songbird in ABC's Nashville, is back on Broadway starring in the new hit, She Loves Me at the Roundabout Theatre Company. Here, Benanti takes some time out of her busy schedule to chat with us.
NYLM: Tell us about working on She Loves Me and your Broadway career.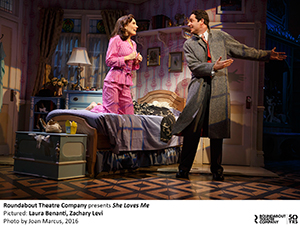 Benanti with She Loves Me costar Zachary Levi. Photo by Joan Marcus, 2016.
LB: She Loves Me is a dream role for me. I listened to the original cast recording starring Barbara Cook (my idol) as a very young girl and dreamed of playing this role. My first role on Broadway was I when I was 18 years old. I starred as Maria opposite Richard Chamberlain in The Sound of Music. From there, I've gone on to do eight more Broadway shows, as well as many television shows.
NYLM: Did you take a break from theater to be on television? Are you happy to be back on Broadway?
LB: I chose to focus on television, the way I focused on theater for so long. I'm thrilled to be back.
NYLM: Is singing more your passion?
LB: Singing and acting are equally my passions. But singing is an exhilarating experience and a gift for which I'm very grateful.
NYLM: Tell us a little about your role in Nashville. Did you love it because you also got to sing, as opposed to just act, such as on Supergirl?
LB: It's always nice to show the full range of your talents. I got to do that in The Sound of Music Live! for NBC and Nashville; and that was fantastic. However, I also loved being on Supergirl (on CBS).
NYLM: What do you love about both theater and television?
LB: They're each different disciplines and I like working the muscles they both require. I appreciate that television work is preserved forever, and I love the ephemeral quality of the theater.
NYLM: What are you obsessed with right now?
LB: It's hard to be obsessed with anything when you're performing eight shows a week. Right now I'm obsessed with sleep. I'm also obsessed with spring in Central Park.
NYLM: What is or was your favorite New York moment?
LB: Getting my wedding photos taken outside of Riverside Church [last November] with drivers going by honking and cheering; and people walking by and wishing my husband and I well. New Yorkers are great.
NYLM: What important current event or issue interests you right now?
LB: The election, for sure.
NYLM: What's your favorite spot in New York?
LB: I love the West Village. I love the history there. But, I also really love Harlem (our new neighborhood). My best friend Sarah Saltzberg has a real estate company called Bohemia Realty Group, and my brother-in-law Nick Brown works for her. That firm does so much for the community. It's such a fantastic and community and family-oriented place to live. Lido is our favorite restaurant up there. It's fantastic.