A Morality Play?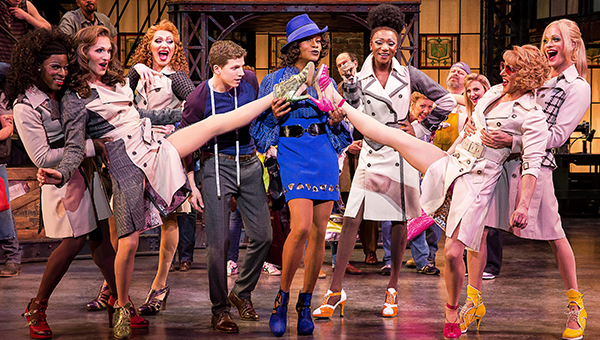 By George Spelvin
Charlie Price has reluctantly inherited his father's shoe factory which is on the verge of bankruptcy. Trying to live up to his father's legacy and save his family business, Charlie finds inspiration in the form of Lola. A fabulous entertainer in need of some sturdy stilettos, Lola turns out to be the one person who can help Charlie become the man he's meant to be. As they work to turn the factory around, this unlikely pair finds that they have more in common than they ever dreamed possible… and discovers that when you change your mind about someone, you can change your whole world.
With court rulings regarding same sex marriage and the public acceptance of people for whom they are as individuals, Kinky Boots becomes more relevant today. We have a straight-laced young man who is befriended by a drag queen and a cast of gay performers.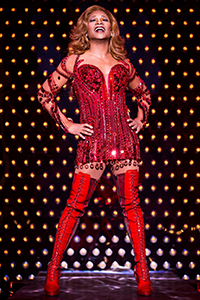 Even though the outcome is predictable, the journey is both entertaining and educational, especially to those who may still harbor prejudices.
Inspired by a true story and based on the Miramax motion picture written by Geoff Deane and Tim Firth, Kinky Boots features a warm and witty book by Fierstein and a richly diverse musical score from Ms. Lauper in her stunning theatrical debut. Mr. Mitchell has crafted a production that moves, inspires and sets the audience's feet dancing.
"Children are smarter than any of us," said Bill Hicks, the late comedian and satirist. "Know how I know that? I don't know one child with a full time job and children."
But seriously, kids are often wiser than we give them credit for. And sometimes they can find true inspiration in places that may not seem initially obvious. Take the Broadway hit show Kinky Boots which is now touring throughout the United States. In the Tony Award-winning musical, the owner of an old school shoe factory has to find a fabulously creative way to keep his family's business from going under so he takes some untraditional steps to save the company. But more than that, as the show's lyrics tell us, the musical is about how to "celebrate yourself triumphantly" and "accept yourself and you'll accept others too."
Some people may not automatically think Kinky Boots is a great family show, but don't be thrown by the title. Daryl Roth, a Kinky Boots producer with Hal Luftig, was asked why the show is wonderful for families.
What lessons can children learn from the show that they can bring with them into adulthood?
At the end of the day, Kinky Boots is about acceptance – accepting yourself and accepting other people for who they are: the importance of kindness, understanding, and friendship. What better lesson would you want to teach your child? It also addresses bullying and that's sadly an issue so many kids face now. There's lots of costumes with glitter. The great music makes you want to dance in the aisles and I think kids love that too!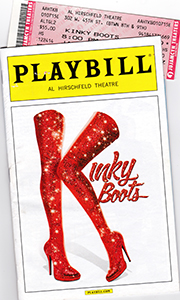 Kinky Boots won six 2013 Tony® Awards, the most of any show in its opening season, including Best Musical, Best Score (Cyndi Lauper), Best Choreography (Jerry Mitchell), Best Actor (Billy Porter), Best Orchestrations (Stephen Oremus), and Best Sound Design (John Shivers). The show also received the Drama League, Outer Critics Circle, and Broadway.com Awards for Best Musical and the Grammy® Award for Best Musical Album, along with many other accolades. Tickets for Kinky Boots ($87 - $157) are available for purchase in person at the Al Hirschfeld Theatre box office (Monday – Saturday, 10am – 8pm and Sunday, 12pm – 6 pm), via online purchase at telecharge.com, or by calling Telecharge at 800-432-7250 or 212-239-6200. For information on group sales, contact Group Sales Box Office/Broadway.com at groups@broadway.com or 1-800-BROADWAY, ext 2.
The standard performance schedule for Kinky Boots is as follows: Tuesday at 7pm, Wednesday at 2pm and 8pm, Thursday at 7pm, Friday at 8pm, Saturday at 2pm and 8pm, and Sunday at 3pm. There is a general ticket lottery each day. Lottery entries are accepted outside the Al Hirschfeld Theatre box office (302 West 45th Street) beginning two and a half hours prior to each performance, and names are drawn at random for a limited number of $37 tickets. See KinkyBootsTheMusical.com for details and restrictions.