Summer on Broadway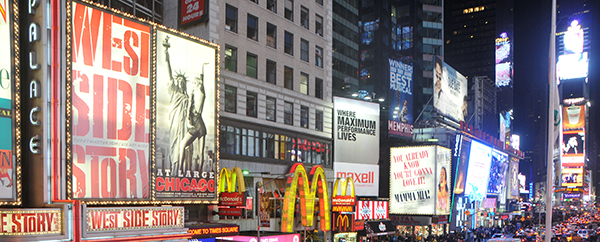 By Jim Kierstead
It's summer in the city, folks! And that means it's summer on Broadway, as well! It's great to meet you all. I'm a New York theatre producer and theatre is my passion. I assume if you're reading this article then you most likely at least have a general interest in theatre… so welcome!
In my column, I'd like to tell you something about the background of theatre production and also fill you in on something exciting going on in the New York theatre scene. So here we go!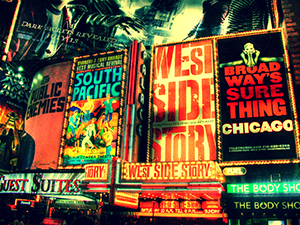 As you may or may not know, the Tony Awards, which this year took place on Sunday, June 7th at Radio City Music Hall, mark the end of the theatre season. Did you watch them this year? If so, you saw hosts Alan Cumming and Kristen Chenoweth light up the stage along with a whole host of celebrity presenters. You also got to see some amazing performances from the nominees for "Best Musical," as well as from some of the other musicals running on Broadway this past season. At the end of the evening, after all of the various awards were given out, you also finally saw FUN HOME receive the coveted award for "Best Musical."
Broadway is very interesting because, some years, the big glitzy musicals win "Best Musical" (like KINKY BOOTS did in 2013) and, some years, smaller more artistic shows win. This was one of those years. I personally love seeing that there is room on Broadway for all types of shows and how the Tony voters recognize each type when warranted. On one hand, it might have been easy for the voters to vote for a show like AN AMERICAN IN PARIS or SOMETHING ROTTEN due to the fact that these are highly commercial properties and they will tour incredibly well across the U.S. and all over the world. FUN HOME, on the other hand, is a small artistic musical that began down at The Public Theatre, based on the Pulitzer Prize-winning graphic novel by Alison Bechdel, that could technically have been considered to be a rougher sell by touring companies. This, however, did not dissuade the voters from crowning FUN HOME with this top honor.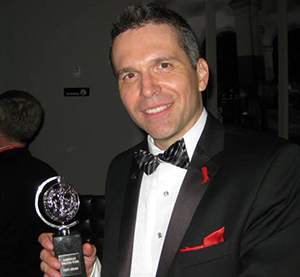 After the Tony Awards were over, the new 2015-16 theatre season officially began. It's common that a number of shows will close right after The Tonys. This is due to the fact that shows that have been struggling financially, but yet have received Tony nominations, will many times attempt to stay open until the awards in the hopes that they will win, which may serve to draw more attention to their show. However, if this does not end up working out (either because they did not win the awards they were hoping for or the financial situation of the show did not change as a result), the show will have no choice but to announce their closing.
The way Broadway works is that we tend to see a big influx of new shows in the Fall (usually starting in September) and then again in the Spring (usually beginning in March). So what, you ask, happens when shows close right after the summer? All of a sudden the theatre owners find that they have vacancies in their expensive theatre real estate. So even though, traditionally, the Fall and Spring tend to be the times of year for new shows to begin, shows also can open in the summer when these vacancies comes available.
This year is no exception! So, while summer tends to be a time to catch up on shows that opened during the previous season or to see hits that have been perhaps running for years, it's also a time to see a few new shows that pop up to fill the vacancies left as a result of these closings. The following is a list of some new summer shows for you to check out:
• AMAZING GRACE (The Nederlander Theatre, began June 25th): This new musical tells the story of the creation of the spiritual song by the same name. It chronicles one man's coming of age from being an international slave trader like his father to embracing the more compassionate views of his childhood sweetheart.
• HAMILTON (The Richard Rodgers Theatre, began July 13th): Even though HAMILTON begins its Broadway run this summer, you probably won't get to see it this summer if you don't already have your tickets! After a record-breaking run at The Public Theatre, Lin-Manuel Miranda's ground-breaking musical about one of our nation's most unlikely founding fathers comes to Broadway with a huge advance that promises to be sold out for a long time. But check it out when you can! It's quite stunning.
And some new OFF-BROADWAY shows this summer that you might want to check out:
• SHOWS FOR DAYS (The Mitzi E. Newhouse Theatre at Lincoln Center, began June 6th): Patti LuPone and Michael Urie star in this tribute to Douglas Carter Beane's grass roots theatre past.
• COLIN QUINN THE NEW YORK STORY (Cherry Lane Theatre, began July 9th): Comedian Colin Quinn returns to Off-Broadway with his third one man show directed by Jerry Seinfeld. This satirical look at the history of the Big Apple is sure to have you rolling in the aisles.
• RUTHLESS – THE MUSICAL (St. Luke's Theatre, began June 25th): A revival of the beloved tale telling of frighteningly ambitious child stars and their even more frightening parents!
These are just a few of the new events of the summer. Whether you check out something new or something not-so-new, Broadway (or Off-Broadway) has a show for you!
Until next time… break a leg!
Editor's Note: We'd like to welcome Jim Kierstead as a regular Broadway Insider columnist for New York Lifestyles Magazine. Jim has been involved in numerous productions in New York as both a producer and investor and has won two Tony Awards. If anyone knows the ins and outs of the Broadway scene, It's Jim