Niagara on the Lake More Than Just Falls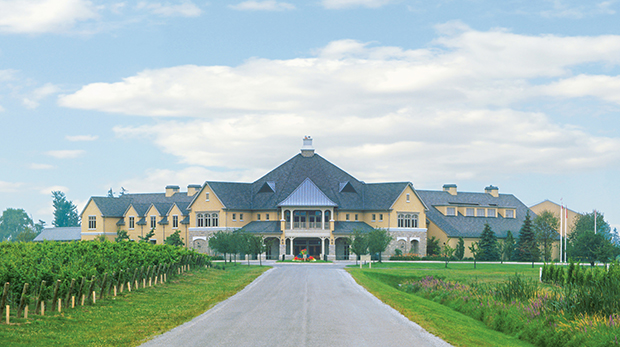 By Jodie Jacobs
Listen up lovers of the stage and slainte, aficionados of the vine. Travel north to Niagara-On-The-Lake for a top theater and wine experience. Niagara-On-The-Lake is a two-for-one vacation about a day's drive or a 70 minute flight from New York City over the Canadian border from Buffalo, NY. www.niagaraonthelake.com
"It's a very vibrant place to visit," said Janice Thomson, executive director of the town's Visitors and Convention Bureau.
Indeed, you feel the vibes in the tiny downtown when browsing dozens of boutiques, snapping photos of the Prince of Wales impressive hotel exterior and picking up wine-trail maps and theater information from the VCB-Chamber of Commerce office on Queen Street.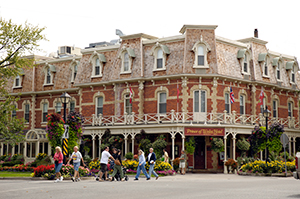 BTW, even if you don't stay at the upscale Prince of Wales, reserve a table for lunch or tea there to see its elegant interior.
www.vintage-hotels.com/princeofwales
If one of the vibes you feel is British, it's because of its roots. Called Newark in 1781, it was a destination for British loyalists during the American Revolution and it still has Fort George, a vital British Army headquarters during the War of 1812.
www.friendsoffortgeorge.ca/fort-george
American soldiers burned the town when they left for Fort Niagara, but don't worry; the town was rebuilt and the locals don't hold it against their US neighbors. Instead they have package deals that encourage annual Yankee invasions to see the world-class Shaw (theater) Festival and visit the area's wineries.
It's About Shaw
When Brian Doherty, Niagara–on-the-Lake, and Calvin G. Rand, Buffalo, mounted their first season of George Bernard Shaw's plays in 1962 they did four performances of "Don Juan in Hell" and four of "Candida" in the small, historic 1840's Court House.
What began as a short summer season of the plays of Shaw and his contemporaries has grown to shows in four theaters and includes recently written plays set in Shaw's lifetime of 1856 to 1950.
The main venue is the modern, 869-seat Festival Theater. Then there is the original 327-seat Court House and the charming Edwardian 329-seat Royal George Theatre. An intimate, 175-seat Studio Theatre for contemporary Shavian productions has been added inside the Festival Theatre building.
The wonderful English theater tradition of ordering drinks ahead of time to be picked up during intermission is carried on at The Festival Theater's café which also has delish desserts.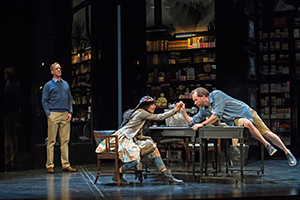 Tip: Order tickets before going up if it's high season from June through August. Best plan is to go in September when all plays are still performed but many tourists have left. October is also good if you don't mind a limited program schedule. You get fall color, a relaxing weekend in a quaint Canadian town and it is easier to book spa treatments and restaurants.
www.shawfest.com/about-the-shaw
See A Mix Of Shaw, Musicals, Broadway Plays And Fun, Insightful Shows In 2015
Neil Simon, Cy Coleman and Dorothy Fields' "Sweet Charity" musical, Shaw's "Pygmalion" and Moss Hart's "Light Up the Sky" are in the Festival Theatre, each ending on different October dates.
A new version of Henrik Ibsen's "The Lady from the Sea", Caryl Churchill's "Top Girls" and J.M. Barrie's "The Twelve-Pound Look" are in the Court Theatre until Sept. 12. Tony Kushner's "The Intelligent Homosexual's Guide to Capitalism and Socialism with a Key to the Scriptures" is in the Studio Theatre through Oct. 10.
Rick Elice's "Peter and the Starcatcher," Shaw's "You Never Can Tell" and Michel Marc Bouchard's "The Divine: A Play for Sarah Bernhardt" are at the Royal George Theatre with different ending dates in October and November.
www.shawfest.com/playbill
"We suit the stage to the piece," said Jackie Maxwell, the festival's high energy artistic director.
It's About The Wine
What started out as the summer arrival of knowledgeable theatergoers who came every year for the Shaw Festival has turned into a seasonal influx of exuberant wine tasters. The land between protected from extreme weather conditions by the Niagara Escarpment on the south and Lake Ontario on the north had been known for good fruits and vegetables but when wine became popular, the number of wineries in the region exploded.
www.vqaontario.ca/Appellations/NiagaraPeninsula
www.wineriesofniagaraonthelake.com
When Reif Estates Owner/President Klaus Reif thinks back to when he established the winery in 1982 he recalls about 14 wineries in Ontario. "Now there are 250. In Niagara-On-The-Lake there used to be four now there are 32," Reif said. "It used to be that people would come for the Shaw Festival and see there are also wineries here. Now visitors come for the wineries and also go to the Shaw Festival."
Reif explained the area was perfect for wine growing. "Number one, there is great soil. Two is climate conditions. Some people think you need hot. No. Best is a cool climate. You need sun and cool nights. If hot, there is no backbone, just a lot of sugar. Best is northern viticulture (viniculture)."
A 125 acre estate within the Niagara River Appellation, his winery attracts wine trail tourists on the Niagara River Parkway. "We have a quarter of a million people walk into our winery to taste the wine, do a tour, have a wine dinner and come for education and many other different events," he said.
www.reifwinery.com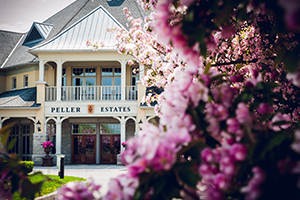 At Pellar Estates, a gorgeous wine chateau on John Street East, Estate Manager Tim Coons thinks the region is not well-known beyond its bordering states and provinces but attributes growth of its wineries to a "lifestyle shift," particularly among Canadians. "They're taking time to appreciate it and the finer things in life," Coons said.
He added, "I do not think everyone knows about Niagara-On-The-Lake's wine. We're a small wine making region that is not well known internationally. People interested in the arts used to come just to see plays and learned about the wine. It's more intertwined now."
Coons pointed out that the wine trail has become a destination. "Lots of people from Ohio and New York come for the experience. It is very grass roots. They see the grapes, taste the product-the fruits of the land and interact with our team. They learn how we make the wine," he said.
At Pellar, it's also about package combinations and food, according to Winemaker Katie Dickieson. We have a wine-theater package. People do a wine tasting tour here then off to theater. We also have a three-diamond restaurant headed by one of best chefs in Canada, Jason Parsons who is also on CityLine.
www.peller.com
Where To Unpack The Suitcase
When a town is as charming as Niagara-On-The-Lake you can expect delightful inns and B&Bs. The choice is tough because there are several enchanting places, each with its own personality
www.niagaraonthelake.com/page/accommodations
For sheer graciousness and history there is the Prince of Wales on Picon Street, an extension of Queen Street. Its block-long Victorian façade elicits lots of oohs. The advantage of staying there is its location between the Shaw Festival Theatre and the Royal George Theater so no worries about parking. Just expect luxury and convenience to come with a high-end price tag.
www.vintage-hotels.com/princeofwales
If looking for something a bit quieter and still want upscale English ambiance, consider the Oban Inn about two blocks north of downtown on Front Street. It also has a well-known restaurant and spa. To sit in the English garden across from the Queens Royal Park and Lake Ontario is to shed travel fatigue.
Inside the day begins and ends with an English accent. Guests indulge in a full English breakfast accompanied by local jams. Guests and visitors come to try Oban's popular prime rib with Yorkshire pudding before seeing a play at nearby Royal George Theatre. It's also close to the Court House but a healthy walk to the Shaw Festival Theatre.
www.obaninn.ca
To feel like you have left the town to the tourists but want to stay within a 12-15 minute walk to the Festival Theatre, check into the Riverbend Inn and Vineyard.
www.riverbendinn.ca
A stately 1860s Georgian mansion, the inn sits on a small vineyard at the curve of the scenic Niagara River Parkway at John Street. Owned since 2010 by the Del Ben family, it was adapted into an inn by the John Wiens family, former owners/operators of the Prince of Wales but was more bank-balance friendly than the hotel.
A gem of an inn, the rooms are large and the food is wonderful. Its location makes it perfect for biking the scenic Niagara River Parkway and visiting nearby Fort George. And if you happen to be dining at the inn you won't be able to resist the pull from Pellar Estates Winery, just across the vineyard.
More Please
Stop at the Visitors Bureau/Chamber of Commerce office by Court House on Queen Street. It's across from the World War I Landmark Clock Tower Cenotaph. Here you can pick up tickets to just about every area attraction including those Shaw Festival productions that are still available, wine tours, Fort George and carriage rides.
You probably have already browsed the downtown shops but before leaving, pick up a fruit mixture at Greaves Jams and Marmalades at 55 Queen St. The company's fruit products are famous throughout Canada and make a tasty souvenir.
www.greavesjams.com