BBQ, The Growing Southern Taste Taking Over New York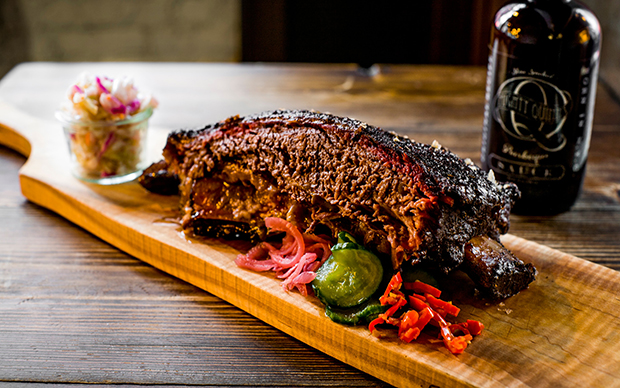 New York has, arguably, the widest variety of restaurants of any city in the world. You could go out for dinner for weeks on end and never eat the same style twice. One of the fastest growing tastes is Bar-B-Que, the down home Southern and Texas mouth-watering dish.
Never say "grilled," because a true BBQ devotee will give you a withering look. Grilling is what you do in the back yard over charcoal. BBQ is a slow process that normally takes 12 or more hours over a low, wood fire in an enclosed smoker. Wood chips add flavor, the smoke permeates the meat and creates a "bark," the dark crust on the outside. It becomes true BBQ when you add the sauce, often a secret recipe that can only be had at individual restaurants.
Here we present some of the highly rated BBQ joints in New York.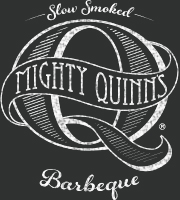 Mighty Quinn's Barbeque
103 2nd Avenue
www.mightyquinnsbbq.com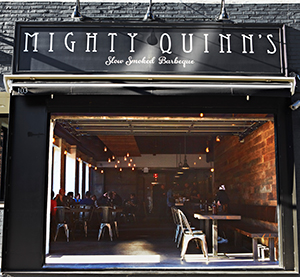 Hugh Mangum's beefy brick-and-mortar aspirations have become the stuff of barbecue dreams. The proof comes sliced and piled into brioche buns in the form of brisket with a squirt of sweet-sour "Texalina" sauce.
A hulking beef rib vies for the top spot with exemplary pulled pork. Both meats sport aggressive bark, with an interior that's tender as can be. Throw in a solid list of craft beers available by the cup or growler, plus thoughtful sides like edamame with goat cheese, and you've got yourself a contender for the title. Mighty Quinn's claims to be the most well-rounded barbecue experience in the city.

Blue Smoke
116 East 27 St.
www.bluesmoke.com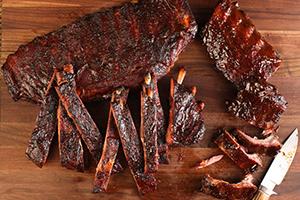 Always high on the list of BBQ lovers, Blue Smoke was one of the pioneers of Que in New York. For more than a decade its succulent ribs, brisket and chicken have always resonated with diners. The pulled pork is a terrific mixture of smoked meat and sauce that'll wake your taste buds up. At dinner time it is piled onto a slab of white bread, soaking up the wonderful juices.
They may have started in Buffalo, but wings have become a staple in BBQ eateries and Blue Smoke's wings have a memorable crispness and a bit of a bite that is tempered by a coating of blue cheese. You might also want to give the mac and cheese a try. It has a soufflé-like crust that has just the right crunch.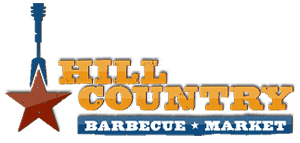 Hill Country
30 West 26 St.
www.hillcountryny.com
Food and entertainment, with both pulled off with panache. Hill Country aims for what its name implies…a Texas hill country honky tonk, and it hits the mark. Most Texas BBQ restaurants are designed with that downscale atmosphere. There's nothing fancy, but the food is damn good.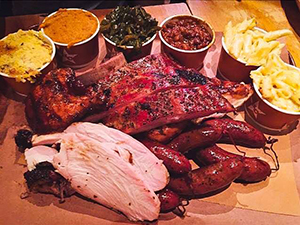 In case you missed the Texas connection, there's a large silver star suspended over the bar. The tables are rough-cut and covered with paper towels. "Eatin' tools" are jammed into a pickle jar. Food is portion controlled with the meat weighed on a scale before delivery to the salivating diners.
While various parts of pig are prepared and served, the real Texas BBQ is brisket. Thick, juicy slabs of brisket. The meat is done in true Texas-style with the wood actually brought in by truck from Lockhart, Texas to give it that authentic taste.
BBQ joints in Texas rarely have table cloths and serve food on paper plates. Hill Country goes upscale and covers the tables with butcher paper. Half way through the meal you could skate on it as it becomes greasy from the juices. But, man-oh-man, that's part of the joy.
The basement features a band that you'd find in a small, Texas club, and the music goes on until the wee hours.

Dinosaur Bar-B-Que
700 West 125 St. Manhattan
604 Union St., Park Slope
www.dinosaurbarbque.com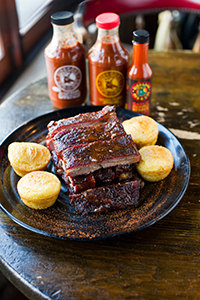 Talk like a regular and call it "Dino." Opened more than a quarter century ago and has earned a loyal following of true Que Lovers. The first Dino was opened Upstate and since moved to the Harlem and park Slope locations.
While brisket and ribs are popular items-they come with just the right thickness of bark with a juicy and tender interior, their wings look as though they come from some genetically developed bird…they are huge. Just as important, they are delicious with a crisp and crackly skin that adds to the experience.
As with most BBQ restaurants, Dinosaur BBQ is decorated in a rough-hewn style, but it truly enhances the atmosphere. Passersby on the West Side Highway can almost smell the aroma from the cooking que as it drifts skyward. Hone in on the Fairway Market (you can't miss it on the highway) and it'll bring you to the almost adjacent Dino location.
There is no dedicated parking for Dinosaur, but on-street parking is not at all difficult to find. The neighborhood is busy and it's a friendly area. How could anyone not be friendly with that mouth-watering BBQ waiting to be eaten?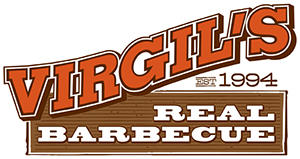 Virgil's
152 West 44 St.
www.virgilsbbq.com
This is basic American barbecue next to Times Square. Virgil's features Memphis style pork ribs and the Carolina pulled pork, with cole slaw, baked beans, and cornbread as sides. Pulled brisket is one of the staples here. One of the more popular orders at Virgil's is the pulled brisket on what would normally pass for a hamburger bun. It's messy, it's sloppy with sauce dripping, but it is absolutely delicious.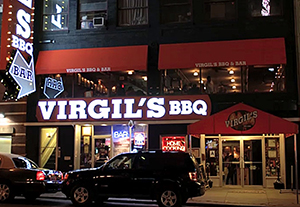 Partly because of its location to the theater district and Times Square, Virgil's has become one of the more popular BBQ joints in New York. That is not to mean anything should be taken away from the quality of the food. Virgil's is one of the more reliable stops for delicious BBQ in a city that is rapidly becoming more and more conscious of the formerly "Southern-Style" of cuisine that is now taking over the North.
Food is brought out piping hot with a waitstaff that knows its business and never seems to slow down.
You know that this is real BBQ when you come through the entrance and see the cords of wood stacked up. They fuel two huge smokers that have a capacity for BBQing about 1,400 pounds of meat, poultry and fish in one shot.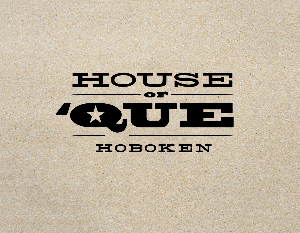 House of Que
340 Frank Sinatra Dr.
Hoboken, NJ
www.houseofque.com
A real Texan, Chef Mike Rodriguez has his work cut out for him bringing the full, legendary flavor of a Texas BBQ pit to New Jersey. Considering his history in the world of barbeque, it's not going to be too hard for him.
Opened just over a month ago, House of Que has already developed a loyal following…and not just from New Jersey. It's location right on the Hoboken waterfront and the water taxi sevice from Manhattan dropping passengers off almost at the front door, have made it a night out for Manhattanites.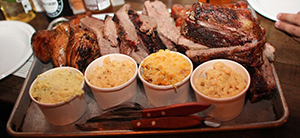 House of 'Que features four of the most popular barbeque dishes in Texas, including brisket, chicken, pork ribs, and spicy Texas-style sausage. As you'd expect from a real Texan pitmaster, the meats will be dry-rubbed with a housemade rub and gently smoked over Oak wood. Each offering comes with the option of two different barbeque sauces, and one of them will definitely add a spicy kick to an already memorable meal.
The sprawling roadhouse style space was designed by Josh Held, drawn from his own experience growing up in Texas and love for barbecue to create an authentic yet modern Texas barbecue hall. Raw concrete floors, blackened steel, and recycled wood, along with a bar top made from live edge planks of old growth oak complement details such as barbed wire sconces, giant industrial steel cage fans and a custom J & R smoker made in Texas to transport patrons to the heart of Austin, TX.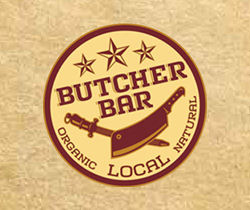 Butcher Bar
37-08 30th Ave.
Queens
www.butcherbar.com
They tout the "ethically raised" meat at this butcher shop that has reinvented itself as a BBQ restaurant. One of the highlights of a true BBQ restaurant is the ability to turn out perfectly "qued" burnt ends. Brisket is served with melted cheese and grilled onions. Sausages, made in-house, are also sold for the takeaway crowd who can't get enough at the restaurant and a doggie bag isn't sufficient for the next day. The sausages are ground to a coarse consistency and then stuffed into natural casings that nearly burst their way out of the skin, crackled from the process.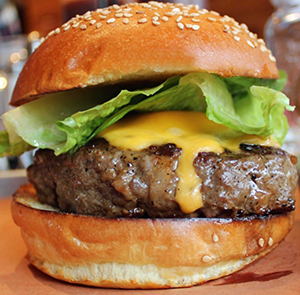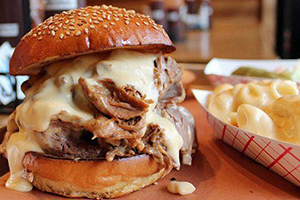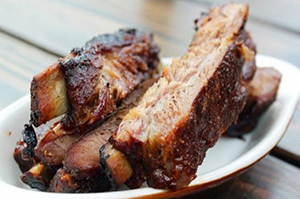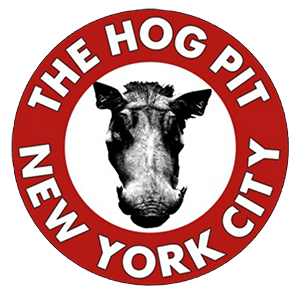 Hog Pit BBQ
37 West 26 St.
Bet. Broadway and 6th Ave.
www.hogpit.com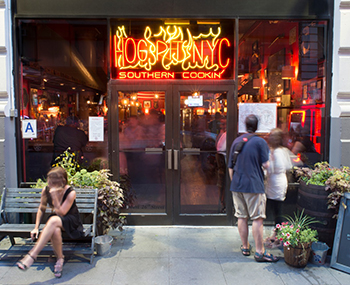 One of the more inexpensive BBQ restaurants in New York, the Hog Pit opened in 1995 in the Meatpacking District in NYC. In 2008 the restaurant moved to its current location. Hog Pit specializes in Southern food, such as, Pulled pork and Catfish. They claim to have the best wings in NYC with a choice of over 28 sauces. A step away from BBQ, they offer soft tortilla tacos in beef, chicken and fish, Fried pickles, etc. Bored waiting for food or a lull in the conversation? Hog Pit has a chalkboard bar where anyone can doodle a drawing while hanging out watching a sporting event on 6 large screen tv's!
Hog Pit is a neighborhood stop. That means diners are frequently from the area, but an outsider will not feel out of place.
This BBQ house is decidedly more Mid-West than Texas style, with few beef dishes on the menu. The exceptions are beef ribs and chicken fried steak, a Texas staple that they are amongst the few Northern restaurants to get right. Unusual dishes for a BBQ eatery include: fried pickles, fried frogs legs and catfish strips. Tex-Mex offerings are plentiful with tacos and nachos.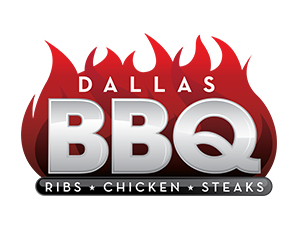 Dallas
10 locations:
Manhattan, Brooklyn,
Queens & The Bronx
www.dallasbbq.com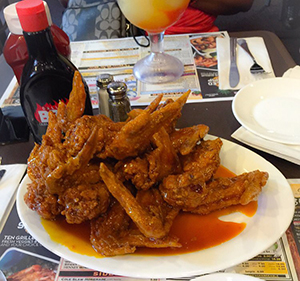 OK, so Dallas is a restaurant chain and that usually doesn't bode well for taste even though there's quality control. In this case Dallas breaks the mold. One of its specialties is the beef ribs that come out looking somewhat akin to what Fred Flintstone might be served. They are huge. More importantly, they are tender and tasty. There's an extensive menu featuring wings, black beans and Dallas' signature pulled pork burger.
Dallas tries to hurry along those waiting on line without rushing diners. There is never a push to get anyone out to open up seating. They have modernized the operation by equipping staff with radio communication so that as soon as a table opens up, the person at the podium can begin to seat the next on line.