Eventi Hotel Elevates Guest Experience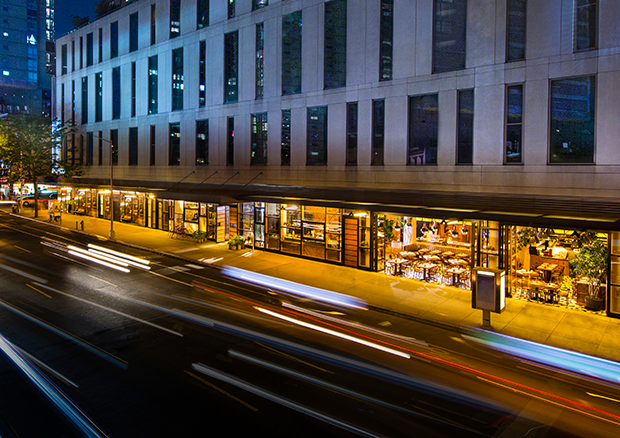 By Geoff Gideon
Eventi Hotel, the luxury hospitality leader in Chelsea, recently completed a multi-million dollar renovation, unveiling a new façade, "living room" lobby design and upgraded dining options led by world renowned Laurent Tourondel and Michelin-starred George Mendes, who both occupy restaurants adjacent to the hotel.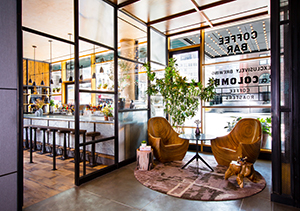 The hotel boasts 292 apartment-style luxury suites and guestrooms. Since opening in 2010, Eventi has helped the neighborhood develop into a more energizing destination populated by new eating and shopping options.
"When we purchased the property 10 years ago, our vision for the area was based on the strength of the Chelsea neighborhood. We believed that Chelsea's northerly migration would one day get to 29th Street," said Andy Rifkin, Managing Partner of DLJ Real Estate Capital Partners and owner of the Hotel.
Brooklyn based design firm, Crème, brought the transformation to life with a new sleek black steel façade running the entirety of Sixth Avenue between 29th and 30th streets. The hotel lobby was conceptualized as a central hub, providing an expansive seating area that connects guests to The Vine lounge by Laurent Tourondel, the distinctive hotel rooms, and extensive event spaces above.
The structure and furnishings of this space were custom-designed and tailored to emphasize a connection to New York's contemporary culture and history. Finishes include a 20th century inspired canopy, a stacked felt reception desk, fabric wrapped panels, and custom brass light fixtures. Blackened steel and textured glass screens create semi‐transparent partitions between the lobby, bar and restaurant.
A dynamic collection of contemporary art, curated by Art Consultant Kyle DeWoody, along with We Came in Peace, feature artists such as Kwangho Lee, Dustin Yellin, Alex Prager and Alex Katz, that fill the spaces of The Vine and flow throughout the hotel lobby. All of the elements brought by these talented designers, curators and artists have created the ultimate urban oasis.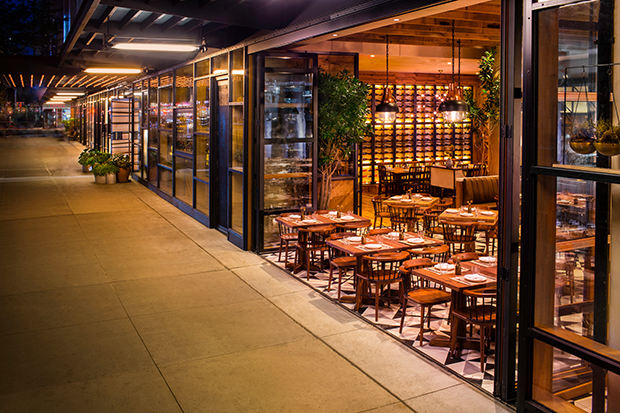 "As far as the restaurant concepts, our vision was totally focused on providing the local neighborhood with high quality, approachable food in an environment that was comfortable for everyone. In working with Laurent Tourondel on L'Amico and The Vine lounge and George Mendes on Lupulo there is something delicious to eat and drink for everyone," said Rifkin.
Chef Laurent Tourondel debuted L'Amico, located adjacent to the hotel, just after Labor Day. Translating to "friend" in Italian, L'Amico features an American menu with Italian influences drawing from Tourondel's long-time favorite dishes. With twin copper-clad, wood-burning ovens exposed through the restaurant's open kitchen, L'Amico's interior is reminiscent of a modern farmhouse, with rustic Windsor chairs and seasonally sourced floral arrangements. During the warmer months, L'Amico opens its floor-to-ceiling windows to blur the lines between the restaurant and the bustling Chelsea neighborhood outside. The beverage program, designed by Yana Volfson and Katie Stipe, and overseen by Tourondel, combines a playful mix of American and Italian flavor profiles. The restaurant seats up to 90 guests for dinner, lunch, weekend brunch and private events, and up to nine at the bar.
The Vine, which occupies 2,500 square feet and seats 85, is comprised of three areas including a bar, lounge and elevated library, each with distinct design elements.
The Vine features a menu of timeless classic cocktails, craft beers and wines curated by beverage consultants Yana Volfson and Katie Stipe. Its distinctive menu from Chef Tourondel, striking multifaceted space, and layout all come together to create the perfect recipe for the ultimate New York destination.
Lupulo, the Portuguese word for "hops," is inspired by the famed cervejarias, or breweries, of Lisbon. Chef Mendes draws inspiration from his heritage and travels to serve a menu of rustic Portuguese fare, which includes a raw bar, charcuterie station, shareable small bites and wood-grilled specialties. Crème's design pays homage to traditional Portuguese taverns with handcrafted blue and white tiles and rustic wood accents; while objects collected throughout Mendes' travels in Portugal decorate shelves and windows. Tables topped with hand-made Portuguese tiles and accented with black iron surround Lupulo's focal point, the lively, 35-seat, blackened steel-topped bar.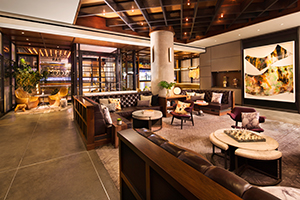 "Like the hotel, our guests have evolved since we opened," stated Julian Miller, General Manager. We are now attracting a more diverse group of discerning travelers and locals who appreciate and take advantage of signature Kimpton values and offerings – such as our complimentary Business Bar, elevated nightly wine hour and partnership with blo Blow Dry Bar. We love the buzz that Eventi and newcomers L'Amico, The Vine and Lupulo are generating and look forward to even more energy coming to the neighborhood."
With the property additions completed, Eventi is shaping the neighborhood's new identity. These new developments represent a turning point for the hotel and its surroundings. "So far, so good" said Rifkin.
Eventi Hotel is the first luxurious hotel in Manhattan's Chelsea neighborhood, residing on the entire block of the Avenue of the Americas between 29th and 30th Streets just steps away from some of New York's most popular landmarks including Macy's, Herald Square, The High Line and Madison Square Garden. The new first floor design by Crème is both sophisticated and comfortable, creating a stylish guest experience that embraces the hotel's vibrant neighborhood and cosmopolitan lifestyle experience for business and leisure travelers alike. The 292 room hotel is home to innovative technology-focused amenities like the Big Screen Plaza, a 30 x 16 feet high-definition LED screen broadcasting an eclectic mix of programming and a complimentary Business Bar, allowing guests to borrow a mix of technology amenities throughout their stay. Eventi also offers guests more than 20,000 square feet of indoor/outdoor meeting and creative events space and a 530-car parking garage with valet service. Eventi is operated by San Francisco-based Kimpton Hotels & Restaurants.
For more information visit:
www.eventihotel.com
www.facebook.com/EventiHotel