Buy Your Lottery Ticket Now: New Rolls Royce Is On The Market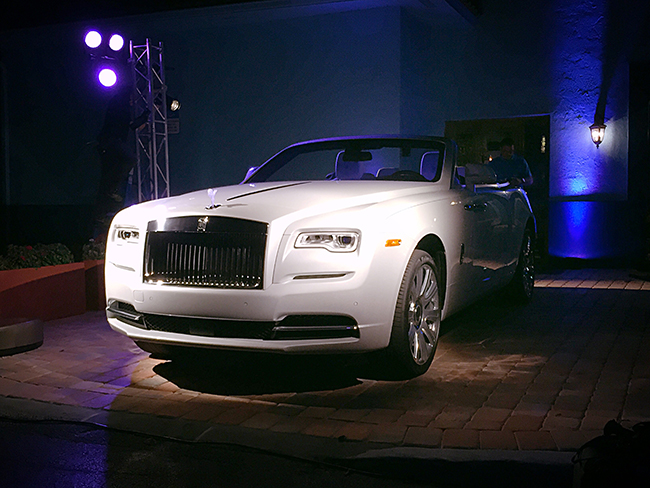 By Gerry Barker
First there was Phantom. Then the Ghost, followed by the Wraith. And now comes the Dawn, already being touted as sexiest of them all in the Rolls-Royce family of cars.
With a long tradition of excellence, Dawn, a soft top convertible, made its debut on November 23 at a party hosted by Braman BMW, the parent company of Rolls. Under bright spotlights, invited guests got an up close and personal look at a gleaming white Dawn in all its hand-made glory.
Pamela Scheel, Rolls Royce marketing specialist, was on hand to provide more details. "The three leading markets for Rolls are California, New York and Florida," Ms. Scheel said.
To say each car is hand-crafted to exacting detail at the Goodwood, England plant is an understatement. For example, Ms. Scheel said the wood used for each vehicle (they only produce 5,000 a year) is cataloged and retained in a controlled environment, should an owner ever need to replace the original. Entry to the room is only in a hazmat suit.
The Dawn's 600 horsepower will get you anywhere you want to go in ultimate luxury. And they have thought of everything. The driver side door boasts a button that, when pressed, releases an umbrella housed in a special drainage unit to prevent mildew. James Bond, eat your heart out. Many years ago a relative commented that if he could afford one, he'd buy a Rolls Royce. His reasoning was that you would never have to buy another car and if you amortized the price over the years you'd own it, it would be less expensive than a production model every day car.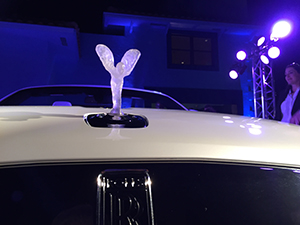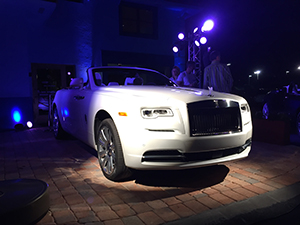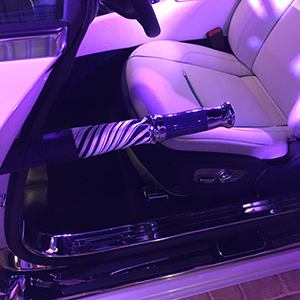 Rolls has been one of the most consistent companies for quality and reliability. Over the years British military aircraft used engines manufactured by Rolls Royce. The same holds true for modern commercial passenger jet aircraft.
If you are in a passenger vehicle cruising along at 36,000-feet, you want to make sure that every nut and bolt was secured and that every part of the engine was functioning as it should.
Known for its ultra-quiet and smooth ride, the Dawn's top can be raised and lowered at speeds up to 22 MPH, and up or down, passengers can bask in the quiet environment for which Rolls is known.
And what does all that luxury cost? The final price is yet to be determined, but expect it to range in the high 300's, as in thousands. Even so, the 2016 model year is already sold out, and 2017 is filling up fast.
Which reminds me: Did I buy my lottery ticket this week?