St. Barts Properties' Live Your Dream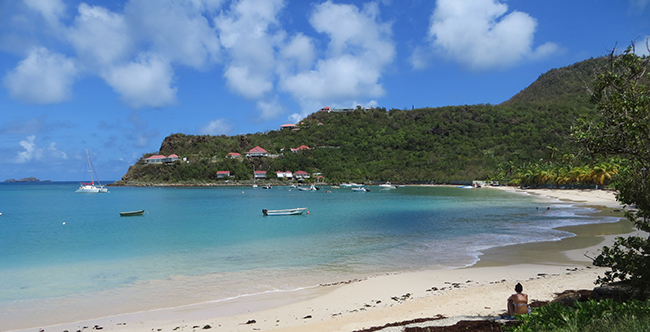 By Reginald Brisbane
For many years in the early days Florida was the destination of choice for winter vacation or a second home. Look around, particularly on the East Coast and you can see the proliferation of exquisite old mansions. Many of the upscale resort hotels built in the early part of the last century are still preferred destinations for those who can afford them.
With the advent of convenient air travel, many people began looking at many of the Caribbean islands for their snowbird getaway trips. Some rented vacation villas while others made second home purchases.
Virtually every island in the Caribbean has a modern airport and those that do not, have quick and easy ferry service.
A perfect example is the island of St. Croix. Visitors flying in from the States land at Harry Truman Airport on St. Thomas and transfer by smaller plane to St. Croix. Others heading for the much more bucolic island of St. John will take the water ferry from Red Hook for the short trip across the water.
St. Kitts and Nevis, the sister islands, have much the same situation with the major airport on St. Kitts and a water ferry or small aircraft transfer to Nevis.
St. Barts (or St. Barths), short for St. Barthelmey, is located about 150 miles from Puerto Rico, has always had an upscale reputation and has been known as the playground for the rich and famous. While that aura remains, there's been a recent building boom on the island that is catering to an upscale clientele. The island is only about 25 square miles in area and has a population of about 9,000.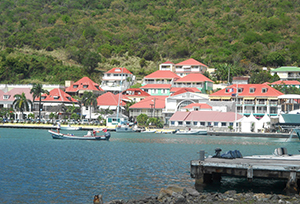 Because of its desirability for such clientele, the islanders have always enjoyed a high standard of living. Those familiar with other small islands would notice the difference immediately.
The "Beautiful People" have taken to congregating on the island around New Year's Eve when numerous yachts, some in excess of 500-foot in length, moor in the island's harbor. The wealthy have made the island such a destination that a beachfront mansion could cost upwards of $90 million. That's a lot of sea shells.
It doesn't sound as bad when you use the island's official currency of the Euro and it tops out at about €61.2 million.
Sweden had a presence on the island for a brief period in history and then France came along adding to its imprint in the Caribbean. St. Barts' residents hold French citizenship and even have a representative in the French parliament.
The small, regional airport on the island, named for Swedish king, Gustaf III, handles aircraft bringing in much of the food supplies the arid island needs to sustain itself and its visitors. Travelers to St. Barts will normally land on the Dutch side of St. Martin and transfer to the regional airline for the short hop over the water.
Island guests often first come and try the rental villas that'll accommodate family groups or more than one family looking for comfortable quarters away from major tourist accommodations. St. Barts has numerous villas that meet that requirement.
Here are three villas that are bound to excite: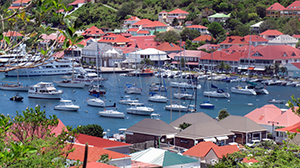 Villa Infinity
A luxurious 3-bedroom villa set back on one of the terraced avenues at the top of the harbor in Gustavia, guests love its proximity to town and the ease with which one can access the restaurants, bars and boutiques. Villa Infinity combines a plantation house feel with contemporary design and decor - a palm-shaded rear yard leads to a lovely, long veranda while the covered terrace showcases a panorama of the sea and neighboring islands, all with stunning views of the sea and offers ample space for al-fresco dining and watching the fiery Caribbean sunsets. An extra-long infinity pool is the focus of a lower level terrace that includes additional living space, a guest bath and a gazebo containing a kitchenette. Prices start at $16,070* per week.
Villa Sagittaire
This beautiful 4-bedroom villa is located on St. Jean's Bay, in close proximity to the village shops and restaurants, small airport runway and beach. An extra-long infinity pool faces the bay, while the expansive sunny deck provides delightful outdoor living and dining spaces. Inside, an open floor plan incorporates a chic, comfortable living room, dining area and kitchen with island seating.
On one side it opens up to the pool deck, on the other to a rear deck with a BBQ. All bedrooms have 4-poster draped beds and en-suite baths with indoor and outdoor showers. Prices start at $8,570* per week.
Villa Joy
A sumptuous 6-bedroom villa (including one for staff!) situated with a stunning view of Marigot Bay, the contemporary architecture and decor are complemented with an homage to mid-century movie stars. A deck that runs the length of the house features an extra-long and heated infinity pool, a focal point of the outdoor living space that includes a portico sheltering a conversation area and a dining table with seating for fourteen.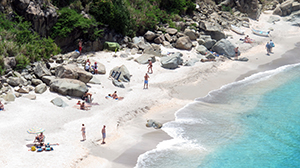 The villa features a private nine-seat, tiered-view theater, a gym with sauna, designer kitchen featuring a black lava stone island with seating, bedrooms with walk-in closets and en-suite baths and an elevator. Villa Joy is in St. Barth Properties' Grand Cru collection, representing the island's most distinctive villas and includes bonus services such as a breakfast of fresh fruit and French pastries delivered each morning, soft drinks replenished daily, evening turndown services and daily maid service inclusive of Sundays and holidays. Prices start at $28,000* per week.
*Prices quoted above are based on 1-2 guests reserving 1 bedroom during the low season. Check the web site below for current rates.
If you are thinking of planning a trip to the island in March, St Barth Properties has also been named The Preferred Villa & Hotel Rental Partner for the annual St. Barth's Bucket Regatta, taking place March 17-20, 2016.
St. Barth Properties also organizes a weekly cocktail party for guests throughout the high season, a great intro if you are going to be on the island anytime now through April 15, 2016.
Their full portfolio of properties may be accessed at:
www.stbarth.com