Save Time & Money By Taxi Sharing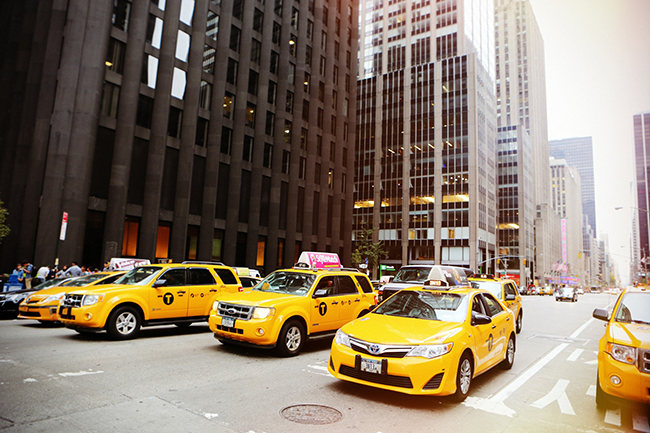 By Jerry Brothers
Aside from waiting in line at any airport to go through security, the second least favorite pastime is planting your feet in one of those long, long lines waiting for a taxi and then spending the equivalent of dinner and a night at the theater for taxi fare into Manhattan. If you are going to a more distant point, check with your local banker for a second mortgage to pay the taxi.
You can always drive to the airport, but parking fees that support the Port Authority's activities that range well beyond what the agency was originally created for. That doesn't take into consideration the skyrocketing tolls on bridges and tunnels.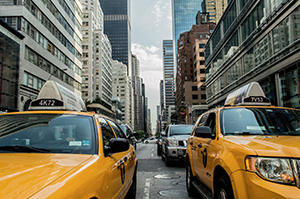 Mass transit is an alternative; but not a happy one, especially in the summer when you become sandwiched between several other large, sweating passengers.
What to do? There is an alternative that seems to speed your journey, save some money and work for the environment at the same time.
Bandwagon, a Brooklyn based, smart taxi sharing technology and logistics startup for airports, convention centers, and large events, has begun facilitating taxi sharing at JetBlue's Terminal 5 at John F. Kennedy International Airport, and Terminal 4, during peak travel periods.
Currently operational at LaGuardia Airport during peak travel periods, Bandwagon has partnered with JetBlue to reduce traveler line wait times, improve customer service, and reduce the carbon footprint for the taxi lines at JFK.
The partnership will allow JetBlue customers traveling via taxi during peak periods to find others going in the same direction and jump to a taxi share priority line, saving time, money and CO2 emissions, while offering an affordable alternative. For every ten matches made at JetBlue's T5 with the Bandwagon app, JetBlue will offset one metric ton of CO2 with Carbonfund, a nonprofit that provides certified, permanent, and audited greenhouse emission offsets; Bandwagon, for its part, will track CO2 emissions savings from all JFK taxi shares, and offset the difference, to ensure carbon neutrality.
"Our LGA customers kept telling us to expand our smart taxi sharing to JFK and reduce line wait times," said Bandwagon Founder & CEO, David Mahfouda. "So we're thrilled to team up with JetBlue to help their JFK travelers save time, money and CO2 with smart taxi sharing.
Bandwagon is also excited to partner with a company as committed to lowering CO2 emissions at airports and for travelers, and to innovative customer service solutions as JetBlue." "At JetBlue we are always looking for ways to both improve the customer experience while reducing greenhouse gas emissions," said Sophia Mendelsohn, head of sustainability, JetBlue.
"Facilitating customers' ability to share yellow taxis with carbon neutral rides and save time in the taxi line is a great example of a win win solution. For airlines, the biggest environmental impact comes when planes fly and we are seeking to address that in different ways. Partnering with Bandwagon is a great way to address emissions on the ground while we also look to reduce emissions in the sky through fuel use reduction."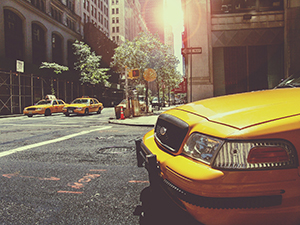 Taxi sharing technology and priority ridesharing lines at JFK's Terminal 5 and later at Terminal 4 will seamlessly allow New Yorkers and visitors alike to get to the office, meetings, hotels or home faster, and save up to 40% on the fare. Bandwagon's smart taxi sharing services will be available at JFK's Terminal 5, as well as later at Terminal 4, every Thursday, Friday and Sunday evening, and weekday mornings for Red Eye travelers.
Bandwagon works within the New York City Taxi & Limousine Commission rules as an affordable, efficient and environmental curbside mobility alternative for airports, convention centers, large event venues and corporate partners. Bandwagon's smart taxi sharing technology alleviates congestion in long taxi lines and optimizes the existing taxi supply by finding passengers going in the same direction, matching them, placing passengers in priority taxis, and facilitating fare splitting.
How it Works
While standing in the taxi queue, Bandwagon customers register their destination with a Bandwagon agent, or enter their destinations directly in the Bandwagon app; Bandwagon's proprietary Ridebatch Server analyzes input data for complementary itineraries. Matching itineraries have a 20% cap on route diversion, so passengers are guaranteed not to go far out of their way when sharing a ride. Matches receive a text to jump to a taxi share priority line where they meet their taxi share, and pay a $6 Bandwagon fee per party via credit card. Taxi share partners grab the next available cab, and request two stops in the app's recommended order.
Bandwagon facilitates seamless fare splitting via cash, credit card and PayPal, and tracks gasoline saved per gallon and avoided CO2 emissions, as well as net time and money saved for riders.
About Bandwagon
An industry leader in the growing field of real-time taxi sharing and dynamic route coordination, Bandwagon has developed a solution for matching passengers on long taxi lines at airports, transportation hubs, conventions and other large events, reducing passenger wait times and costs. In addition to select terminals at JFK, Bandwagon is operational at LaGuardia Airport during peak travel periods, and major event venues like the Las Vegas Convention Center, the Boston Convention & Exhibition Center, Chicago's Merchandise Mart, the Javits Center and, soon, more crowded hubs across the country.
SuperShuttle, and Creative Mobile Technologies (CMT). Bandwagon is a tenant of NYU ACRE's Urban Future Lab (UFL) in downtown Brooklyn, New York City's hub for smart cities, smart grid and clean energy. Bandwagon is available for iOS and Android at get.bandwagon.io
About JETBLUE
JetBlue is New York's Hometown Airline and a leading carrier in Boston, Fort Lauderdale/Hollywood, Los Angeles (Long Beach), Orlando and San Juan. JetBlue carries more than 32 million customers a year to 92 cities in the U.S., Caribbean, and Latin America with an average of 900 daily flights. For more information please visit JetBlue.com