Exploring the Non-stop Fun of Ambergris Caye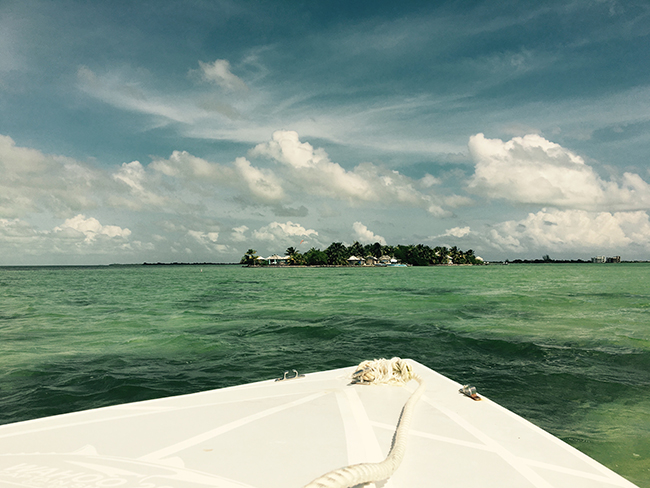 By Kerri Zane
The country of Belize is often touted as one of the friendliest tourist destinations in Central America. But it's not just the warmth of the people that attracts over 850,000 visitors every year. The Belizean coastline is home to the largest barrier reef in the Western Hemisphere and holds huge allure for non-stop families.
There are 200 islands, or Caye's (pronounced "keys"), dotted atop a 300 kilometers stretch of coastline. The liveliest and most popular for tourists is Ambergris Caye. Even better for you, traveling to the island from New York City is a cinch. United Airlines offers a 5-hour direct flight to Belize City, then it's a quick 15-minute Tropic Air Cessna ride to the Ambergris.
Ambergris Caye offers a wide variety of water oriented activities, including some of the best scuba diving and snorkeling on this side of the world. There is a must-visit four mile area southeast of San Pedro Town called Hol Chan Reserve. It's a popular five square-mile, underwater park, accessible only by boat. And a prime area to swim with nurse sharks, manta rays, sea turtles, colorful fish and view plenty of reef coral. Another great spot is Shark-Ray Alley. It's a shallow swath of reef south of Hol Chan where you can get up close and personal with the sharks and rays. The perfect combination is to do both areas in one three-hour outing. (Editor's note: Nurse sharks are non-aggressive and no need to worry about swimming with them).
Other water-centric activities available on Ambergris include everything from Jet skis, wave runners and kitesurfing, to sailing, canoeing and kayaking. Not to be missed is the great blue hole, a giant submarine sinkhole. You can either dive in or fly over.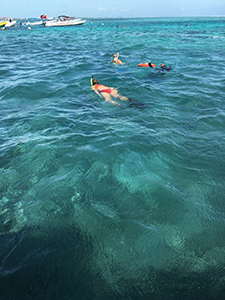 *DWKD Tip #1
Book your scuba diving and/or snorkeling with the White Sands Dive Shop. You'll get top rate equipment and guides who are friendly, knowledgeable and highly experienced. In 2016 the operation is planning for access to The Mexico Rocks Marine Reserve. It's a more pristine and less traveled by tourists venue.
While Ambergris Caye is famous for it's spectacular reef activities, the island also provides plenty of on-land excursions as well. There is a rich cultural experience in visiting the ancient Mayan ruins and several are easily accessible, including  Altun, Ha Xunantunich and Lamanai.
The tour to Lamanai is a fun, full-day excursion, appropriate for everyone in your family. It includes a 70-minute boat trip across the ocean to the mainland, then up a river where you can see interesting indigenous plants, spot local crocodiles and, if you're lucky, a manatee or two. There is a breakfast stop at a small community called Bomba.
The locals, who live with no running water or electricity, are master wood carvers. Several display their handiwork along the main road where you are welcome to bargain with them for a purchase. After a bite of fresh fruit and a Belizean specialty called Johnny cakes, you'll board an old yellow school bus for a 45-minute ride up the Pan-American Highway to the next boat dock. There a high-speed vessel will take you on a 26-mile ride up the New River to the entrance of Lamanai State Park. Disembarking, you're immediately immersed in an ancient world where the call of indigenous birds and the loud screams of the howler monkeys greet you. It's a short flat hike to the temple where you can climb to the top of the monolith for a spectacular view of the countryside. It's a long trip, but worth the time.
DWKD Tip #2
Book your trip to Lamanai with Seaduced by Belize and for the most knowledgeable and fun guides ask for Ricky and Leon.
For the bird aficionado's in your family, Lalas Bird Sanctuary offers a unique, "people perch". Built by Wil and Susan Lala, the perch is a large, multi-leveled tower with many vantage points to view birds. The Lalas sanctuary is located just a few minutes to the south of San Pedro Town. Other family fun activities include visiting the back side lagoon, where there are lots of flora, fauna and caves to discover. Take a hike along the guided 1-km Ecological Nature Trail. Visit the Cotton Tree Lodge to tour a nearby cacao farm, peel toasted cacao beans and sip on pinnul, a traditional cacao-and-corn drink while learning about Belizean Chocolate. Hop on one of the many golf carts that populate the island and tool around San Pedro for a day of trinket shopping and casual dining. More active members of your family book a cave-tubing excursion, ATV jungle tour or Zipline Adventure with cave-tubing.com. You can choose to do one, two or a combination of all three.
DWKD Tip #3
The island's entire beachfront is public, so you can walk or ride a beach cruiser along miles of shoreline. There is plenty of sea life to see, as well as beachfront restaurants and coffee spots to stop at along the way.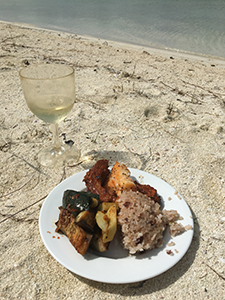 As the island is one of the more popular Belizean destinations to visit there are a lot of luxury resorts that sit along the coastline. Many of the properties lend themselves to large groups traveling together. One that truly caters to multi-gen families is Las Terrazas Resort and Residences. Las Terrazas is located 3.5 miles north of the main town of San Pedro.
Everyone on the staff from Walter, the van driver, to uber, can-do GM Dave Hesse, want their guests to have a superior experience. The resort has 36 one- two- and three-bedroom units available for tourists to book. Because the residences are designed to be second homes they have fully functional kitchens, large dining areas which will seat six or more, and in-unit laundry facilities.
Of course, Las Terrazas is also a resort with 24-hour room service, daily maid attendants and a go-to concierge. Additionally the on-property restaurant, called "O", is overseen by Executive Chef Jeff Papendick. Papendick, aka Chef Papy, worked at some of the finest restaurants in Napa Valley, CA, so you know everything from an order of burger and fries to Papy's signature BBQ ribs is top rate. A sparkling pool is the apex of the property with chaise lounges refreshingly lined up inside the water. There is also a spa for pamper treatments and a private beachfront if you're more inclined to stick your toes in the sand.
DWKD Tip #4
For an extraordinary experience, ask the staff to organize a lunch on the resort's private sand bar. The staff sets up your sand mats, towels, beach chairs, umbrellas and tables before you arrive and then serves you lunch. Then you can work it off paddleboarding, kayaking, or swimming in the shallow inlet.
Ambergris Caye is teaming with US and Canadian ex-pats. In fact, many are familiar names and faces, like Leonardo Di Caprio, Greg Norman and Francis Ford Coppola. It's such an appealing spot you too might find yourself exploring the option of owning your own Ambergris hideaway. Las Terrazas has a few of its residences remaining available for purchase. Or check out some of the new construction popping up all over the island. It's another way for you and your family, to spend a dreamy day in paradise.
DWKD Tip #5
The mosquitoes in Belize are fierce, so bringing along bug repellant and bite salves are a must. One innovative new choice to bring along is a Therapik to relive the discomfort of an insect bite.
*DWKD - Do what Kerri did.