Bryant Park Grill: Romantic Destination For Valentine's Day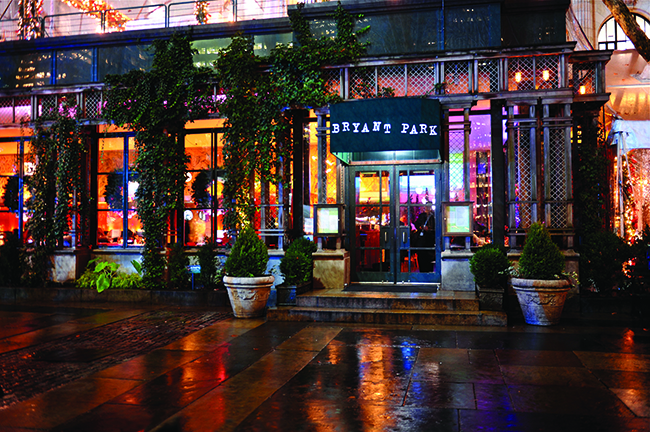 By Jon Haggins
Photos By Maybelle Webster
Bryant Park Grill, located behind the New York Public Library on the east end of Bryant Park's Upper Terrace is a romantic destination to share your Valentine's Day. It's a lovely stop for lunch or dinner. The great green lawn, even in winter, is lined with a variety of elegant trees. This precious location is one of a kind. The floor to ceiling windows offer a perfect view of Bryant Park and the ice skaters in its rink, holding hands and circling in tandem.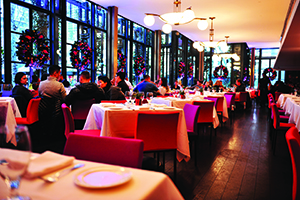 The view is romantic and the warmth of the grill, contrasting with the chill of the outdoors and the rink, is a perfect setting for lovers to enjoy an evening together. When one enters this beautiful establishment you are immediately surrounded by the golden light of their full bar. One of the walls is filled with a large screen of aquatic life. The large main interior is enhanced with a number of large modern paintings, white tablecloths and red felt seating.
The restaurant manager, Mary Koenke, told us: "We offer a quintessentially New York experience at a beautiful oasis in the heart of the big Apple."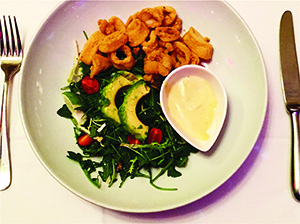 The restaurant offers Nouvelle-American cuisine that's delicious and healthy. Chef Gadi Weinreich adds glamour, color and originality to each dish. We started with a heavenly Calamari dish with a combination of arugula, avocado, green salad, cherry tomato and a garlic aioli sauce ($13.50) We followed that with a seafood salad parfait, which is a combination of sashimi tuna, smoked salmon, shrimp, jumbo lump crab, smoked tomatoes, avocado, English cucumber, spicy tartar sauce and a grilled baguette ($17.00). It's a sensational explosion to your taste buds.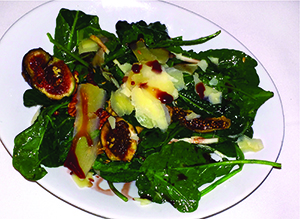 Next, organic baby Kale salad with fresh and dried figs, roasted pecans, shaved Parmesan cheese, Dijon dressing ($12.50). What could be better than that?
Another great appetizer was the Burrata mozzarella. Burrata is a seamless combination of mozzarella on the outside and ricotta on the inside. Served with: Parmesan cheese, heirloom tomatoes, petite mixed herbs, basil leaves, and a drizzle of Tuscan olive oil accented with organic micro greens ($12.50). The Burrata was freshly prepared and eaten seamlessly. Burrata is a very special appetizer that I would recommend.
Our main course included sweet and spicy Monkfish, with stir-fry baby bok choy, freshwater chestnuts, grilled pineapple, and brown rice ($26.50). The Asian infused fish had a fried spicy crust. Fresh ginger and pineapple is the perfect accent for this dish.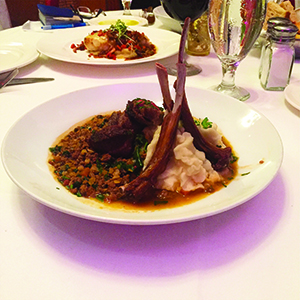 Another great dish is the organic chicken breast stuffed with mushroom duxelles melted Gruyere cheese, parsnip puree and juniper berry root vegetable sauce. It was accompanied with brown rice ($24.50). The chicken breast dish is not to be missed.
My favorite dish is lamb. Bryant Park Grill presents the best Australian rack of lamb, which was marinated with lemon zest and herb whipped russet potatoes, organic faro and lentil ragout ($42.00).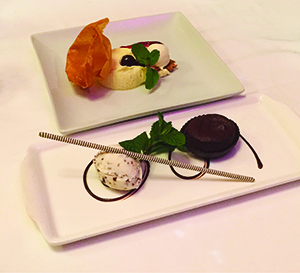 Pastry Chef Anne-Marie Noonan puts a fresh spin on the desserts. She creates guilty pleasures to complement your meal. Our choice of desserts included a warm chocolate tart with vanilla cocoa nib crunch ice cream ($11.00). Also, the New York creamy vanilla cheesecake, was accented with oatmeal pecan-crumble amarena, cherries and crème Fraiche sorbet ($10.50).
Bryant Park Grill is a very unique restaurant that offers the best, well thought out, colorful and creative dishes. Our dining experience at Bryant Park Grill was sensational.
Bryant Park Grill
25 West 40th Street
New York City 10018
212-849-6500