Chocolate - The Way To Say "I Love You"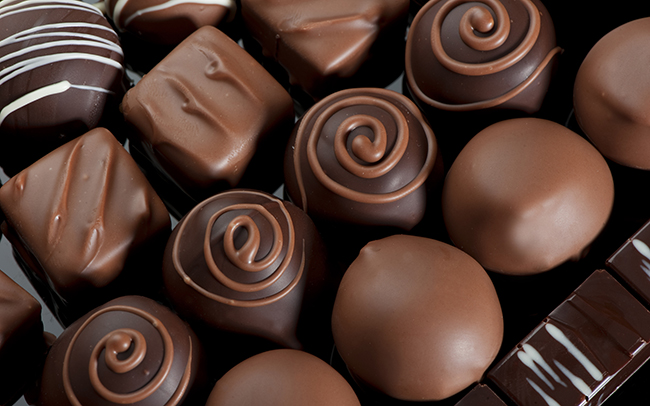 By Bob Nesoff
Chocolate is one of the most guilty pleasures in life. It has survived Weight Watchers; it has survived teenage myths about skin problems and it has managed to become, arguably, the most popular snack in the world.
But more than that, it has become the most recognizable way to say "I love you" on Valentine's Day…or at any other time. This month, with the marketing of the lover's holiday, chocolate comes in heart-shaped red boxes; it comes in gilt foil wrapping and it comes in plain boxes.
Opening a box of chocolate you've just given to a loved one in celebration of Valentine's Day is to invite anyone in arm's length to dive in.
There are chocolates that can be purchased over the counter at the local pharmacy. But they can hardly be called "fine chocolate." The Swiss and Belgians have a worldwide reputation for fine chocolates and, for the most part, these are preferred in order to impress that lovely lass.
There's no need to go overseas for fine chocolate. New York has any number of quality chocolatiers throughout the city. Look at the calendar... there's still time, so what are you waiting for. Listed below are some of the finer chocolate shops in New York.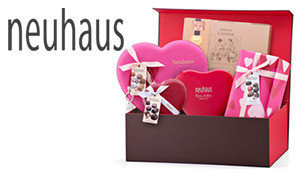 Neuhaus Belgian Chocolates
569 Lexington Avenue
Multiple Locations
www.neuhauschocolate.com
Valentine's Day 2016 promises to be a romantic day, according to Neuhaus Belgian Chocolates. To celebrate the day they offer "a luxurious collection filled with heart-shaped chocolate boxes."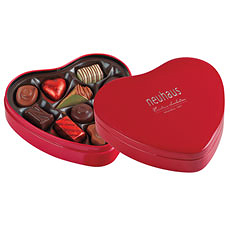 Neuhaus has created a beautiful new Valentine gift box with a "unique" design that features hearts that flutter like butterflies. They say: "New romance, passionate lover or together forever? Every romantic will no doubt find the perfect chocolate heart for his or her sweetheart."
Neuhaus offers a Valentine's All Dark Heart with 14 pieces for $32, a Pink 3D Heart with milk chocolate and dark and white chocolates for $64 with 28pieces. Then there is the Red Leather Heart that is all milk chocolate, also with 28 pieces for $64.
To really impress her, you could opt for the Lavish Valentine Gift box with a great variety of chocolates for $225.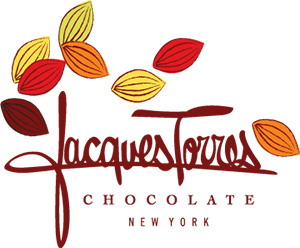 Jacques Torres Chocolate
Grand Central Station,
Rockefeller Center,
Multiple Locations
718-875-1269
www.mrchocolate.com
Jacques Torres loves lovers. To prove it his shops will be offering chocolates in the shape of Xs and Os, signifying hugs and kisses. They'll also offer strawberries covered in both milk and dark chocolate and lollipops for lovers at $12 each.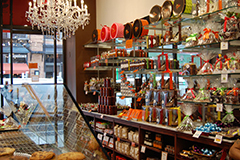 For the true chocolate lover's Valentine there will be double candy bars and a heart-shaped box with 55 pieces of chocolate.
Jacques Torres was born on June 14, 1959 in Algiers and grew up in Bandol, a fishing village in the South of France.
Torres moved to the United States, and in 1988 he served as the Corporate Pastry Chef for the Ritz Carlton Hotel Company before moving on to Le Cirque, where he worked for 11 years as Executive Pastry Chef. In 2000, Torres left Le Cirque to open a chocolate factory and retail shop in Brooklyn. Currently there are seven Jacques Torres shops, including two chocolate factories and an ice cream shop.
Jacques Torres, known as "Mr. Chocolate," is a master pastry chef. Torres is a prominent member of the International Culinary Center community, as Dean of Pastry Arts as well as holding pastry demonstrations.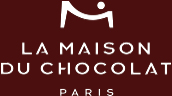 Maison du Chocolat
30 Rockefeller Center
Multiple Locations
718-361-9161
www.lamaisonduchocolat.com
Maison du Chocolat is aiming at lovers who love and chocolate with a heart-shaped gift box with 13 pieces and prices starting at $42. You can go all out for a larger box with 43 pieces for $112.
There are smaller boxes ranging in price from $18 northward. There are choices such as Red Enchantment containing dark chocolate ganache with three red berries, strawberry, red currant and raspberry; Blue Frisson that has dark chocolate, almond and hazelnut praline with blue Persian salt and blue poppy seed.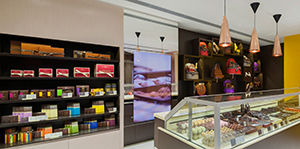 You could also surprise your Valentine with Orange Passion that has milk chocolate ganache, passion fruit mango, vanilla and lime. There's also milk chocolate praline with caramel, almonds, hazelnuts and zest of lemon in the Yellow Fusion box.
Robert Linxe, founder of La Maison du Chocolat, dedicated his life to chocolate. Born in the French Basque region, he learned his trade of chocolatier in Bayonne before going to Switzerland to perfect his art. A visionary, who had the courage so characteristic of entrepreneurs, to open in 1977 his first boutique, dedicated exclusively to chocolate on the prestigious Faubourg Saint-Honoré in Paris.
He selected a location for this boutique with a wine cellar, which provided ideal conditions for preserving chocolates. He also had his laboratory in the cellar for over ten years. Nicknamed the "Sorcerer of Ganache," Linxe put his stamp of nobility on chocolate as an exceptional ingredient, in particular, the ganache. A silky blend of chocolate and fresh cream is then enrobed in a fine layer of chocolate, creating associations of subtle and delicate flavors.
Today visitors to Maison du Chocolat are treated to chocolates that will excite the palate and designs that will dazzle the eye.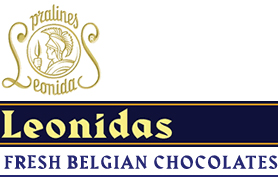 Leonidas
485 Madison Ave
212-980-2608
www.leonidas-chocolate.com
Their chocolate expertise is available in a variety of Valentine surprises. There is the Valentine's Day Velvet Hearts box that comes in four sizes, filled with the delicious product. Prices range from $34 to $59 with the large box holding 25 pieces and the smaller one with six pieces.
Or you might want to try the Valentine's Day Ballotins in one of three sizes. They come in a traditional ballotin (box) that is specially decorated for Valentine's Day. You can opt for the Leonidas Valentine's Day Gift Box at $21.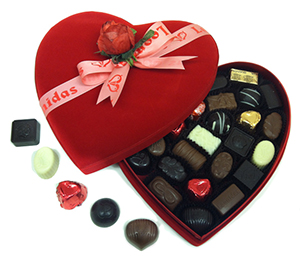 This is the first Leonidas store that opened in the United States back in 1991. Since then, Leonidas has been importing products on a weekly basis to ensure an impeccable and constant quality of the chocolates. The store has quickly become a shopping destination for New Yorkers and a reliable source to spoil family, friends and business associates throughout the country.
With well over a decade of experience in shipping Leonidas Belgian Chocolates throughout the US, the company prides itself in offering a professional, personalized, user-friendly and efficient service that matches the quality of Leonidas Belgian chocolates; this whether you are ordering online or visiting in one of their stores.
They are conveniently located in the heart of Midtown, between 51st and 52nd Streets, a stone's-throw from St Patrick's Cathedral, and within easy walking distance from most major hotels.
Visit anytime when in the area, Millie, Faith, Julia, Kozeta, Mai, Tess, Adriana, Rigo all very much look forward to your visit and particularly enjoy putting a face to a name to whom they've been sending Leonidas Belgian Chocolates for years.
They are open seven days a week (except major public holidays) between 9 am and 7 pm weekdays, 10 am and 7 pm on Saturdays, and 12 noon to 6 pm on Sundays.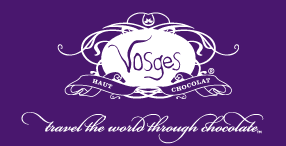 Vosges Haut Chocolat
132 Spring Street
888-301-9866
www.vosgeschocolate.com
Their Mission - Peace, Love, and Chocolate
At Vosges Haut-Chocolat, they harness the power of storytelling to open minds, spirits and palates through esteemed chocolate, inspiring us all to interact with the world in a new and creative way.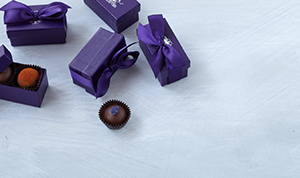 Special for Valentine's Day will be exotic truffle renegade hearts with 16 pieces for $55. You can also try the Renegade Ensemble Heart at $155 that includes a ½ pound Bachi's Caramel, three crafted caramel marshmallows, six milk chocolate peanut butter bonbons, and 12 extra truffles and all are gluten free.
Vosges Haut-Chocolat's intriguing creations are made with the finest ingredients from around the world, sourced by founder and Chcolatier Katrina Markoff.
Three days after her graduation from Vanderbilt University, Katrina moved to Paris to pursue her dream of studying the culinary arts at Le Cordon Bleu. With her palate as a guide, she embarked on a world tour that began with an apprenticeship in Spain and continued east through Southeast Asia and Australia.
The House of Vosges Haut-Chocolat and the concept of "Travel the world through chocolate," were inspired by her journeys. Katrina's fusion of indigenous spices, flowers, roots, herbs and liqueurs with premium chocolate, creates a sensory experience that nurtures awareness of and appreciation for the world's diverse cultures.