Celebrate Valentine's Day With Great Food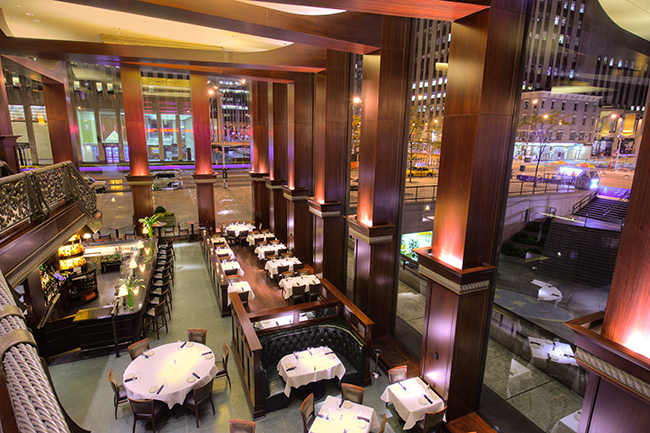 By Daniel J Bollinger
Del Frisco's describes itself as, "... a classic American steakhouse with impeccable chef-driven cuisine, an extensive award-winning wine list, and unparalleled hospitality." And every word is true.
I would describe my experience at Del Frisco's with four S's. Those S's being: Service, Steaks, Seafood, and Seasonings/Sauces.
Service: I would like to thank Orlando Santana; General Manager, Joshua Stanko; Sommelier, and Chris, Aliya, and Bridgette; Servers ~ for providing me with outstanding one of a kind service. Del Frisco's was jam packed on a Saturday evening... jam packed with happy faces and satisfied guests. Josh, you paired all of my dishes with the perfect wines which we will get to soon enough. And Chris, Aliya, and Bridgette your attentiveness to all of your guests' needs (not only mine) was well noticed and made for a great experience. All of your talents are an example of what "luxury" encompasses.
Del Frisco's raises the bar for all steakhouses with the two entrées I had the pleasure of enjoying. I had the 16 oz. bone-in filet prime and the filet trio. I am partial to tenderloin since it is the tenderest cut of beef and for me the most delicious.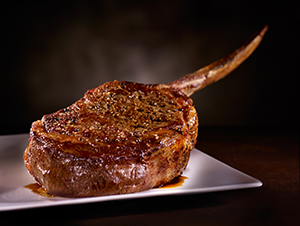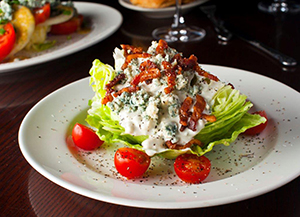 It was everything that a filet should be: tender, juicy, melt in your mouth delicious. On top of that, the flavor exuding from Del Frisco's bone-in is richer, meatier, and noticeably more succulent. You can ascertain that by comparing it to one of the filet trio's. The filet trio is three to four filets, each with a different 'sauce or flavor accompaniment. Those three being: salt & pepper, lobster & saffron hollandaise, and Gorgonzola crust. Try a mouthful of Del Frisco's 'salt & pepper'... and get a taste of what delectable flavor the meat in itself encompasses. Then try a bite of the bone-in filet. Both are fantastic and in sampling the bone-in you will taste the richer, bolder flavor that the bone-in delivers.
The salt & pepper filet also sets the stage for Del Frisco's other two flavor accompaniments in the trio. Whereas the salt & pepper gives us true bare essence of the flavor of the filet, the lobster and saffron hollandaise sauce gives a sweet, refreshing compliment with the filet. For those who enjoy sharp and bold flavors, the gorgonzola crust delivers. The sharp bite of the gorgonzola pairs well with the tender deliciousness of the filets.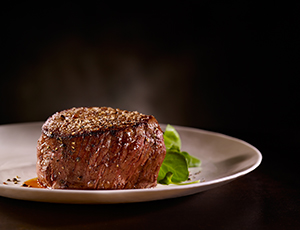 And while we're speaking of pairing, Josh paired two wines to go with these culinary masterpieces. The first wine, served at the beginning of our meal, was a 2006 Chateau Lynch-Bages. It's bold, oaky, and fruity taste paired perfectly with the richness and intense flavors of both dishes. Further into our Filet Mignon, Josh paired us with a 2013 Pierre Gaillard Cote Rotie. This was a lighter, sweeter wine, equally complimenting our meat entrées, but also getting us in the mood for dessert. It was a great pairing and a good intro to dessert.
Our appetizers encompassed Del Frisco's signature seafood specialties including: crab cake, chilled Alaskan king crab Legs, chilled crab claws, and a shrimp cocktail sampling. The crab cake itself was perfect, everything a real crab cake should be... big chunks of crab; white, soft, tender chunks, in a nice loose patty which was browned perfectly on top and bottom. What sets Del Frisco's crab cake apart is its Cajun lobster sauce. It was sweet and savory with just a slight heat. Even if you are from Maryland, you will be impressed by this unique combination that makes for an unforgettable crab cake experience.
The crab cake is set atop a healthy pool of this Cajun lobster sauce so dip, dredge, or dunk, just make sure you get some sauce in each mouthful. The chilled Alaskan crab legs and chilled crab claws were cooked perfectly and tasted great. I like the fact that Del Frisco's serves these two treats with the shells cracked and split. The meat easily detached from the shells, which made for easier dining. A small detail which shows the care that Del Frisco's puts into its menu. Last but not least, the shrimp cocktail. Once again, Del Frisco's doesn't just serve a shrimp cocktail with the finest jumbo shrimp... they make it a unique experience by offering different sauces to go with them. Cajun Remoulade, garlic Italian marinate, and Creole mustard are the three sauces that I sampled. The Cajun Remoulade does the same that the Cajun lobster sauce does for Del Frisco's crab cakes. The Italian marinate is a very subtle compliment to the flavor of the shrimp. But the Creole mustard... this really impressed me. A nice amount of heat from both the mustard and Creole spices brings out the flavor, but doesn't overpower the shrimp. Josh paired the crab legs with a 2012 Joseph Faiveley Bourgogne Chardonnay. The chardonnay was crisp, light, and it paired well not only with the crab legs but with the other appetizers.
The seasoning/sauces have been covered within steaks and seafood. But there is more. Del Frisco's The VIP and their Pomegranate Martini are both superb. The fresh Svedka Clementine vodka infused into the fresh Hawaiian pineapple in The VIP makes for the sweetest taste. The Pomegranate martini is equally refreshing and the blackberry that you will enjoy with the last sip of your drink is a great ending to the cocktail. Be careful, with the sweet flavors of these cocktails, they could easily be mistaken for virgin cocktails.
The spinach supreme side dish is supreme indeed. It is a creamed spinach dish but with bacon. The bacon provides for a smokier, richer flavor that goes well with steak. The asparagus was cooked with the right amount of crisp in it and sprinkled with sliced almonds. And for the macaroni and cheese lovers, make sure you try their signature lobster macaroni and cheese.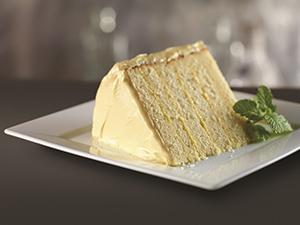 For dessert I had Del Frisco's signature seven layer lemon cake and their butter cake. The seven layer lemon cake is layered with lemon curd and frosted with lemon butter cream. The size of the portion is as grand as the flavor. But Josh really impressed me with his pairing of the Butter Cake with Christian Drouin Pommeau de Normandine. The butter cake is made with cream cheese served atop a butterscotch sauce (like the crab cakes) and topped with a butter pecan ice cream. The Christian Drouin Pommeau de Normandine has a strong aroma like a cognac, but tastes sweet. When enjoyed with Del Frisco's caramel butter cake dessert it tastes sweetly dessert-ish.
There is a reason why Del Frisco's Double Eagle Steak House has over ten locations throughout the United States. The service is top-notch, the steaks and seafood are cooked to perfection with unique seasonings and sauces. The Sommelier will pair the perfect drink with your order. I highly recommend Del Frisco's Double Eagle Steak House.
Del Frisco's Double Eagle Steak House located at 1221 Avenue of the America's.
For more information, please visit:
www.delfriscos.com