Dylan! A Sweet Success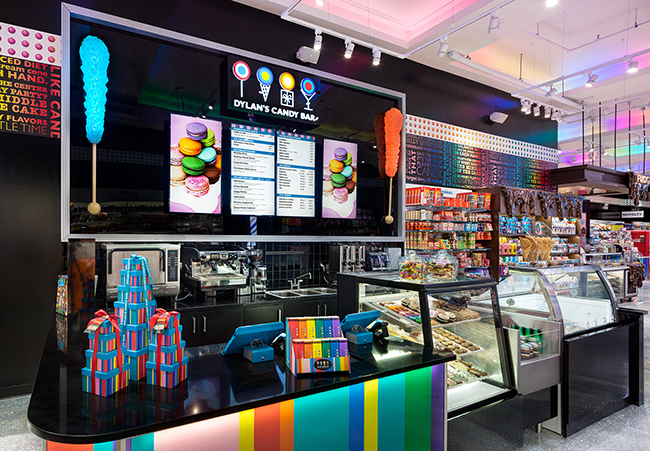 By Ivette Manners
In 2001, Dylan Lauren introduced New York City to a new way of experiencing the sweeter things in life. She opened her colorful candy megastore, Dylan's Candy Bar, which quickly became an iconic staple in the Upper East Side and launched her now world-recognized company. Her first flagship store, located on the corner of Third Avenue and 60th Street, along with her 15 other retail locations sell every kind of candy your heart could desire, as well as candy-themed items from psychedelic swirl-designed bags and cupcake-shaped pillows to jewelry and cozy PJs. All of the flagship stores also house ice cream counters and a select number of stores feature cafés that serve savory noshes like flatbreads, sandwiches, and mac and cheese; plus of course decadent desserts, sweet mocktails, and candy-based cocktails. Her brand has not only been well received from the start, but has also become as much of a part of American culture as her father's Ralph Lauren fashion and lifestyle empire. "People of all ages really respond to candy. They love the colors and flavors," says Lauren. "Almost everyone can connect candy to a happy memory."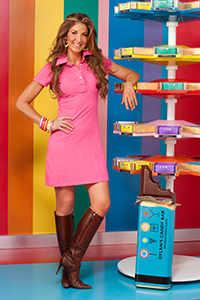 Fifteen years later, Lauren's passion for all things candy hasn't staled, in fact, her love for sweet confections has grown and today she's excited about her new store that recently opened in Union Square next to the famed Blue Water Grill restaurant. The 3,500-square foot downtown store is a boutique version of the uptown candyland with more of an edge. The glittery silver floor, black walls, and an illuminated ceiling featuring a light show of changing holiday colors much like the Empire State Building gives it a fun nightclub vibe. "This location caters to the other half of New York. It's for all the downtowners and Brooklynites who don't make it uptown" says Lauren. "It's a little funkier. I like to call it 'hip hop disco chic'." To impress her cool-kid clients, Lauren debuted the second New York City store with an outdoor performance by the Brooklyn United Marching Band. Other details that make this location unique from its big sister are the candy songs remixed by a hip hop DJ and an outdoor seating area overlooking the park that will open this summer. "New York is the only city with two flagship locations because there's room for it," says Lauren. "Each store accommodates the different tastes of the diverse people in the city."
As the daughter of a major mogul it's no wonder that she has the Midas touch for business. "I always knew I wanted to lead or be an entrepreneur and create a new concept. I wanted to be an innovator," says Lauren. "I've watched my dad in his business; he has a vision. I've seen how he's a leader in his company." Lauren's own vision started at an early age. When she was 16 years old, her father wanted to name a perfume after her, but she told him that she wanted to reserve her name for when she built her own brand. "I love the name my parents gave me and I knew I wanted to see it on a door one day," says Lauren.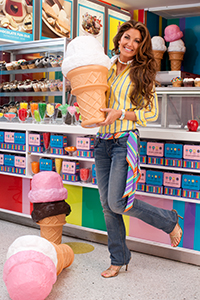 It's not just her sweet personality that drove her to build a business around sugary confections. "While fashion is something that inspires me, the fashion industry was never my thing. I wanted to start a business around something I love and I've always loved candy. I love the look and the packaging," says Lauren. "My father started his business with a tie and I guess I started mine with a chocolate bar." From her travels while studying abroad in London, Lauren started to curate a collection of candy from around the world. She'd bring back candy and fill the shelves of her room with them. "However, I never came across a really fun candystore and decided I wanted to open my own Disneyland or Willy Wonka-like store that offers candy from around the world. I wanted to create a pop culture with candy," says Lauren. "I still have shelves full of candy from around the world that inspire me," says Lauren. Her personal favorites include marshmallow, gummy candies, and anything red. "I love red candy. Red gumballs, red gummies, red licorice. And Cadbury crème eggs!"
Candy has definitely played a major part in a lot of aspects in Lauren's life. Her husband, hedge-fund manager Paul Arrouet, proposed to her on the beach in the Hamptons spelling out "You are my It Girl" with It candy bars. "It was very romantic," says Lauren. On the topic of romance, Lauren is one who loves Valentine's Day. "It's an opportunity to create a special day or night for the person you love that comes from the heart." Lauren helps couples create a special Valentine's Day at her flagship stores' cafés. "It's a great date place," says Lauren. "Couples can even go with their kids." For Valentine's Day, the stores are decked out in the holiday's theme and the cafés offer menus featuring candy cocktails, such as their signature cotton candy cloud or chocolate cocktails, along with over-the-top desserts like molten chocolate cake and 10-scoop sundaes.
Lauren's business might be all sugary sweet, but she's a serious businesswoman. Her eye for detail has attracted the attention of many companies that have approached Dylan's Candy Bar for collaborations. In addition to creating their own products and selling those of over 1,000 candy companies worldwide, Dylan's Candy Bar has developed both edible and non-edible products for well-known brands and franchises including Havaianas, Hanky Panky, LeSportsac, Minions, Star Wars, and Barbie. They've also had the honor of creating products for Hello Kitty's 50th and The Wizard of Oz's 75th anniversary. To add to Dylan's Candy Bar's offering of over 7,000 different types of candy, Lauren is launching the brand's new Gold Collection, a luxury high-end line of decadent-flavored chocolates wrapped in elegant paper packaging.
Lauren is always thinking of ideas to take her brand to the next level. "I love what I do and I get inspired by working," says Lauren. But the hard-working mom of 10 month-old twins, Cooper Blue and Kingsley Rainbow—who she and her husband lovingly refer to as the Twinkies—knows the importance of balancing work and personal life. "I dedicate a certain amount of hours each day to just the babies and make sure Paul and I have date nights," says Lauren. "I sometimes take Paul with me on shopping trips for the store, so that we can have time together while I'm working." Lauren also notes making time for her dad, mom Ricky, brothers David and Andrew, and friends. "It's not easy, I'm still trying to figure it all out!" One of the things that helps the All-American Beauty unwind and share time with her husband is being in the outdoors. "Paul and I love to go hiking and biking when we can," says Lauren.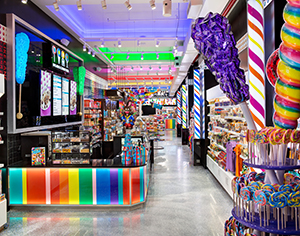 Not only the outdoors energizes Lauren, she counts several New York City neighborhoods as influential elements on her brand and personal interests. "The streets are so inspiring, especially in New York. I love Central Park, the Upper West Side where I grew up, and Museum Row," says Lauren. "Downtown and SoHo are packed with fabulous design stores where I like to shop and the West Village is amazing because it feels a little like Europe. I'm so proud to say I'm from New York. It's like the center of the world." Pop Art is another big passion of Lauren's and an influence on her business, so luckily New York is a mecca of color and design. "I wander through gift and stationary stores for ideas and browse through paint stores for colors. I like to keep up with trends and apply them to my brand."
Home is another place Lauren looks to for inspiration. Her twins have motivated her to start a candy-themed baby line including products like onesies, bibs, and even a stroller designed with Maclaren. "It's so much fun to be creating this product line with my babies," says Lauren. Another close family member contributes to Lauren's creativity. In addition to inspiring her to develop a line of pet clothes, toys, and accessories, her rescue dog Jersey also led her to start Dylan's Candy Barn, a foundation which hosts parties at Dylan's Candy Bar flagship stores to raise money for animal shelters, rescue efforts, and encouraging formal pet training and proper pet care. "We even bring in animals to be adopted during the event," says Lauren.
Lauren's colorful character is evident in her brand. "My mission is to merge fashion, art, pop culture, and the holidays into the products," says Lauren. New York events like Fashion Week also make it into the brand's offerings, when she asks artists to design products like shoes with candy. "I want each and every item we sell to be a special gift. I search high and look for good products and want the packaging to be chic."
What's next for the Candy Queen's kingdom? World domination. She's looking to open additional flagships throughout the U.S., expand into more department stores and hotels, and is currently scouting out locations for future stores in prime international cities like London, Tokyo, and Dubai. Sweet.
Dylan's Picks for Your Sweetheart Available for purchase on dylanscandybar.com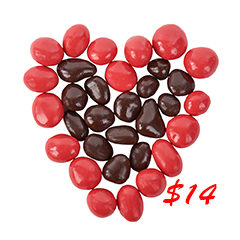 Dylan's Candy Bar Milk & Dark Chocolate Covered Strawberries
Dark and milk chocolate-covered strawberries that pair perfectly with champagne or wine to toast to love. $14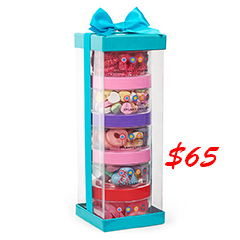 Dylan's Candy Bar Stack-A-Round 5-Pack Valentine's Day Gift Set
Cheeky keepsake stackable containers, filled with Valentine's Day favorites like conversation hearts, candy lips, and gummy X's and O's, that can be reused after all the treats are gone to store desk supplies, hair accessories, or jewelry. $65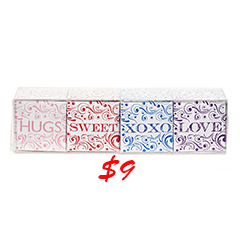 Dylan's Candy Bar Cupid Cubes
Adorable mini conversation boxes of milk chocolate hearts that you can address to your special someone. $9