Celebrate the Foodie Trail in Tucson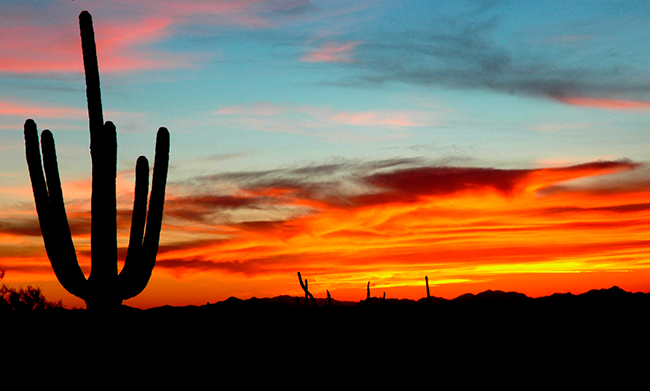 By Mira Temkin
Photos courtesy of Visit Tucson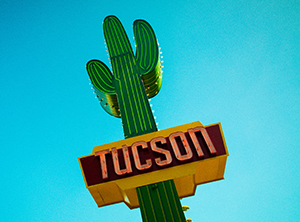 Statuesque Saguaro cacti dot the landscape as far as the eye can see. Lovely desert terrain and golden sunsets beckon against the dramatic backdrop of the Santa Catalina Mountains. Home to the University of Arizona, world-class golf courses, outdoor adventure and a hub of culture that the Wall Street Journal refers to as a "mini-mecca for the arts," there are plenty of reasons to visit this oasis in the desert. But if your palate is hungry for a succulent taste of the Old Southwest, free-spirited Tucson will be more than happy to satisfy your cravings.
Best of the Barrio Foodie Tour
Get your fill of Tucson's most delicious offerings on a culinary adventure considered the "Best 23 Miles of Mexican Food" north of the border, sponsored by Gray Lines Tours. This Sonoran Cuisine Tour highlights five different "dines in the desert" from family-owned businesses, which combine history, delicious cuisine and lots of fun. You'll watch as bakers make traditional Mexican goodies at La Estrella Bakery and get to taste these luscious treats. The owner explained how, in Mexico, bakeries served as the community center because women had to visit the bakeries every day to buy fresh bread.
Then it's on to El Merendero for a sampling of cheese crisp, fish tacos and other outstanding Mexican fare. Now's your chance to discover what an authentic Sonoran Hot Dog is all about. At El Güero Canelo, they slit the bun open, wrap the hot dog in bacon and top it with pinto beans, chopped tomatoes, grilled onions, mayonnaise, mustard and jalapeño salsa. This robust combination of Mexican and American cuisine is a firecracker of flavors. Then it's time for a bit of refreshment at Oasis Raspados, voted the best raspados by Tucson Weekly.
The Mexican answer to the snow cone blends ice cream and fresh fruit flavors into a cool, sweet delight. The tour ends at Carlotta's Kitchen, the commissary for El Charro Cafe, (also known for their prickly pear margaritas), where you'll watch Mexican specialties being made and then presto…it's your turn to take your hand at making tamales. grayline.com/tours/tucson/best-of-the-barrio-5887_1/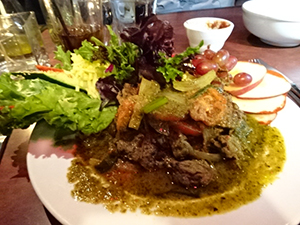 Upscale Dining Extraordinaire at Café Poca Cosa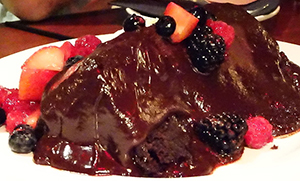 For more than 20 years, owner/chef Suzana Davila has been tempting guests with incredible Mexican cuisine in downtown Tucson and a warm, friendly hug, to boot. This dining experience is, well, something to behold.The menu arrives at your table on a chalkboard and changes twice daily, based on Davila's whim and what's in season. Every dish is just bursting with color as well as flavor and the artistic presentation will simply wow you. The chicken with mole sauce and mesquite asada in pepper sauce, were spectacular. Go with the Chef's Plate, a three dish sampler, and let Davila surprise you. Each one is different. The red Sangria…well, you can just taste the freshness. Don't try this dessert alone folks, but their decadent Molten Lava Chocolate Cake with ancho chile, is both huge and heavenly. Reservations are a must at Tucson's most celebrated Mexican restaurant. Open Tuesday – Saturday.
520-622-6400 | cafepocacosatucson.com
Say Pizzaaaaa at Pizzeria Bianco
Located in historic downtown Tucson, Pizzeria Bianco prepares its award-winning artisanal pizza in a wood-burning oven. My Pizza Margherita had a thin, crispy crust, generously topped off with fresh, natural ingredients. Chris Bianco is the only pizza maker to win a James Beard Award and his attention to detail is evident in this popular eatery.
pizzeriabianco.com
Arizona-Sonora Desert Museum
An Outdoor Living Museum
A perfect way to walk off some of Tucson's fine cuisine is to spend time at this museum and gain a real appreciation for the Sonoran Desert. Here you'll find 98 acres of zoo, an aquarium, a botanical garden and an art gallery, all in one. Walk through more than two miles of pathways and observe more than 200 animal species displayed in their natural habitat, surrounded by 1,200 types of plants. Don't miss the hummingbird aviary.
desertmuseum.org
Mission San Xavier del Bac
As you drive up the road, the Mission welcomes visitors like a vision in the distance. Considered the best example of Spanish Colonial architecture in the U.S., this well-preserved and still active Catholic mission was built in 1783, about 10 miles south of downtown Tucson. This National Historic Landmark features dazzling frescos, statues and carvings. The impressive two-story interior is masterfully decorated, portraying both Spanish and Native American art.sanxaviermission.org
Lodge on the Desert
An Arizona Landmark, Filled with Local Traditions
Since 1936, Lodge on the Desert has offered an urban oasis in the middle of Tucson, standing tall and proud as an Old Pueblo historic masterpiece. This 100-room boutique hotel features charming hacienda-style accommodations with meandering pathways and blooming flowers, which let you feel the essence of the real Southwest. The Lodge Restaurant, a member of the Tucson 50+ Originals, is a popular eatery among the locals as well as guests. The menu blends contemporary cuisine with traditional flavors from America's melting pot. Their Sonoran Burrito, stuffed with fresh ingredients, gives a real kick to start the day. The star of the show is their daily baked fresh breads; simply awesome.
520-320-2000 | www.lodgeonthedesert.com
Along with the lovely aromas in the desert air, there's also a true sense of joy in this blissful paradise. Come embrace it.