Cruising UNESCO Sites In Northern Italy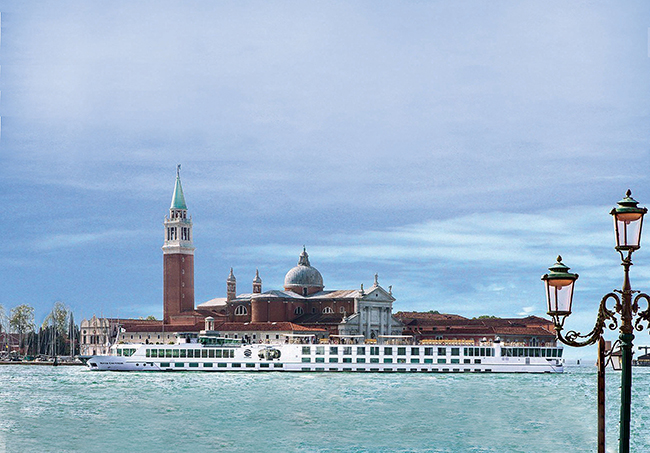 By Nava and Michael Raviv
Northern Italy is home to Milan, Venice, Verona, Padua, Bologna and Ravenna, cities rich in history, beauty, and UNESCO heritage sites.
One of the best ways to explore these gems is with Uniworld's ship, River Countess, on a smooth river cruise through the historic sites of Italy.
THE SHIP
The River Countess offers 82 staterooms (151 sq.ft.) and 4 suites (214 sq.ft.), with a very comfortable maximum capacity of 132 guests. Rooms on the upper deck feature French balconies, while others have river view windows, depending on the deck, of different sizes.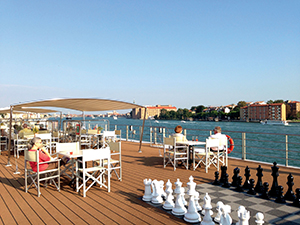 Staterooms are bright and beautifully decorated in light colors, offering luxurious amenities such as Egyptian cotton linens, European duvets, and a pillow menu giving you the option of choosing what is most comfortable for your taste. The marble bathrooms feature glass enclosed showers, L'Occitane en Provence toiletries, plush towels, and cozy bathrobes.
Public spaces include Il Castillo Lounge, the main gathering area with a full-service bar and dance floor, the elegant Savoy Restaurant, Captain's Lounge, a patio lounge, spa, fitness center, and sun deck.
Dining is one of the ship's major attractions. The talented chefs prepare delicious, Mediterranean inspired dishes using fresh ingredients purchased from local markets and farmers.
The breakfast buffet features freshly baked pastries, cheeses, cold cuts, smoked fish, egg selections, cereals, and fruit. Lunch, also buffet style, offers salads, antipasto, pasta, meat, fish, and assorted desserts. Dinner, served a la carte, consists of daily selections of Italian favorites such as pasta dishes, osso bucco, Branzino, fresh clams and mussels, gelato, and mouthwatering cakes.
Daily selections of complimentary Italian wines and beer are served during lunch and dinner. The dining experience is enhanced by a courteous European waitstaff that memorizes guests' names, favorite drinks, and food preferences.
After dinner, passengers relax in the lounge, enjoying the tunes of the onboard musician, sip cocktails on the upper deck, or chat with fellow passengers.
Ship's amenities also include complimentary drinks throughout the lounges, an espresso and cappuccino machine, use of bicycles on shore, and free Wi-Fi.
The cruise's main attraction, however, is an exciting selection of shore excursions. There are half day or full day trips, some only short walks from the ship while others are two to three hours. Most trips are complimentary, except several in depth art tours in Venice and a wine country tour. Guests are divided in groups and are driven by comfortable coaches with English speaking local guides. There is even a group for slower walking guests. Here are some of the itinerary highlights:
VENICE
We start our tour with a visit to the Doge's Palace, the seat of power of the once powerful Venetian Republic. We walk through gilded chambers, along gold leafed corridors, marble fireplaces, and paintings by Tiepolo, Titian, Tintoretto, and others. The tour concludes with a walk across the Bridge of Sighs and through the ancient prison.
At night we are treated to an exclusive experience in St. Marks Basilica, the most famous church in Venice. We sit in the darkness, and, as the interior is gradually illuminated, we are awed by the colorful mosaic art, the golden cupolas, and the basilica's majestic altar. An art historian presents the fascinating thousand year history of the church and we view the gilded silver panels behind the altar.
PADUA
Padua is a glorious medieval city, once home to Galileo, Copernicus, and Dante. We stroll through the city's main public square, a huge plaza dotted with water fountains and statues of local notables. We visit the Byzantine style Basilica of St. Anthony, considered as one of the top eight Catholic shrines. We view St. Anthony's tomb and relics and admire the High Altar by Donatello. The tour continues to the old University of Padua, famous for its illustrious alumni and for its medical and scientific discoveries. Finally, we stop at historic Pedrocchi Café and taste its signature coffee — a strong espresso topped with a refreshing mint foam.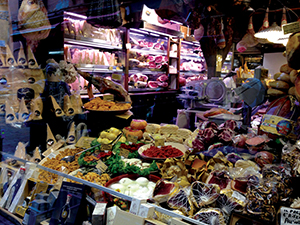 BOLOGNA
Bologna is home to the oldest public university in the world, dating back to 1088. We visit the 16th-century inner courtyard and view coats of arms of students from all over the world. The top floor houses the anatomy theater where medical students studied the human body.
Continuing on to Piazza Maggiore, we go to a sprawling square surrounded by the imposing Church of St. Petronio and the City Hall. We walk along the city's famous decorative porticos (covered sidewalks), some dating back to the middle ages.
The town of Bologna is known for its wonderful food, including mortadella, Parma ham, parmigiano cheese, balsamic vinegar, pasta, and the Bolognese sauce. The stores are laden with giant hams, oversized bologna salami, cheese wheels, fresh vegetables, and fish.
The tour includes a pasta making demonstration in a local restaurant, where we observe how pasta is handmade from scratch, and rolled into tagliatelle, tortellini, and other shapes. The demonstration concludes with a lunch of charcuterie, freshly made pasta, and local wine.
RAVENNA
Ravenna, once the capital of the Roman Empire and a major Byzantine city, is home to several UNESCO heritage sights.
We visit the Basilica of St Vitale, an octagonal shaped church, in service since the sixth century. The domed ceiling and walls are covered with magnificent mosaic art depicting biblical scenes.
We also stop at the Mausoleum of Galla Placidia, next to the church, and marvel at the blue mosaics representing the afterlife.
The tour ends with a stroll along the city's winding streets, where we browse eclectic boutiques and purchase local souvenirs.
VERONA
Verona was an important Roman city long before Shakespeare made it the world's famous city of love. We visit the charming medieval area, walk along ancient streets and squares, and learn about Verona's glorious past and then stop by Romeo's house and continue to Juliet's courtyard to view her legendary balcony.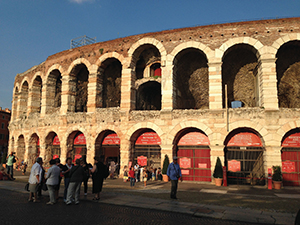 The tour continues with a walk along the marble paved streets, passing by designer boutiques, fine stores, and restaurants. We complete the tour at the city's best known landmark, the Arena of Verona, home to its famous summer opera festival. With a capacity of up to 25,000 seats, it is the second largest Roman arena after the Colosseum in Rome.
This year's itinerary is a ten-day trip beginning with a two night stay and tours in the vibrant city of Milan, prior to embarkation in Venice. Once on board, guests may partake in the fascinating shore excursions or just enjoy their floating hotel, indulging in a luxurious massage, relax on the sundeck with a frothy cappuccino or sip a refreshing Aperol spritz, the popular northern Italian cocktail. Salute!
For information and booking call 1-800-257-2407 or visit:
www.uniworld.com