The Coolest Place In Town For Some Hot Romance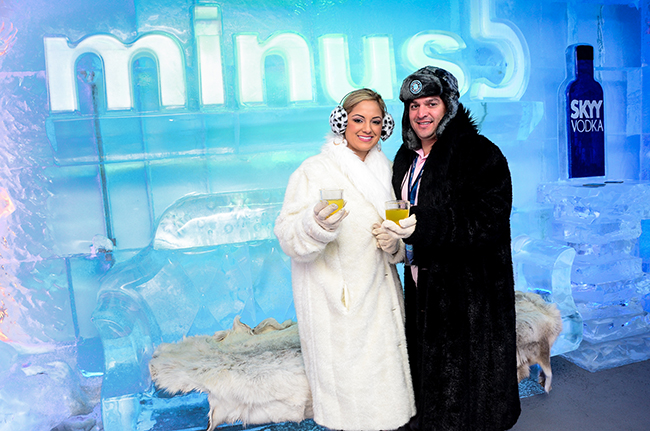 By Bob & Sandy Nesoff
OK, so you've tried chocolates, a sexy movie, some cute drinks with an umbrella sticking out of the glass... and you still haven't been able to set the right mood for romance and Valentine's Day.
Why? Simple... been there, done that.
You could spend a fortune and go out of town to a cuddly hotel somewhere. But why do that when there are so many options right here in the Big Apple.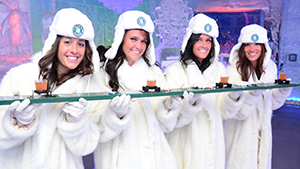 The coolest place in New York, by far, for some terrific cuddle time sits at the corner of Sixth Avenue (Avenue of the Americas to you tourists) and 53Rd Street in the Hilton Hotel. The Minus5 Ice Bar sparkles as couples snuggle together in their parkas to keep warm.
You can't miss the Minus5 sign and entrance just off the corner as you enter a world unlike anything else in New York. Even with the unusual spate of warm weather enjoyed by New Yorkers the end of last year and the beginning of this year, Minus5 is unlike any climate most have experienced.
The small lobby has a queue that would hardly make it at nearby Radio City Music Hall. It is small and only has about two or three twists before you reach the greeter at the register. But that gives you ample opportunity to snuggle together in anticipation of what lies ahead.
All of the attractive young ladies, called "Party Starters," helping to bring you through the lines, seem to have very rosy checks. That should be a precursor of what awaits.
Admissions vary according to your whims and pocketbook, but never become onerous. For $20 per person you can enjoy the experience with Minus5 parkas and gloves. For $45 p/p you'll each get chips for two specialty ice cocktails as well; while the $45 Fur Coat Experience gives you all of the above, plus a faux fur coat upgrade with gloves.
If you really want to splurge, try the $75 per person "Total VIP Experience" and receive one specialty cocktail, faux fur coat upgrade, gloves, a souvenir hat and a framed, 5x7 photo.
Make sure you read these last two paragraphs thoroughly, so that when you get to the register, you won't have to stand and study the menu as though you were in line at Burger King. Make your choice, flip the credit card (why pay cash when you can accumulate miles?) and collect the chips for your drinks.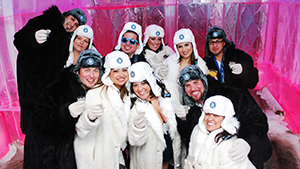 You will be asked to check any heat-emitting devices so that the ice inside of the Cold Room is not affected. Believe it or not, your smart phone does just that and you are asked to leave it in a locker. You'll be given the key and it is safe and secure. In spite of that, there are those who "sneak" their cell phones inside and are bold enough to take them out and snap photos. Don't be one of those. A house photographer with an approved camera is inside at almost all times and will take your photo. Do they charge for that? Absolutely. But they are going to do a far better job than you will.
Off to the left is a coat rack filled with beautiful, white faux fur coats. Wrap your lover in one and grab a pair of gloves. You will want the gloves. There are some things you can do without in life, but doing without gloves at Minus5 is like sticking your tongue on a flag pole mid-winter. Oddly enough, that's not a problem here.
The air is dry and you can put your fingers-or other appurtenances-on the ice inside the cold room and nothing bad will happen. In fact, all of your drinks will be served in-you can't call them glasses, because they aren't-containers shaped like a cocktail glass and made of ice, hold the variety of libations offered in the room. They are specially made from New Zealand artesian water.
Entry into the "Cold Room" is through a door reminiscent of the ones in a butcher shop-or the meat department of the supermarket-that leads into a room where sides of beef are hung in freezer-like conditions. At Minus5, the meat is on the hoof... that's you.
Some people wander around and examine the intricately carved ice designs. One section is called "Broadway" and all of the ice designs depict many of the current hit shows on the Great White Way. There is, of course, the North Pole and another section honoring the Statue of Liberty and the Red, White and Blue of the American flag.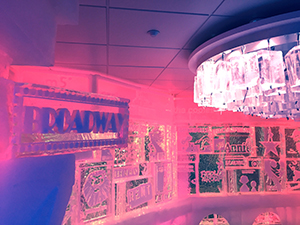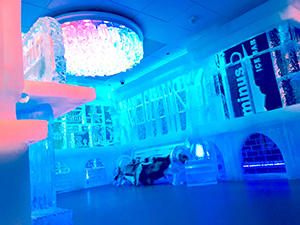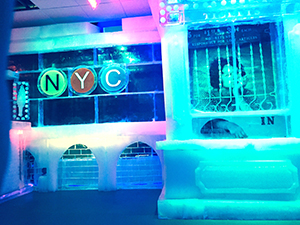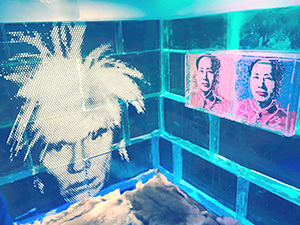 Throughout Minus5 the carvings are beautifully enhanced by LED lights that highlight the designs, making the American flag, for example, truly stand out.
Romance can almost be forgotten looking at the intricate designs and wondering how they were made. Well, here's a little secret. Most of them are made by a computer operated, hi-tech machine that'll take two hours or more for each, depending on the intricacy of the design. Ice carvers also work on the art.
Minus5, the name, by the way, comes from the fact that the interior temperature is, at all times, 23°F. That computes on the Celsius scale to-you guessed it-Minus 5°C.
Drinks, unless you request something in particular, reflect the clarity of the ice. There are primarily vodka-based cocktails. Try a "Big Apple," made of three olives, vodka, apple pucker and sweet and sour mix. Or you might like a "Frozen Assets," also with three olives, Marilyn Monroe vodka and cranberry juice.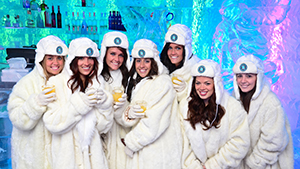 For those on the wagon, there are a variety of "Mocktails" that are concoctions without alcohol. For the more cultured and refined tastes, you can opt for Dom Perignon champagne.
Even the bartender needs to exit every so often although he's normally dressed appropriately with thermal underwear and snow boots. He always cautions patrons to "Please pick up your drink with both hands." If you don't, your drink will become part of the frozen floor.
It's not uncommon to see a guest, finished with his drink, sitting and chewing on the glass until there is nothing left.
The attraction has a bit of a split personality. From the time it opens at 2 p.m. until 7 p.m, children and families are welcomed. Beyond 7 p.m. Minus5 is by far the coolest nightclub in New York, catering to an adult crowd.
While most people mingle, hold a drink in their gloved hands and walk around admiring the ice carvings, some prefer to sit and relax with their drinks. There are ice chairs and ice benches throughout. Oh, you don't want to plant your Oscar de la Renta pants on an ice seat? Not to worry. Every seating area is covered with a heavy deer skin pelt. Only the most devout anti-hunter or vegan might opt to stand.
The chairs and benches don't become vacant that quickly because those who manage to grab one, usually curl up, wrapped in each other's arms and sip their drinks, looking into each other's warm eyes. It's truly Valentine's on ice.
The parkas and faux fur coats keep the chill out and the air is so dry that you actually do not see your breath. That seems to amaze more people than you'd expect. You can see other guests blowing and trying to create smoke. It's not gonna happen.
Every couple of months all of the ice is cleared out and Minus5 starts from scratch. They import some 35,000 pounds of ice. That computes to about 15.5 tons. The ice comes from special warehouses in Canada where the ice is pure and clear. It's trucked to New York and the designers get to work.
They have some 350 blocks of ice, each weighing up to 100 pounds, to work with. They've laid out the new design and the computers and machines, along with ice carvers, begin a new layout.
Minus5 is open all year round and, as attractive as it might be in winter, give it a try in mid-July when the temperature and humidity are reaching record levels.
The Hilton location cost more than $5 million to bring to fruition and it is one of four such locations in the United States. There are two in Las Vegas (at Mandalay Bay and Monte Carlo) and one in Pointe Orlando, Florida.
Minus5 is open Sunday-Thursday from 11 a.m. to 12 a.m.; Friday-Saturday 11 a.m.-2 a.m. Kids are welcome before 8 p.m. on any day. For information, contact Minus5 at 212-757-4610 or www.minus5experience.com