School of Rock Still Kickin' Butt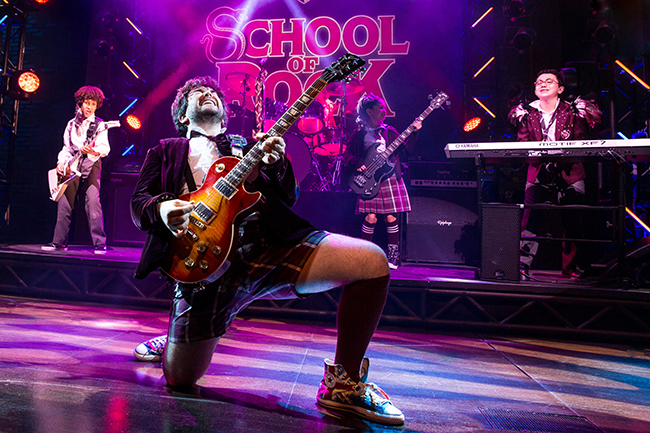 By Bob & Sandy Nesoff
Reprising a familiar show these is often dangerous. People have seen it, probably many times, and they are looking for something new. A while back a string of teen-centric movies hit the screen where problems abounded and were suddenly fixed by a rock and roll band and a bunch of kids playing music and dancing.
You've seen all that, right?
No you haven't.
School of Rock at the Winter Garden Theater has knocked all of those clichés for a loop. It not only hit the boards running, but has been setting records. If you've seen the movie starring Jack Black, forget all of that and concentrate on one of the more talented set of musicians, singers and dancers currently hitting the boards on Broadway.
The musical kicked off this year by breaking its own record-breaking week. It grossed an amazing $1,671,621.59. Let's not forget the fifty-nine cents. That could be the little extra that puts it over the top in the long run.
The 2003 film of the same name has become a bit of a cult favorite and it was a no-brainer that it would be made into a Broadway stage musical. In this case, School of Rock does not miss a beat. It is a foot stompin,' aisle-dancing, audience-singing-out-loud show.
After being kicked out of a rock band called "No Vacancy," Dewey Finn (Alex Brightman), needs money and implausibly, becomes a substitute teacher at an uptight, strict, upscale elementary school. Not surprisingly he manages to turn the curriculum into a full-blast rock concert.
Dewey forms a band of fifth graders in an effort to win an upcoming Battle of the Bands contest. He's spurred on by the talent of his young charges.
Not surprisingly, Dewey has absolutely no interest in any academic pursuits and steers his students away from anything resembling normal schoolwork. He devises his own curriculum that looks something like this: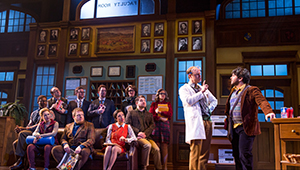 First Period……Rock History
Second Period…Rock Application and Theory
Third Period…...Band Practice
Fourth Period….Lunch/Recess
Fifth Period……OK, why bother with a fifth period?
For the kids this is far better than even a series of consecutive snow days.
Andrew Lloyd Webber, the show and film's producer, decided that the music had to be expanded for Broadway. He was of the opinion that two solid hours of rock music blasting from the stage would numb the audience.
"You can't do heavy metal for hours and hours in the theater," Lloyd Webber observed. "Everyone would be screaming. So there has to be theatrical songs too. And we've obviously got to use the iconic songs from the original show. It would be a shame not to do a Stevie Nicks song."
Lloyd Webber composed the score and worked with lyricist Glenn Slater to update the selections. Three songs were taken from the movie and a dozen new songs were composed. Some had titles you could expect: Stick it to the man, School of Rock and, ironically, Math is a Wonderful Thing.
Brightman's frenetic Dewey horrifies everyone around him, especially the uptight parents and the school's headmistress Rosalie (Sierra Boggess).
You don't have to telegraph the ending or make a note of "Spoiler Alert." You know that by the end of the show everyone is going to be dancing, singing and praising hard rock.
Surprise! That's exactly what happens. But the road along the way to the curtain call is never-ending fun.
Jack Black is a character difficult to emulate, so Brightman pretty much developed his own Dewey Finn. He's a crass character who could be kindly described as a "free spirit." And that would be a kindness.
He wipes the sweat off his body with a towel and then throws it into a girl's face. Dewey grosses out the establishment by unloading a mouthful of soda into the face of a female teacher. It's a good thing for him that Bella Abzug is no longer on the scene.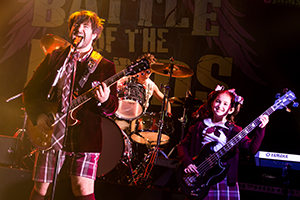 While Jack Black had great support in the movie from Sarah Silverman and Joan Cusack, Brightman faces off against Mamie Parris and Boggess, both of whom portray humorless, stodgy foils for him.
Lloyd Webber has returned to his theatrical roots to score School of Rock, a bit reminiscent in style of Jesus Christ Superstar.
You can see the transformation of school officials and parents on the rise when the students sing: "If only you would listen," to an audience of parents, whom they obviously don't think listen to them. Eventually- surprise!-the parents begin to embrace the children's love of loud rock music and Dewey is the hero. No statue is erected in his honor-he's no Rocky Balboa-but he did manage to ease the stiff backbone of uptight school officials and well-to-do parents who dress their kids like Buster Brown.
The show will open in London's West End theater district this fall. A U.S. tour is also being planned to begin late next year.
The schedule for School of Rock is Monday-Saturday at 10 a.m, and 8 p.m. Sunday at noon and 6 p.m. Tickets are available by calling (212) 239-6200 or through Telecharge.com