Couples Spa For A Truly Romantic Valentine's Day Experience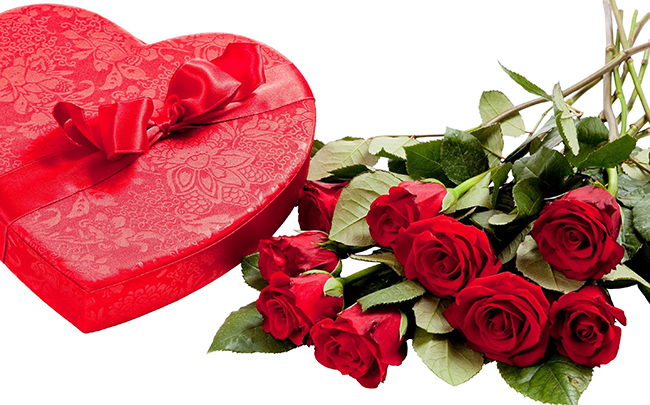 By Sandy Roberts
There are so many ways lovers express themselves on Valentine's Day. They walk together, holding hands; a romantic movie, dinner at an intimate restaurant or a box of chocolates.
But for the ultimate romantic experience, reserving a spa treatment for two really does the trick. Before making a spa reservation, call ahead and find out if they offer a couples massage. Many spas, even day spas, have special treatment rooms that are big enough for two people.
The most romantic spas have lavishly equipped suites for couples. After treatment the couples can lounge in a private area. Many suites have amenities such as fireplaces, pedicure chairs, steam showers and lounge beds.
New York City and environs have a plethora of spas offering Valentine's Day specials. It is recommended that before making a reservation, check on the special price as opposed to the regular rate.
Here are some of the more romantic spas in New York for couples on Valentine's Day.

Mandarin Oriental
80 Columbus Circle
212-805-8880
Their 650 square foot spa suite is reminiscent of a sumptuous Oriental-style home with views of Central Park and the Hudson River, a fireplace, elevated bath and dual massage beds. The lights of the Upper West Side sparkle at night.
The Thai Yoga Suite was custom-designed with elements that'll remind you of Thailand. It creates a sense of place with a deep-soaking tub decorated with teak wood and gold leaf.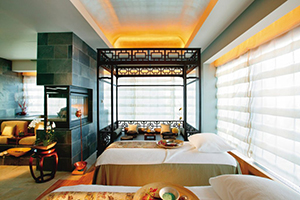 The suite exudes a tranquil feeling and a sense of togetherness.
The Couples Escape is a Valentine special that provides three or four hours of total bliss in the Couples Escape Spa Suite. You begin with a bath customized with the Mandarin Oriental's signature oil blends.
You'll start with a soothing foot treatment tailored to individual needs. Then couples are served glasses of Billecart-Salmon rosé and chocolate covered strawberries in a kang bed.
Then follows the bath, relaxing side-by-side with the "Time Rituals" experience. The treatment finishes with private time and the spas five elements bento.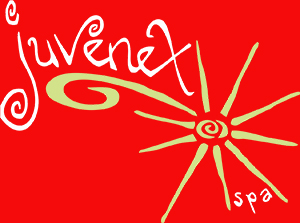 Juvenex Spa
25 West 32nd Street
646-733-1330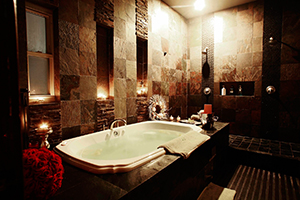 You have two couples packages to choose from at this midtown spa. There is the 150-minute Basic Romantic Couples Getaway ($395) that begins with a Jade Journey-three-part treatment that nourishes the skin with an igloo sauna, a steam sauna and a cold rain forest shower that is followed by a move to the celebrity room. Here you'll have a private soak and hydrotherapy massage.
After that relax with snacks of fruit and then finish with an invigorating Korean-style scrub. If you'd like more pampering, try the Enhanced Romantic Couples Getaway ($555) that includes all of the above plus the added relaxation of a private room and the option of a body wrap or facial instead of a massage.

Faina European Spa
315 West 57th Street
212-245-6557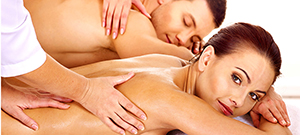 Want a choice for a Valentine's Day spa treatment? Faina Spa offers a dozen options for the two of you to choose from. Try the Decadent Duet ($252). That's a European manicure for her and a European pedicure and foot scrub for him. It also includes a 50-minute joint aromatherapy massage with champagne and chocolates.
You want something sweeter, you say? Try the Couples Decadence package ($229), that includes a 50-minute chocolate body massage for two. The ultimate pampering session here is the Champagne Immersion for Two.($469). The package includes a champagne facial and either an antioxidant hydrating wine wrap or champagne-rose-cream massage, a grape-enzyme-peel pedicure for him and a champagne manicure for her.

Le Cachet Day Spa and Laser Center
39 East 30th Street
212-448-9823
Picture yourself at Le Cachet's Valentine Special for a couple's massage in a private, candle lit room. Now relax.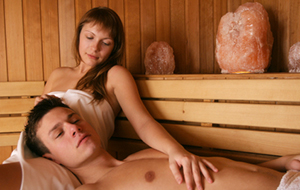 This full-service day spa will offer a Valentine's Day chocolate full body wrap, custom European facial for him and her, using organic skin care products. Valentine's Day couples can also enjoy a chocolate pedicure in a Jacuzzi massage chair.
The packages below offer a Valentine's Day discount:
Side by side couples massage for one hour, offering relaxing pleasure for two ($195). Includes a full body aromatherapy, massage in a private, candle lit room, using organic essential oils, with two massage therapists pampering both of you. Chocolate facial for Him and Her ($190). Custom holistic facials using organic chocolate and anti-aging skin care products to rejuvenate your skin. Before the treatment, the spas cosmeticians will examine your skin and a well customized facial will be performed. Chocolate Spa Pedicure ($99). This will be a side-by-side pedicure for the couple in Jacuzzi massage chairs. Sit back and relax with a glass of wine. You'll think you are having a facial for your feet.
As an added Valentine's special you can opt for all three treatments for only ($450 instead of the standard $484).
Le Cachet is known for its unique pampering pedicure. More than a standard pedicure, this therapeutic treatment includes an almond scrub, organic chocolate mask followed by an invigorating foot and leg massage, using essential oils to revitalize tired feet. This stimulates blood circulation and leaves your feet soft, well-groomed and polished.
The Couples Escape Magic Over Manhattan package is $1,355 per couple and is available February 13th to February 16th.
Timeless Marilyn Monroe Spa
Hyatt Hotel-Times Square
135 West 45th Street
646-640-3830
Named for the late sex goddess, the Timeless-Marilyn Monroe Spa is extending its Valentine's Day special until the end of this month.
The "My Sweet Darling" package ($250) is for couples and is a 50-minute treatment in a luxurious spa suite. It includes:
*2-50-minute Marilyn Monroe Signature massage treatments en-suite
*Glass of champagne for two served at the spa
*Spa gift for two to take home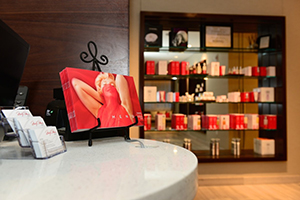 The Timeless-Marilyn Monroe Spa takes a glamorous cue from its namesake, the legendary actress and sex symbol. The spa's mantra is Marilyn's motto: "I just want to be wonderful."
The spa menu includes indulgent massages, body treatments and facials as well as manicures and pedicures. One signature treatment is "Marilyn's Signature Fassage," an effective lifting and relaxing facial massage and the must-have "Steamy Wonderful."
You can take advantage of these treatments before or after your romantic dinner at a nearby fabulous restaurant.
The Times Square location of the Timeless Marilyn Monroe Spa opens the door to some of the better restaurants in New York for a wonderful, romantic Valentine's dinner or a show. The restaurants and most theaters are only a short, hand-holding walk from the spa.