Pair Wine & Cheese By A Master Of The Art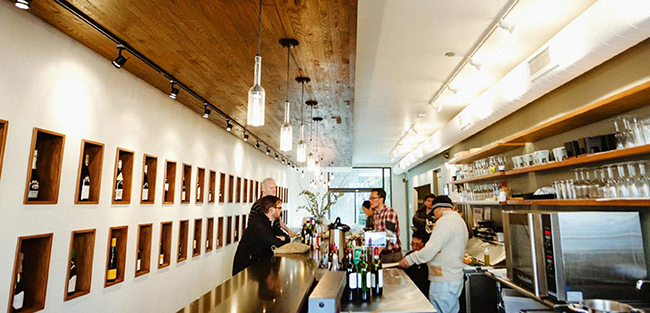 By Daniel Bollinger
There are endless reasons to pair things off. You can pair shoes, you can pair socks and, especially, you can pair the appropriate wine with food that it will compliment. There is even Au Pair. But pairing wine with cheese?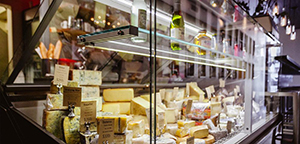 At Pair Wine & Cheese, located in Cobble Hill at 140 Atlantic Avenue, owner, Chung Park, 'pairs' his seemingly endless array of fine cheeses with an appropriate wine. Chung Park is a master of his domain. I sampled quite a number of offerings off his menu from snacks to market plates to hot cheeses. Everything on the menu is exquisite indeed. When Chung found out that I am more of a beer connoisseur than a wine enthusiast, he even paired some of my samplings with beer in lieu of wine, showing me what a maestro he is when it comes to pairing food and beverage.
I would describe the ambiance of the restaurant as: Love is in the Air. A great place for a "pair." It is quiet, quaint, and the music is soft and relaxing. I would request a table on the patio if you are on a very romantic dinner date.
Enjoy the complimentary wine soaked cherries, which are sweet with just a dash of tart and the apricot masato (braised with a shot of mustard oil).
I sampled two cheeses for an appetizer. The first, Bent River from Alemar Cheese Company in Minnesota. Chung paired it with a Barmes Cremant. The second, Comte St. Antoine from the Jura area of France. It was paired with an East Village Kolsch from the Alphabet City Brewing Company.
From the snacks section of the menu I sampled the Deviled Egg. Pair poaches the whites and yolks of the eggs separately, which shows real care in the preparation of their dishes and also for presentation purposes. Combined with the radish, mustard, pickled shallots and veggie sides that accompany this dish, it is a symphony of flavors that combine for a unique devilled egg experience. It was deliciously paired with Unger Gruner, a highly acidic wine that pairs well with the fat in the eggs.
From the market plates section of the menu, I tasted both the Charred Shishito Pepper and the Cauliflower Salad. Both are delicious. The Shishito Pepper is sweet with just the slightest heat from the pepper. It was paired with Unger Gruner again. The Cauliflower is deep fried in canola oil, which keeps the vitamins in the vegetable and also delivers the perfect balance between soft and crunchy. The Maine Pilsner, Peak Organic, went very well with the cauliflower salad.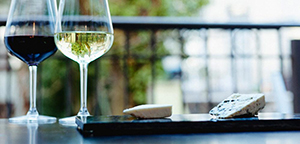 The most unique dish that I sampled was Raclette from their Hot Cheese section of the menu. It is unique in the fact that the cheese is served 'bubbling' hot from a custom designed tray. It reminded me of the way 'sizzling' fajitas are served in a standard Mexican restaurant. It is served with an air dried meat from Westchester, a very unique flavor and type of meat which is very popular in Switzerland with skiers in the Alps. Paired with a Montinore Pinot Noir I highly recommend trying this dish at Pair.
And for dessert, I had Caveman Blue with Bolivian Chocolate. Yes, blue cheese and chocolate for dessert. Paired with Quinta Infantando Port all three paired for a lovely end to my culinary endeavor.
Pair Wine & Cheese is a great place if you are looking for something different. Their menu offerings are quite different than standard dining and they have much more to offer than just the dishes that I have written about here. They even have classes on pairing wine and food together. You can check their website (www.pairbrooklyn.com) for the schedule. All in all, Pair Wine & Cheese is a great addition to Cobble Hill and I can see them becoming a Brooklyn landmark in the years to come.