A Romantic Getaway For Manhattanites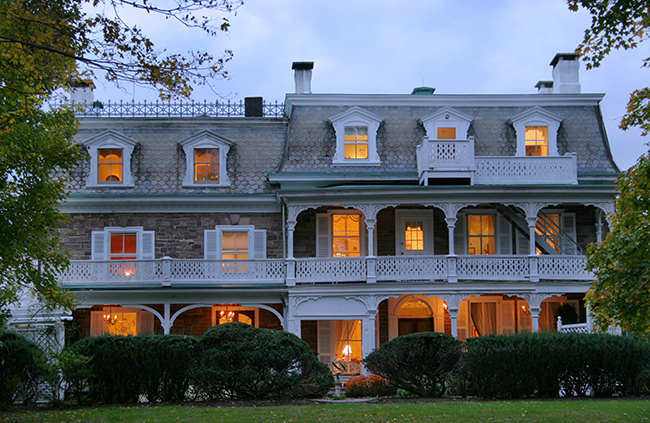 By Stephanie & Jeff Sylva
Photos courtesy of Woolverton Inn
We had high expectations for our visit to the Woolverton Inn, located in Stockton, NJ, just minutes from New Hope, PA and Lambertville, NJ. As we made our way up the long driveway and viewed the 1792 stone manor, enveloped by 300 acres of rolling hills and grazing sheep, we immediately knew that these rave reviews were warranted.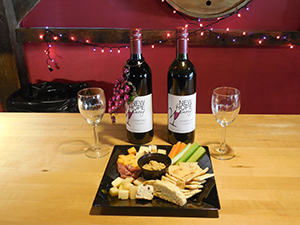 The Woolverton Inn is a lovely country estate inn nestled on ten park-like acres surrounded by preserved farmland and forest – and it is an easy 1 1/2-hour drive from Manhattan, making it a perfect choice for a peaceful, luxurious getaway. The manor's pastoral grounds invite guests to relax and unwind amid its tranquil scenery. During our stay, we spent a late afternoon enjoying a bottle of wine while sitting in the screened porch of our cottage watching the black-faced sheep grazing just a few feet away – a perfect moment of peace and relaxation.
The Inn's accommodations, which consist of five cottages and eight manor house rooms and suites, are all exquisitely appointed and boast comfy featherbeds, fluffy terrycloth robes, and Egyptian cotton linens. All stays include a three-course country breakfast, afternoon refreshments and sweets, complimentary soft drinks and bottled water, wireless internet, central air and private baths (most with whirlpool tubs for two).
Woolverton's three-course breakfast is outstanding. The Inn's website describes their offerings as "fresh, seasonal, local and abundant." Beginning with fresh-squeezed orange juice and a flavorful Costa Rican organic, shade-grown coffee, breakfast continues with a fresh baked pastry (possibly a flaky pina colada scone) or bread followed by fresh seasonal fruit (possibly from the Inn's own strawberry patch) or homemade granola.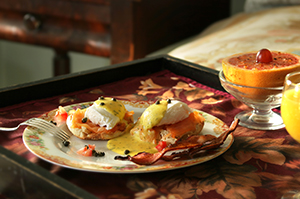 The final course features an entrée such as crème brulee French toast, "Dutch Baby" soufflé pancake with brandied apples, or a brie and herb omelet with roasted tomato. Entrees are accompanied by homemade apple-cranberry turkey sausage, maple glazed thick slab bacon, or apricot glazed pork sausage. Breakfast is served in the dining room at individual tables, on the porch or patio in the summer; or a full breakfast can be brought to your room or cottage for the full decadent touch.
Although you may be quite content to just stay on the Inn's grounds, aimlessly walking the informally landscaped footpaths and gardens, or simply whiling away the time with a good book sitting on the porch, there is plenty to do in the area. The quaint village of Lambertville, NJ and the neo-hippie enclave of New Hope, PA, separated by the picturesque Delaware River, are just minutes away, offering numerous choices for dining, shopping, and entertainment. Take the short walk across the bridge over the Delaware River for some great scenic views, especially for sunset. A stroll on the bridge can be spectacular during fall foliage.
Antique hunters will love the shops in both Lambertville and New Hope, especially the Golden Nugget Antique Flea Market, considered one of the East Coast's premier markets for vintage and retro items. Art enthusiasts will find a variety of galleries and shops featuring an eclectic collection of art, hand-crafted jewelry, and fine crafts. Serious shoppers will also want to take the short drive west of New Hope to Peddlers' Village and Penn's Purchase Outlet Center in Lahaska, PA. Peddlers' Village is a collection of 75 specialty shops and restaurants on 42 acres of colorful gardens and winding brick walkways.
For those more interested in active pursuits, the Delaware and Raritan Canal Towpath offers a flat, scenic route with plenty of shade – perfect for biking, walking or running. The towpath (the path on the NJ side is better for biking than the path on the PA side), runs for nearly 70 miles and is easily accessible from the Woolverton Inn. We brought our own bikes and enjoyed a pleasant ride from the Inn to Washington Crossing State Park, stopping for an early dinner in New Hope at a riverfront café. Bike rentals are available at Pure Energy Cycling in Lambertville or at New Hope Cyclery, which will deliver bikes to the Inn for an extended rental.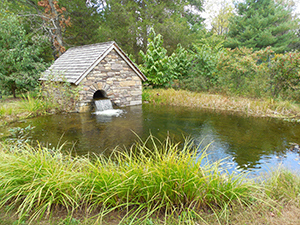 Outdoor enthusiasts will find two-and-a-half miles of inviting walking trails at Bowman's Hill Wildflower Preserve located 2.5 miles south of New Hope. The 134-acre Preserve has more than two dozen well-marked trails that wind through woodlands and meadow, along a pond and Pidcock Creek showcasing rare, threatened, and endangered native plants of the Delaware Valley Region. Other area activities include golfing; horseback riding; hot air ballooning; and canoeing, rafting, kayaking or tubing on the Delaware River.
Another popular way to spend the day is to experience some tastings and tours of the many Bucks County, PA and the Lambertville area wineries and breweries. We enjoyed a delicious tasting of wines, together with a delectable assortment of gourmet cheeses, at the New Hope Winery, located half way between New Hope and Peddlers' Village. The winery and gift shop is housed in a charming, rustic 18th century barn. The Woolverton Inn can provide you with a full list of area wineries and breweries.
For many, a visit to New Hope includes taking in a show at Bucks County Playhouse, affectionately known as "America's Most Famous Summer Theater." The Playhouse, which opened its doors on July 1, 1939, boasts a veritable who's who list of theatrical performers that have graced its stage. The Playhouse was renovated in 2012 and continues to present first-rate productions year round. During the warmer months, refreshments and drinks are available before the show and at intermission in the courtyard out front; or, for a picturesque view, on the playhouse's riverside deck.
On Saturdays, prior to the matinee, a complimentary history tour of the theater traces the theatrical history and legendary actors of the Bucks County Playhouse through the theater's collection of vintage posters and photos, as well as a short documentary.
We thoroughly enjoyed the outstanding production of Sandy Hackett's "Rat Pack Show." The show was a step-back-in-time to a great era featuring songs and entertainment of Frank Sinatra, Dean Martin, Sammy Davis, Jr., and Joey Bishop. The performers were spot on, as we could easily envision these legends of entertainment with each song.
Dining in the New Hope/Lambertville area is a treat, as the choices are numerous and the quality is generally excellent. The Woolverton Inn can provide you with an extensive list of some of their favorite area restaurants with a general description of each restaurant. We chose to dine one evening in the Wine Bar at Lambertville Station, sampling some flights of wine and a delicious selection of tapas in an intimate venue with a warm and inviting fireplace. Lambertville Station is an excellent choice for al fresco dining with its patio seating adjacent to the canal.
And the perfect finish to our exciting day in New Hope/Lambertville was to return to our cozy cottage room at The Woolverton Inn and relax with an inviting fire in the fireplace while soaking in the in-room hot tub - no wonder The Woolverton Inn is included in the book "1,000 Places to See Before You Die."
For more information, contact The Woolverton at (888) 264-6648 or visit www.woolvertoninn.com