Stronghold Castle: Live Like A Royal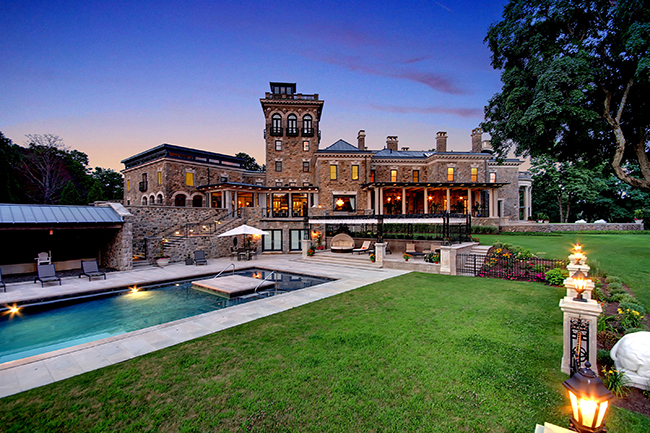 By Ed Curtis
European Royals couldn't live without luxurious surroundings and several copied the opulence of Versailles. It was a statement that they had arrived and lived for the best in life.
While today the greater majority of wealthy Americans prefer something akin to the penthouse at Trump Towers, there are those who still channel the Versailles Syndrome. Stronghold Castle in Bedminster, New Jersey, is a gleaming example of European opulence in the United States.
Bedminster has long been a haven for the uber-wealthy and many of the United States' prominent families have established estates in the area. It is known as "Horse Country" because of the proliferation of private equine stables and the genteel practitioners of jumping horses and competitions.
Built in 1886, Stronghold Castle is, arguably, one of the most amazing living structures in the United States. And that could extend to the fields of England and France as well.
Built by James Coleman Drayton, a New York banker, who was married to Charlotte Augusta Drayton, a daughter of William Astor, the castle befitted their lifestyle.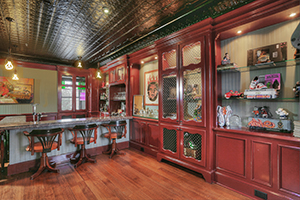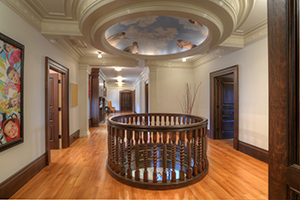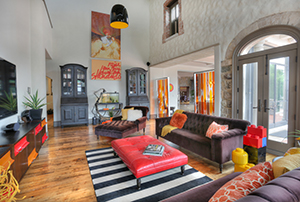 And what's a castle without a bit of intrigue? Charlotte Drayton is reputed to have had an affair with a neighbor, H. Alsop Barrowe. James Drayton found out about the liaison and challenged Barrowe to meet him in France for a duel. Such activities were highly illegal in New Jersey at the time. He wisely refused the offer and the two never shot it out on a French field of honor. Drayton divorced his wife and divested himself of the castle.
Aside from this nefarious incident there were no reports of hauntings, ghostly apparitions or any other mysterious happenings that seem to frequent castles in Europe.
The then 127-acre estate was sold in 1892 to New York lawyer, Thatcher M. Adams and his wife, also named Charlotte. In 1899 it again passed hands, this time to John Dryden, founder and president of the Prudential Insurance Company who later served in the U.S. Senate.
John Dryden took the opportunity to put his own brand on the castle and named it Stronghold. His reason for the name was never made quite clear, but he and his family used the estate primarily as a summer residence. His winter home was in Newark at a time when Newark was still Newark.
The estate during, Dryden's time, employed 50 people tending to landscaping, domestic help and some farming. Over the years the acreage was sold off and today the Stronghold Castle is beautifully nestled in a 32-plus-acre setting in New Jersey's very upscale "Horse Country."
The estate remained in the family until 1937 when the remaining Dryden family members passed away. It remained vacant and in deteriorating condition until 1940 when it sold for a mere $200,000 and was converted into a school for girls.
In 1996 the castle was closed and plans were to sell it to a financial services group that intended to use it for commercial purposes with some 150 employees working there on a daily basis. That idea horrified the upscale neighbors who mounted opposition and the plan was dropped.
By now the value was sharply on the rise and it was purchased by the founder of a technological services company for $3.2 million. The new owners, Christopher and Mary Carey began major renovations, converting the barn into a cottage. They told the Wall Street Journal that they spent about $6 million on the barn, furnishing the mansion with new roof, doors and windows.
In June of 2005 it passed hands to the current owner, fashion designer Marc Ecko and his wife, Allison, for a neat $7.4 million.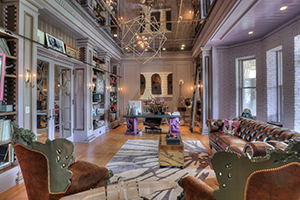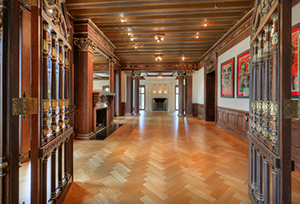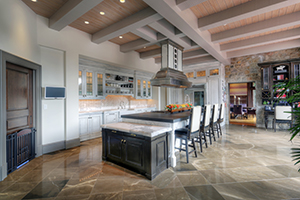 Ecko gained considerable fame and a bit of notoriety to go along with it when, in 2007, he purchased the baseball that Barry Bonds hit (for $752,467) for a record-setting 756th home run, marked it with an asterisk (to symbolize that it may have been tainted by the player's never admitted drug use) and donated it to the Baseball Hall of Fame in Cooperstown, New York.
When Ecko purchased the estate it lacked climate control and aging had taken a toll on wood paneling and interior masonry. He went to work and obtained approval to add a new entrance, a second kitchen and new garages. Then all the rooms underwent major renovation.
The designer spared no expense to make Stronghold Castle into the property he envisioned it to be. He hired some seven contractors for almost $28 million in construction work that included marble and metal installations, renovation to the Olympic-size pool, grotto and interior rooms.
The castle also features more than 30 rooms, an indoor basketball court and a large exercise room. The gymnasium holding the basketball court also features a kitchenette and lavatories and is near to the mansion itself. The Eckos lived in a nearby home during the construction phase. They ensured that the construction would beautifully restore the property, giving it the unique feel and respect for its heritage, while at the same time providing modern amenities and a warm residential home.
A new, spacious addition increases the home's historic footprint to include an informal entry to the residence, an expanded dining room, kitchen and family room, a sizeable open terrace and pool complex. There is also a garage wing.
Represented by Marilyn Hoffman of Hoffman International Properties, an international brokerage specializing in selling unique properties. Marilyn is most famous for making the largest sale n the Midwest, a 35,000 sq ft. Lake Michigan estate that she sold for the full price of $20,000,000 in only 24 days. What is remarkable is that she sold this home sight unseen to a famous California family.
A broker's representative said: "Unstinting resources were given to refurbishing virtually every aspect of its lavish architectural character while simultaneously allowing for the creation of a comfortable home. Today, sophisticated 21st century technology silently pulses within Stronghold's recesses."
The Stronghold Castle sits on its 32-plus acre estate on Bernardsville Mountain with exquisite views.
Three levels of living space in Stronghold Castle are integrated with a five-level tower that offers incomparable views that would not be able to be built today.
The residence contains 20,000-plus square-feet of living space, 22 rooms, including seven bedrooms, eight full and three half-baths, a free standing gymnasium, pool, two garages with a capacity for five cars and an unfinished stone guest house.
The more than 32-acre estate also features two polo fields and a 10-acre subdivided parcel sited with an eight-room carriage house, five garages and another pool.
While carefully protecting the historic mien of the castle and estate, the Eckos managed to give it a sense of bold and distinct style. Not surprising for a famous designer. They created a "hip and chic" vibe that does not distract at all from the classic beauty of the structure.
An office in the castle has been made into a one-of-a-kind room with brick along the outer wall that combined with the metal elements of a chandelier, projects a bit of an industrial feel.
Polished ceiling mirrors, also broken up by metal elements, give the illusion that the room is considerably higher than it really is. There is a gallery/catwalk above that also has the atmosphere of an underground art or fashion venue-thank you Mr. Ecko.
Marc and Allison Ecko invested far more than money into the estate. They put feeling and heart into the work they commissioned and recreated the grandness of the historic estate that Stronghold Castle was and is.
They infused it with 21st century luxury living that would be the envy of European Royalty.
For more information, please visit: www.StrongholdCastle.com