Christie Brinkley:
As Beautiful on the Inside as She Is on the Outside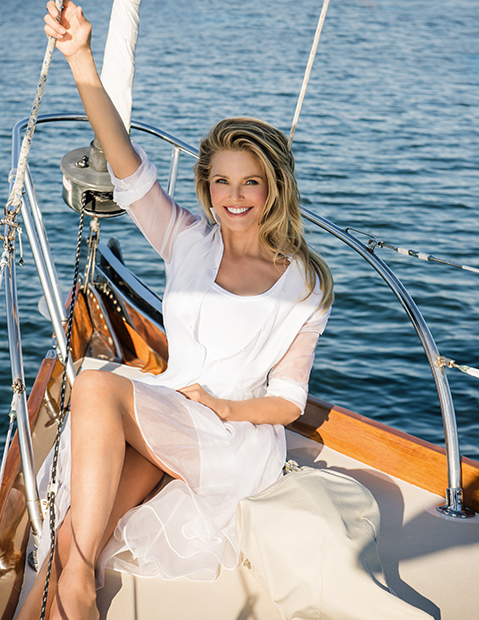 By Bob Nesoff
Christie Brinkley peered out the window of the military craft flying high over Kosovo, an area in conflict. Flying alongside her aircraft was a Blackhawk helicopter, fully armed and ready for any eventuality.
"The helicopter was there to protect us from enemy missiles," Brinkley commented. "It was an odd feeling. Then above us a flying tanker came in and I watched as a refueling line slowly moved toward the nose of our plane. Watching them synchronize was like a ballet."
"I've never experienced anything like that in my life. It was probably the most claustrophobic I've ever been."
"I flew with (then) Secretary of Defense Bill Cohen to Italy and then on to Kosovo, Bosnia and Macedonia. It was absolutely amazing to be able to get into these places and entertain our men and women in the military, to thank them for their service. For me it was an honor and a privilege to do this for them. It's something I'll never forget."
Christie Brinkley, named one of the "100 Sexiest Women of the 20th Century," by readers of Playboy Magazine, a top fashion model, actress and mother was on a trip to participate with an entertainment troupe to lift the spirits of our military serving in some of the world's hot spots.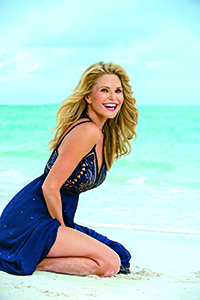 She ranked third in the "AskMen.com" survey of the Top 10 Super Models of All Time. Continuing that streak, Men's Health Magazine called her "One of the 100 Hottest Women of All Time." She was number 16 on that list.
As if to show the magazine that they were wrong and ranked her too low on the totem pole, "Pop-topia.com" listed her as number one on their tally of "10 Hottest Hollywood Women in Their 50s."
"I love working with the USO. I've had a couple of opportunities to work with them. That sprang from a show I did with Bob Hope in Annapolis."
Brinkley followed that show with appearances for other troops in other locations around the world.
At 61 today Christie Brinkley looks as young, fresh and beautiful as someone half her age. And, to be honest, she could easily pass for someone that age. She is bright, cheerful and lights up any room she enters with her blonde hair and sparkling blue eyes.
It's a good bet that her busy life helps to keep her young.
Christie has penned a new book, "Timeless Beauty," that she says has "A little bit of everything."
"When I tried to think if what I was doing right in an industry that has discarded so many people by this time, I realized it wasn't just one thing. It was a number of things. I wanted to encourage women to eat right and exercise. I wanted to share tips on makeup."
"There are experts who do my makeup and I wanted to let readers know what their secrets and pointers are. I think people should also lighten up about beauty. They should realize that it is simply not just what you put on your face. It's what you project. Everything combined should make you feel good… and do good."
There are no airs about Christie Brinkley. For all the fame and recognition she's earned, she is pretty much the girl next door. Admittedly an exceptionally beautiful girl next door, but that's the aura she projects. She is approachable and friendly with absolutely no attitude about her.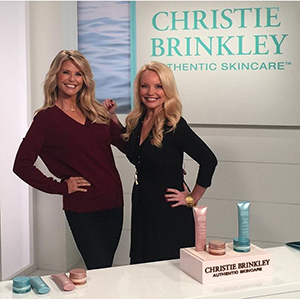 She also has a skin care line coming out.
"As a surfer girl in Malibu I wanted to create something that would work the same as the cosmetics I used myself for skin repair and conditioning. I had an opportunity to pull together some of the brightest, smartest minds; formulators and scientists."
"I wanted to come up with something that was really effective. I wanted to see results and improvements. All of this was a long time in coming. I wasn't going to put my name on just anything. The important thing to me was to do it and do it right."
"It was more than three years in the making and I am getting such great feedback from women all over. The line is modern, uses the latest technology, is vegan and is totally cruelty free-no animal testing whatsoever. It's available at Kohl's Department Stores and on TV at HSN. You can also check it out online at: www.christiebrinkleyauthenticskincare.com
Christie also credits her lifestyle for her own timeless beauty.
"I became a vegetarian when I was 13 and have never eaten meat since that point in time. I think that's a strong factor. I've also been very active. I love sports and doing things outdoors such as swimming and kayaking."
Christie is an excellent skier and is often seen on the challenging slopes at upscale resorts such as Aspen and Telluride.
"I love Aspen, but Telluride is probably my favorite ski resort. It still has that old time cowboy atmosphere and look about it."
As you might expect, Christie's children have not only inherited her looks, but are heading toward careers in entertainment as well.
"Alexa Ray has inherited her father's (Billy Joel) talent for playing the piano and singing. She just completed her fourth run at Café Carlyle where she does a cabaret act and she is a host at famed Cipriani."
Her son, Jack Paris Taubman, just completed an 18-month course at the Actor's Studio and has signed with a top talent agent. "I think you'll see him bursting on the scene in the not to distant future."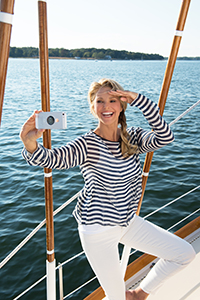 Youngest child, Sailor Lee Brinkley Cook has her prime focus on going to college where she intends to study film and photography.
How does she manage to keep her kids grounded? It's not easy when your mother is one of the most recognizable women in the world.
"I raised my children in the Hamptons. In summer the population swells and the crowds are huge. They blend in. In winter it's just the locals. And I'm just one of the locals. The kids are pretty well grounded."
Where once people would instantly recognize Christie and ask for an autograph: "Now people tend to recognize all of us and will ask the kids to sign an autograph as well. My two youngest get a bit shy and tend to meander away."
Brinkley, a self-professed "surfer girl" went to Paris to study. Why?
"I always thought I'd be an actor in Paree and I thought it was time to make that dream come true. I left with only $500 in my pocket. I went to two schools in Paris and got a job as an artist. I lived in a little garret, had a bunch of berets and was discovered there."
Her discovery was what you might have expected from a romantic movie set in Paris. In 1973 she was in a post office in that city when American photographer, Errol Sawyer, spotted her. He took her first modeling pictures and introduced her to John Casablancas of Elite Model Management Agency in Paris.
Another photographer called Eileen Ford of the famed Ford Modeling Agency to suggest she sign Christie. That led to her being booked for national ad campaigns. She made numerous appearances on the cover of Glamour Magazine and was signed to a record 25-year contract with Cover Girl cosmetics.
Christie appeared on her first Sports Illustrated swimsuit cover in 1979 and made such a splash that she was the cover girl in 1980 and 1981 as well, becoming the first model to appear on that cover for three consecutive years.
A multi-faceted person, she has written several books. Her first, in 1983, was an illustrated tome on beauty and health, titled "Christie Brinkley's Outdoor Beauty And Fitness Book." It topped the New York Times best seller list.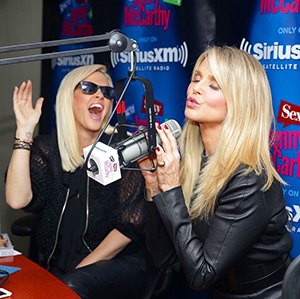 That same year she was tapped with models Cheryl Tiegs and Beverly Johnson as models for a line of toys produced by Matchbox, called "The Real Model Collection."
In 1993, putting her background in art to work, she illustrated the cover for Billy Joel's triple platinum album, River of Dreams. Rolling Stone honored her with the "Best Album Cover Of The Year."
She's also designed clothing for Simplicity Patterns and in March, 1994, helped design her line of prescription glasses and sunglasses for Nouveau Eyewear. It was named "Christie Brinkley Perspectives" and enjoyed worldwide success.
Christie released her own signature fragrance, "Believe," in 1998 and her jewelry collection manufactured by Swank, the same year.
In 1983 she had a part in National Lampoon's Vacation. She played the hot blonde (what else) in a swimming pool. She remembers:
"The pool was steaming and they couldn't have steam so they made it as cold as the temperature outside by putting huge blocks of ice in the water. It was so cold and my lips were freezing so they had to take me out of the water to thaw out. Then they wanted me to strip and jump into the water. It's 3 a.m. and no way I can reach an agent to put in a protest."
Christie won out, kept her little bathing suit on and compromised by throwing her bra at the movie's star, Chevy Chase, hitting him in the face. She has also appeared in many television shows - Parks and Recreation, Ugly Betty and more.
Some of her films include: A Matter of Trust: The Bridge To Russia (1987), About Face-Super Models Then And Now (2012), Safety In Paradise (2014),
She was born in Monroe, Michigan, near Detroit, on February 2, 1954 and was later adopted by her stepfather, Don Brinkley. Christie has been active in Democratic politics and was a delegate to the 2000 Democratic Convention in Los Angeles. In 2012 she was ranked as the third richest model.
Talking to her you would never know any of the facts about her. She comes across as Christie, the girl next door. You should only be so lucky.