Paper Mill Playhouse: Broadway West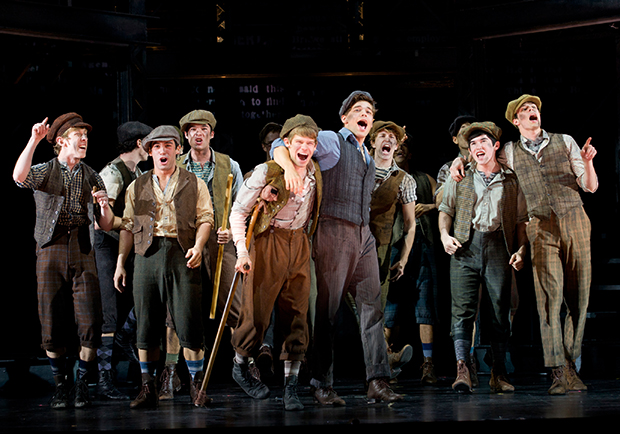 By Bob Nesoff
London's West End, Chicago and Los Angeles notwithstanding, there is little argument that New York's Broadway is center stage for theater. But there are options.
In the not too distant past, Broadway was an affordable evening for a couple or even a family. But over the years the cost of a Broadway show has climbed exponentially, outstripping inflation.
OK, so the same can be said for sporting events with tickets to baseball and football games that almost require a second mortgage. Prices have gone up for everything.
But while most sporting events may be seen on television as they are happening, there is no other choice but a theater for a live show.
Off-Broadway has produced some excellent small theater shows and a handful have even made it to the "Big Stage" on Broadway. But that is the exception rather than the rule. Most regional playhouses offer revivals of once popular shows or original compositions that are frequently little more than experimental.
Good seats at a Broadway show not only can easily top $200, but can leave that sum in the dust. Oh yes, you can choose the "nosebleed section" that butts up against the rafters, but for many people that isn't a viable solution.
There are solutions and they aren't difficult to find.
A short hop from Manhattan via car or train is Paper Mill Playhouse in the town of Millburn. Shows on Paper Mill's stage are of Broadway quality and, as a matter of fact, frequently make it to Broadway. The regional theater has frequently been an incubator for some of the Great White Way's popular productions.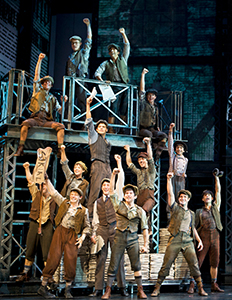 "Newsies," the Broadway hit musical, made its debut at Paper Mill. "Honeymoon in Vegas," although it had an abbreviated run in New York, started at the Millburn theater. "Bandstand," recently ended its scheduled run at Paper Mill and is now headed for Broadway.
One of the upcoming Paper Mill shows, "A Bronx Tale," from the book by Chazz Palmenteri and directed by Robert DeNiro, is on tap for later this season and is something that will make its way to Broadway.
"We are always on the lookout for new productions," commented Mark Hobee, Paper Mill's producing artistic director. "We combine revivals of popular shows with new productions so that we always have a fresh approach."
Hobee noted that he and his staff regularly attend readings and theater workshops in New York, talk to creative teams and are present at many pitches for prospective shows.
"We have a great relationship with creative teams around the country," Hobee said. "By attending these workshops where readings are held, we've developed a working relationship with many producers."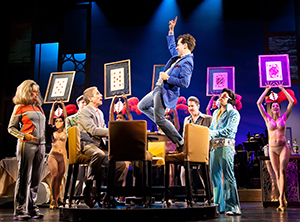 "We also have a long-term history of working with Disney productions. That's how we've managed to premiere many of their shows."
Hobee pointed to the aforementioned Newsies as well as The Little Mermaid and High School Musical. Many of the cast members from the Paper Mill productions moved with the show to New York.
"We plan at least a year-and-a-half, but try for a longer reach," Hobee said. "We are now planning for the 2016-2017 season and even beginning to plan for 2017-2018. Sometimes it's difficult to nail performers down this far in advance. We keep our options open and keep some projects floating in the air until we can nail them down."
"Our location is very challenging. It's both a blessing and a curse because we are so close to New York. That's not a problem with our audiences. Because we are within a 25-mile radius of New York, obtaining rights to a show is sometimes difficult. There are many urban transplants in the area and they enjoy good shows. Many have families with children and we have to make sure there is something for everyone."
Hobee pointed to the fact that Paper Mill has some 21,000 regular subscribers with a high percentage of them from New York.
"Staten Island alone accounts for seven percent of our subscriber base," Hobee said. "It's easier for the Islanders to come across the Verrazano Narrows Bridge than it is for them to go into Manhattan."
"We get a goodly amount of theatergoers from Manhattan," he said. "It's an easy trip by train from Penn Station directly to Millburn. The walk from the station here is only a few minutes."
Paper Mill Playhouse was, actually, once a paper mill. Built in March, 1795, it was used in various incarnations through the 19th century and into the early 20th century when it was taken over by theater people Antoinette Scudder and Frank Carrington in the late 1920s. They converted it into a theater.
The theater raised its first curtain 77 years ago last month. There were some adversities, such as a major fire, as the theater began to specialize in operettas. Change came in 1971 when the theater staged its first production of The Nutcracker, starring famed ballet dancer Edward Villella. The show has become a tradition and is produced annually.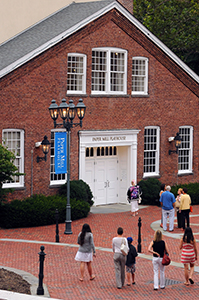 A year later Paper Mill was designated as "The Official State Theater of New Jersey," by gubernatorial proclamation. That has helped its prestige and over the years such notable performers as: Alice Ripley, Eddie Bracken, Laura Benanti, Orson Bean, Carol Channing, Kristin Chenowith, Liza Minnelli and New Jersey native, Nick Jonas have appeared on stage. That is an abbreviated list.
Paper Mill was one of the first theaters to kick-start the regional theater movement in the United States. Since then it has grown to become one of the most highly acclaimed not-for-profit professional theaters in the country. More than 450,000 people annually come to its performances. Most of its performers are top professionals and members of Actors Equity Association and other appropriate unions.
As a member of the Council of Stock Theaters, Paper Mill is permitted to pay a lower salary smaller than those of Broadway productions. It is also permitted to employ a minimal number of non-union actors, forbidden on Broadway. These two factors allow Paper Mill the luxury of charging less for tickets to its shows.
Everyone benefits under those rules. Actors, musicians and others can fill slack time with jobs and theatergoers are able to afford top-notch productions at a lower cost.
Paper Mill Playhouse
22 Brookside Drive
Millburn, NJ
(973) 376-4343
www.papermill.org