Enough Chocolate To Die For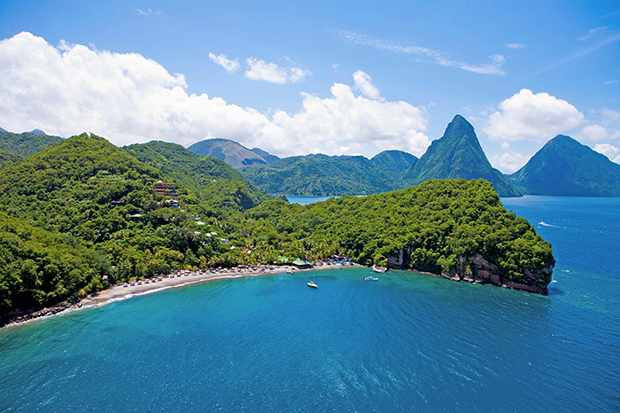 By Dale Reynolds
At the Jade Mountain Chocolate Festival you can indulge your culinary curiosity and chocolate cravings surrounded by the sumptuous setting of Saint Lucia's tropical paradise. For four days in 2016 (dates to be announced), the immersive cocoa experience at Travel + Leisure's number one hotel in the Caribbean introduces chocolate lovers and the casual cocoa nibbler to the history of the bean, including its origins as an Aztec beverage, its influence in European exploration, and its contemporary production, all while surrounded by luxurious sanctuaries, infinity pools and seamless indoor-outdoor experience unmatched in the Caribbean.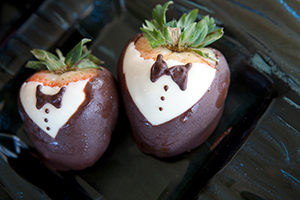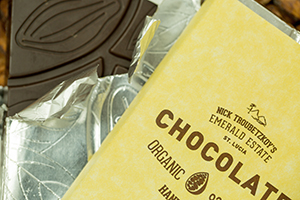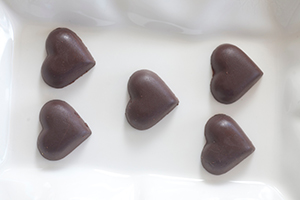 The Jade Mountain Chocolate Festival offers an expanded array of one-of-a-kind events celebrating the power of chocolate. Guests will have the opportunity to explore chocolate from bean to bar and beyond: join a cocoa bean-picking excursion while enjoying the natural beauty of the Emerald Estate Cocoa Plantation; learn about the bean's possibilities in a lively discussion with James Beard award winning chef Allen Susser; explore the varieties of Saint Lucia cocoa, from savory to sweet, and how magically it pairs with your favorite food and wines, in a hands on culinary class or tasting.
The mouthwatering festival takes place over four sun-drenched days, offering a variety of opportunities to learn about and enjoy Jade Mountain's single source chocolate. Some of the highlights will include:
The Chocolate Enthused Cocktail Party and Dinner: This opening night welcoming dinner is also the launch for Jade Mountain's own Nick Troubetzkoy's Emerald Estate Chocolate. Meet host, Chef Allen Susser, and enjoy a teasing taste of chocolate- inspired dishes and cocktails designed to excite all the senses!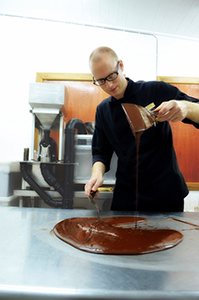 Tour of Emerald Estate Cacao Plantation and Organic Farm:  Visit the organic farm that supplies the tables at Jade Mountain. Learn about the rich history of chocolate on Saint Lucia, and discover why Jade Mountain's single estate cocoa is considered some of the best in the world. Participate in the chocolate making from pod-picking, fermenting, drying of the cacao beans to discussing the alchemy of chocolate. Chocolate sensory tasting:  A knowledgeable panel will lead you in a guided tasting, helping unravel the mysteries of the bean. Bitter, savory, sweet, lush - explore the complex subtleties of a variety of types of chocolate.
Chocolate Laboratory: Join the Chocolatier Team and learn how to temper chocolate, creating your own fudge and bars.
Chef Susser's Chocolate Truffle Workshop: Create delightful truffles in paradise while learning about the ingredients and techniques that will allow you to recreate the experience at home.
Chocolate and Wine Pairing: The complexities of chocolate meet their match with quality wines. Explore the nuances of these well-paired treats, and learn how different wine varietals create even more delight and flavor with Emerald Estate's own organically grown chocolate!
Jade Signature Chocolate Spa Treatment: Known for its antioxidant and anti-inflammatory properties, chocolate leaves the kitchen and enters the spa for therapeutic treatments. Enjoy the premier benefits of a cocoa treatment, stimulating the endorphins and refreshing and revitalizing the skin.
Jade Mountain celebrates chocolate year round. If you can't make it to the Festival, guests of Jade Mountain and Anse Chastanet can still choose from a variety of year-round chocolate-infused activities including culinary adventures, truffle making classes and estate visits. The chocolate lab is open to tours and tastings by request, and the restaurant and spa feature rotating chocolate-inspired indulgences. Special chocolate themed packages are also available, including:
Chocolate Alchemy at Jade Mountain includes a chocolate welcome amenity and cocktail, the Chocolate Lovers Breakfast in Bed celebration, a chocolate-infused one hour spa treatment per person, a learning excursion to the resort's Emerald Cacao Estate, a Chocolate Sensory tasting followed by an interactive class in Jade Mountain's chocolate laboratory to learn basic techniques of making and tempering chocolate, creating your own fudge and making a personalized chocolate bar. Airport transfers, daily breakfast and dinner are also included!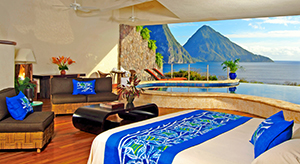 The Chocolate Alchemy package is combinable with the resort's free night promotions: A four night stay on basis of Jade Mountain's Chocolate Alchemy package starts at US $5,140 per couple and is valid for travel throughout 2016 commencing January 4, 2016.
NOTE:
Getting to Jade Mountain is easier than ever this year with new flights from various  destinations in the U.S. on American, JetBlue and Delta, United Airlines, all nonstops to Hewanorra International Airport, just 40 minutes from the hotel.
Jade Mountain
1-800-223-1108
jademountain@ansechastanet.com
www.jademountain.com