Nello: A Place To See & Be Seen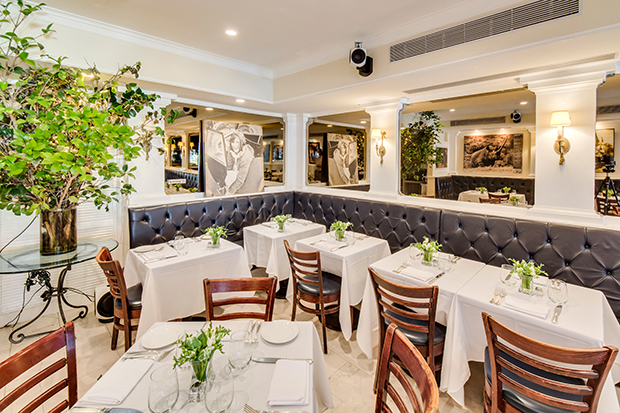 By Bob & Sandy Nesoff
There are celebrity hangouts in New York and then there are celebrity hangouts. Some pretend while others say little but are the real thing.
Nello is the real deal.
The restaurant has earned a reputation not only for excellent food, but for the A-list celebrities who regularly chow down in this Madison Avenue gastronomic delight.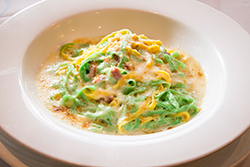 Look up Nello on any of the review sites and by far, the overwhelming response is positive with many people who have dined there giving it a four to five star rating.
The proof here is that Nello is not inexpensive, yet people still flock to it. You won't have to mortgage the house to have lunch or dinner here, but it is priced somewhat above similar eateries in New York. We've been there twice, once for lunch and once for dinner and both experiences were well above the norm.
The service was absolutely excellent on both visits and the food... you'd have to be a Type-D personality not to enjoy every morsel presented at the table. In looking at diners at other tables, it was easy to see the service they received and how they were enjoying the food.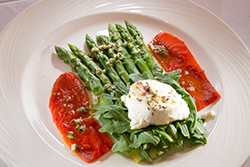 In doing some on-line research, we came across two unsolicited comments by people who have dined there:
"It reminded me of the month I spent in Paris at posh cafes and upscale restaurants," commented one guest.
"Elegant and clubby, yet you see everyone from celebrities and bold-face type names to regular folks from the neighborhood," said another.
And that is the essence of guests at Nello-celebrities mixing with non-celebrities and no one putting on airs for the other. More importantly, each guest at Nello is treated the same as top tier celebrities.
For those who like to people watch, Nello is definitely the place to park. James Bond himself, in the person of Pierce Brosnan, is a diner there. So is the California "Gubernator," Arnold Schwarzenegger, Jennifer Lopez, Sting, Selena Gomez, Marlo Thomas, Uma Thurman, Charlie Rose... the list could go on and on.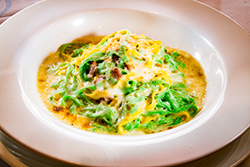 As noted, however, Joe Smith, as well, receives celebrity status at Nello.
The restaurant is quietly elegant with animal prints on the wall and bright seating areas. In warmer weather there is a wide-open front with outside dining. There is hardly a time when the restaurant is not crowded. Best bet is to phone ahead for a reservation. But if you don't have one, don't be afraid to stop by. The attentive staff will do its best to seat you.
This ambiance and its menu have given Nello the sobriquet of "The Crown Jewel of Madison Avenue." Remember, Madison Avenue is home to an array of top tier firms from advertising and public relations companies to Chanel, Giorgio Armani, Hermes Cavalli, Graff and many more.
While the restaurant is described as "elegantly casual," the fact is that you'll be more comfortable at lunch time in slacks and a sport shirt or suit than you would in sandals and cut-offs. Dinner is a bit more dressy.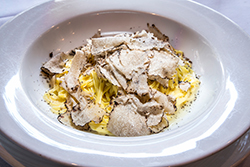 All of this being said, the menu is eclectic with a wide range of choices:
The first course salads include Carciofi-thinly sliced baby artichokes, avocado, white truffle oil and parmigiana at $29; Caesar Salad at $24; and the interestingly named "Ugly Tomato," an heirloom tomato, Italian pepper, feta cheese, herbs, olive oil and onions, is at $33.
The Nello "Original Chicken Soup" is tabbed at $25 and would make any Jewish grandmother proud.
Main courses are where Nello truly shines. Genovese is fettuccini with pesto sauce at $39; Tagliata is grilled Hereford prime rib eye and arugula at $75; Milanese-breaded veal chop with arugula and tomato, $65; and an interesting dish for an Italian restaurant, Venezia, kosher calf's liver seared in balsamic nectar and caramelized onions for $52; and one of our favorite dishes, Ossobucco, a veal shank garnished with wild mushrooms that is to die for $57.
There are wide choices from the sea as well with lobster at $75, halibut for $52 and salmon for $55.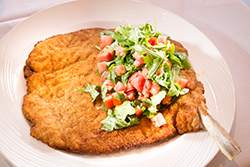 If you would like to top off your celebration with a bottle from the extensive wine list, look twice before ordering. There are less expensive, but no less wonderful choices in the range of $100 and up. If the celebration is especially important or you are trying to impress a client or first date, go for broke and order the Dom Perignon at $1,250. Or, really go for it and choose the Cristal Magnum for $5,375.
Sip them slowly... very slowly.
For dining that is both a gastronomical experience as well as a visual one, Nello is an easy choice.
Hey Derek, We're sitting over here!
Nello
696 Madison Avenue
New York, NY 10065
(212) 980-9099