Circle Line, 70 Years Old & Still Growing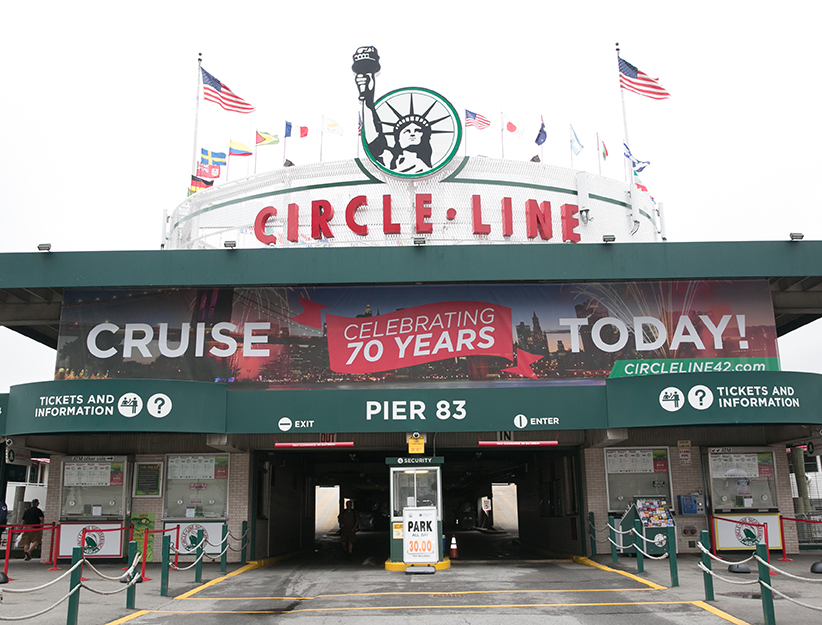 By Bob & Sandy Nesoff
At the age of 70 most people slow down, companies face a makeover, attractions begin to repair the damage and toll that the years have taken. And some have no need to do so. At a recent reception at the West Side piers in Manhattan Circle Line CEO Danny Boockvar laid out plans for the venerable river cruise line's next seven decades.
"We are making changes," Boockvar said. "We've added a Premier Class service that includes the ability to jump lines at the ticket booth, a shaded pre-boarding area to protect from the sun and weather, and an area on the upper deck with cushy seats. There will also be a restricted outdoor patio reserved for Premium Class passengers.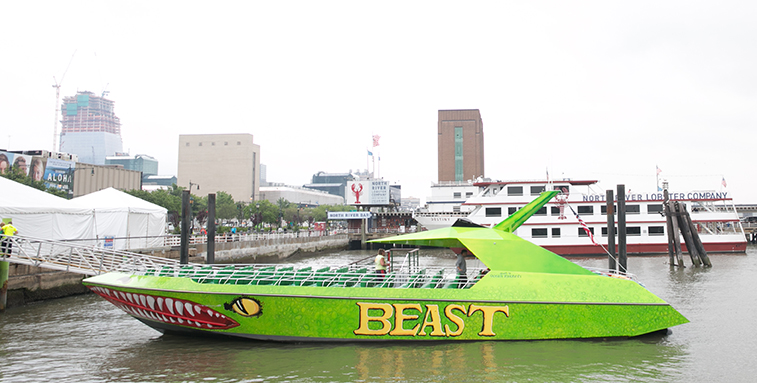 The upgraded seat will cost $25 for the "Best of NYC Cruise; Landmark/Harbor Lights cruises will go for $15 and only $10 for the Liberty Cruise. Everyone will see the same thing from the Statue of Liberty and Ellis Island to the beautiful New York skyline. The only difference will be the accommodations.
Circle Line has also commissioned the purchase of three new, modern ships to service the ever-growing popularity of the line's ability to show visitors the amazing sights of New York. The new ships are under construction at the Gladding-Hearn Ship Yards in Somerset, MA. They are expected to sail next year.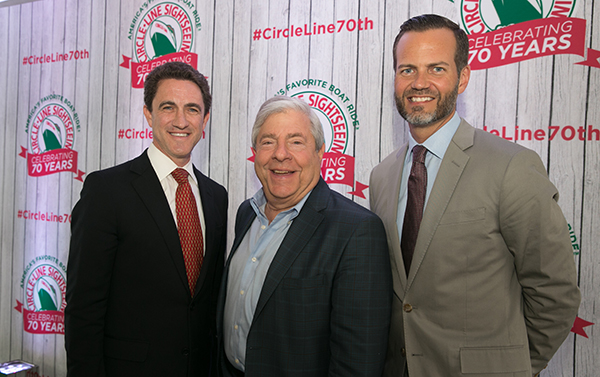 While waiting to board any of the ships visitors will be able to peruse photos and artifacts in the adjacent Circle Line Museum. Currently the Museum is housed in a tent near the ticket window. It is expected to move to nearby permanent quarters soon. The line recently partnered with Open Loop New York enabling visitors to see the city's skyline, sightseeing and the ability to "hop on and hop off" at their convenience.
While the military is downsizing, Circle Line is growing its staff and properties. Circle Line X, a WWII warship, is being refurbished. Another facet is the famed (or infamous) speedboat "The Beast."
The Beast, a high-powered speed boat that would seem to be more at home flying through Hawaiian waters, sits comfortably almost adjacent to New York Cruse Lines current and slower boats.
The Beast is painted green and has the depiction of Great White Sharks teeth and mouth decorating the bow. The boat will fly down river at speeds in excess of 45 miles an hour to perfect the fear factor of its passengers. The Beast roars to life with its passengers and takes off down river at speeds in excess of 45 miles an hour. That might not be much by automobile specs, but on the water... that's fast.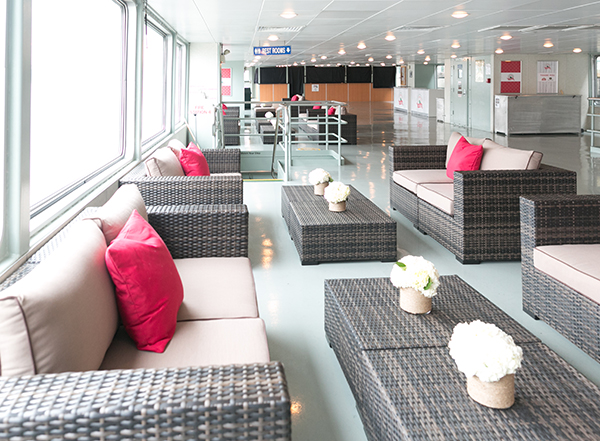 Circle Line Sightseeing Cruises, the world famous New York City sightseeing company has hosted more than 60 million passengers since 1945, celebrates a milestone 70 years of operations this year. Ensuring its leadership well into the future, Circle Line announced that it has ordered three new vessels for its industry leading sightseeing fleet. The new ships, which were introduced at an official keel laying ceremony at Gladding-Hearn Ship Yard in Somerset, MA on January 6, 2015, come as the first in a series of announcements to be made over the course of the celebratory year.
Daniel Boockvar, Chief Executive Officer of New York Cruise Lines, the parent company of Circle Line, sees the anniversary as a reinforcement of the Company's position as a global leader in tourism. Said Mr. Boockvar: "Circle Line is one of New York's known icons, and recognized worldwide as America's favorite boat ride. We will be celebrating this exceptional accomplishment throughout the year, while also introducing a number of exciting initiatives and programming that build upon our seven remarkable decades of innovation, storytelling and heritage. The first are the new vessels, which will set the standard in the U.S. tours and activities sector and provide unparalleled waterfront memories for millions of our customers for many years to come."
In addition to building towards the future, in 2015, Circle Line will reflect back and commemorate its proud heritage. During the year, the Company will encourage its guests and employees to share their most cherished Circle Line memories, and has plans to host a momentous birthday celebration in early June... As 2015 also marks the 70th Anniversary of the end of World War II, plans are being made to turn the Circle Line X into a museum and passenger terminal.
About Circle Line Sightseeing Cruises
Celebrating its 70th Anniversary in 2015, Circle Line Sightseeing Cruises at 42nd Street has hosted more than 60 million passengers in NYC. Sailing since 1945, Circle Line Sightseeing Cruises is owned and operated by New York Cruise Lines. It is New York's oldest and largest provider of scheduled and chartered sightseeing and special function cruises. Residents and tourists can choose from five different leisurely tours including a Full Island Cruise, a Semi-Circle Cruise, Liberty Cruise, twilight Harbor Lights Cruise or a 30-minute thriller boat ride aboard The Beast, coupled with convenient schedules to accommodate guests needs, state-of-the-art vessels, first class service and attentive crews. Cruises are not only designed to provide the best viewing opportunities, but to also be informative, comfortable and entertaining as well. Today, the company is recognized as one of the most famous boat rides in the world and is one of the oldest 42nd Street landmarks.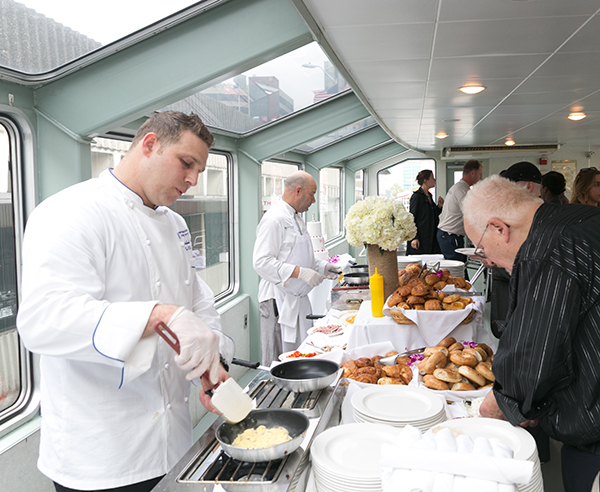 About New York Cruise Lines
Today, Circle Line, located in Hudson River Park on 42nd Street and the Hudson River, convenient to Time Square, the High Line and Hudson Yards, is the only cruise line dedicated exclusively to sightseeing, while using the most modern vessels offering magnificent views of the Manhattan skyline, year round. Circle Line's parent company, New York Cruise Lines (NYCL), also operates New York's first and finest dinner cruise fleet - World Yacht Dining Cruises, and Manhattan's very own thrill ride, The BEAST speedboat. In 2014, NYCL innovated casual dining cruising with the successful launch of the North River Lobster Company. North River Lobster Company offers fresh and affordable seafood in a convenient and casual "floating lobster shack," with up to seven sailings on the Hudson daily.