Empire Steakhouse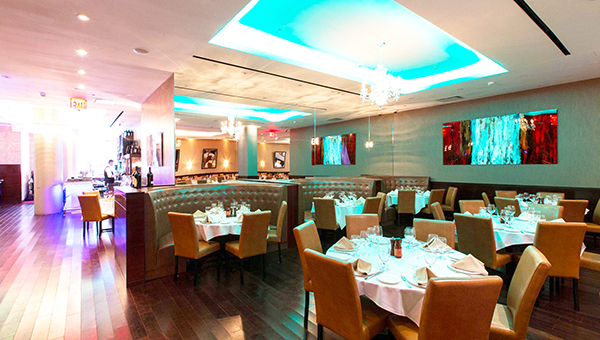 By Bob & Sandy Nesoff
It's not every night that a diner has the opportunity to sit in a seat that a previous patron may have paid $10,000 for dinner.
OK, well that was for two people and it was New Year's Eve and the offerings were on a prix fixe menu that included two pounds of Osetra caviar and wagyu Kobe beef. There was also Chateau Lafitte Rothschild and dessert of three layer torte with white raspberry and gold leaf with Louis XIII cognac pudding.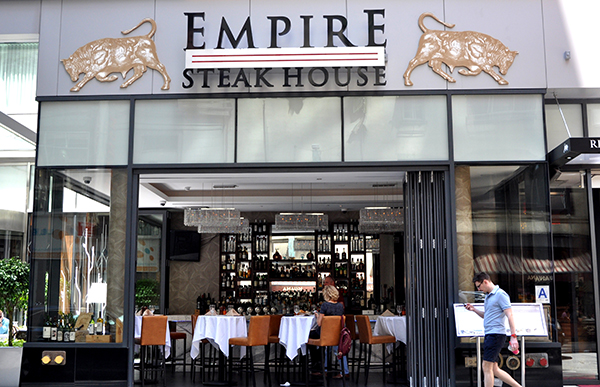 Celebrants at the Empire Steakhouse had the unique privilege of dining at this once in a lifetime opportunity.
We never found out if any of the celebrants opted for a doggie bag.
"People want something special to celebrate New Year's Eve," observed Jack Sinanaj, one of three brothers who own this upscale eatery.
Along with brothers Russ and Jeff they have developed one of the premier dining establishments in New York City. While the price list on the menu isn't exactly inexpensive, it does literally reflect the old saw that "You get what you pay for."
The every day menu lists appetizers which run from sizzling Canadian bacon at $5.25 to a jumbo shrimp cocktail at $19.95. There's a wide range of choices and prices in between. The soup choices are rather limited to French onion soup at $8.95 and the ever popular Soup d'jour at $9.95.
Salads offer a range from mixed greens ($11.95) and Caesar ($12.95) to an empire salad for two ($23.95). Traditional American fare such as burgers comes with an Empire twist; they are Kobe burgers weighing in at one pound and cost $36.95, with or without fries.
But the Sinanaj brothers and their establishment truly shine when it comes to their signature steaks.
A USDA Prime Porterhouse, dry aged in their own aging box, for two people is $93.90 and worth every penny of it.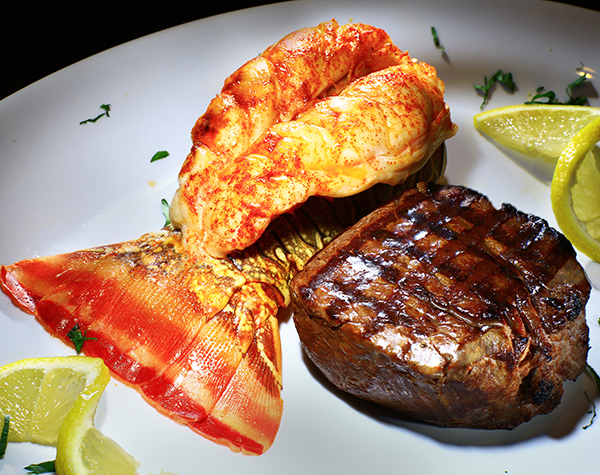 Master chefs cringe if any patron orders any meat to be cooked well done. They don't adhere to the thought that a great chef working with a quality meat will never serve anything but a great dish.
The chef at Empire Steakhouse knows how to do that.
Ordering the Porterhouse for two, with one guest requesting it medium and the other well, was absolutely no challenge. Although, the diners wondered how they would manage to cook a steak with two such diverse orders.
They did it.
The Porterhouse came to the table sliced with red showing in the medium slices and cooked through on the well done portion. The well done slices could have been cut with a butter knife. Not only were they tender, but the juices still flowed and the taste buds were awakened by the flavor.
You could have chosen any of the wagyu offerings (12 oz. rib eye at $325 or 10 oz. tenderloin at $325) and it is difficult to believe that they could have been better than the Porterhouse.
Seafood is not given short shift at Empire Steakhouse. Choices range from grilled Norwegian salmon at $30.95 to a four-pound jumbo lobster at market price.
There are only three choices in the poultry section: Chicken parmigiana at $23.95, chicken Francese at $27.95 and chicken lemon & pepper sauce for $27.95. There are several pasta choices and a range of sides to enhance any of the meals.
They pride themselves on seeking out the best available food. The dessert menu offers cheesecake from arguably the most famous cheesecake baker in the country, Junior's. The wine list to accompany any meal choice ranges to more than 300 bottles with many sought after California vintages.
While many steak houses follow in the Old World and British tradition of decorating in dark wood, small spaces and muted tones, Empire Steak House is modern and comfortable, bright but not too bright and can accommodate quite comfortably more than 200 diners. The white marble bar just inside the entrance can accommodate 50 people.
The Sinanaj brothers make it their business to move through the restaurant, not only to keep an eye on what is happening, but to make personal contact with all of the diners, many of whom have become regular return customers. Their easy going manner draws the diners into casual conversation and also gives them an insight into what customers want, is the service up to par and what about the food-is it what they expected and are they satisfied.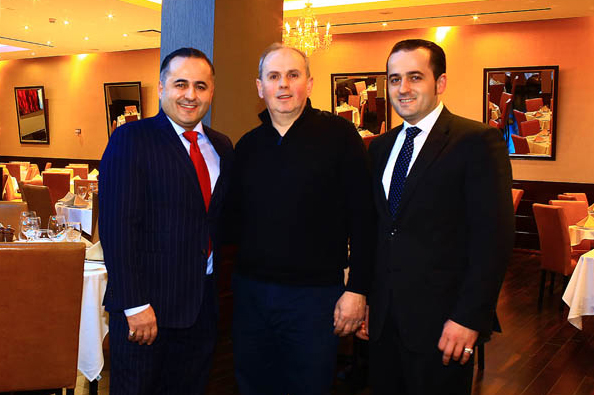 The brothers started in the business as waiters at the famed Peter Luger's steak house in Brooklyn and then jumped the river into Manhattan. They know the business from the ground up and, with more than 25 years of experience, the brothers have become exceptionally talented restaurateurs.
They make no compromise when it comes to quality and hand pick the best USDA Prime with exquisite marbling throughout. The steaks are then dry-aged for between 21 to 28 days as the flavors become more concentrated.
Oh, and don't worry about asking for a doggie back for the more than ample portions, the waitstaff will automatically bring up the subject if they see anything on the plate. And, yes, the food is just as tender and delectable the following day.
Empire Steakhouse
237 West 54th Street
(212) 586-9700
www.empiresteakhousenyc.com
Editor's rating: 4/5 Stars