Singapore Airlines New Premium Seats

By Ross Warren
Airline seats are getting smaller and smaller with many not even coming close to comfortably fitting the Great American posterior. Adding insult to injury comes the announcement that Boeing will shrink the size of aircraft lavs to something akin to the ancient torture device, the Iron Maiden, sans piercing spikes.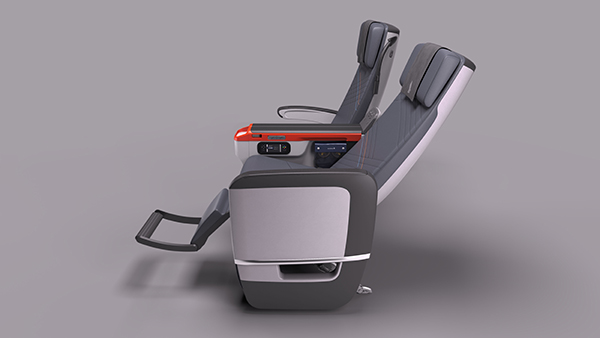 Their reasoning is that airlines using these new flying cell blocks not fit for incarceration, is that those who purchase these aircraft will be able to fit 14 more seats into the crammed space reserved for cattle class passengers.
That's not all. Some airlines are preparing to require that carry-on luggage meet new and smaller specifications. The new size requirements demand that carry-on be no larger than 21.5x13.5x7.5. Heck, we know people who have wallets larger than that.
The International Air Traffic Association (IATA), the association that obviously has a bureau of discomfort for passengers (BDP) is offering a method for the guards slated to enforce the new requirements to immediately identify permitted and contraband carry-on luggage. IATA will permit luggage manufacturers to attach an IATA logo to the suitcases identifying potential violators as opposed to those who can pass through.
The reasoning is that smaller bags will open space in the overhead bins and expedite boarding and debarkation. Unfortunately this continues the trend set after deregulation of total disdain for the paying customer.
But not all airlines look at passengers as fresh meat worthy only of extorting money from. Some, such as Singapore Airlines has announced a program to create a new Premium Economy Class. This will come with a premium fee, but at least it'll provide a greater degree of comfort for those on long trips. The new program and other in-flight offerings will enter service in August.
Following a two-year development program and an investment of about $80 million, the new seats were displayed for the first time recently at a media launch in Singapore. Launch events are also taking place to display the new product to travel agents and corporate clients.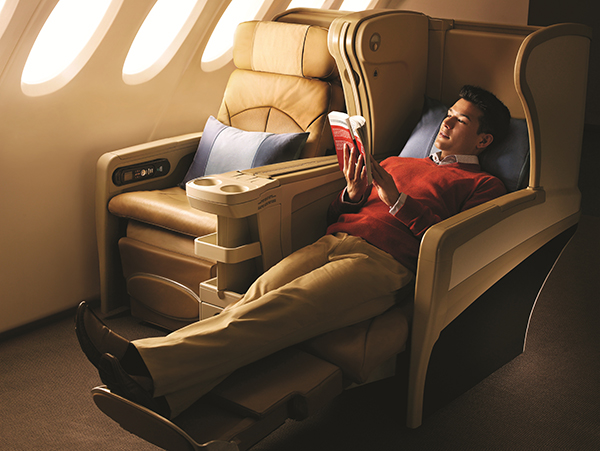 Premium Economy Class will welcome customers with a contemporary and stylish design. Each seat has a width of either 18.5 or 19.5 inches, depending on aircraft type, with an 8-inch recline and a seat pitch of 38 inches. Many other airlines offer a pitch of 36 or fewer inches (distance between the seat back in front of you and your seat).
Together with active noise-cancelling headphones and a sleek 13.3-inch full HD monitor which is the largest in its class, customers can look forward to an enhanced in-flight entertainment experience.
Other features include a full leather finishing, calf-rest and foot-bar for every seat, individual in-seat power supply, two USB ports, personal in-seat reading light, cocktail table, and more stowage space for personal items.
"Many of our customers have been asking for a Premium Economy offering and we are confident that what we are delivering will exceed their expectations," said Singapore Airlines Executive Vice President Commercial, Mak Swee Wah.
"The new cabin product is the culmination of two years of work, which included extensive research and focus group studies involving customers and our design partners. Our Premium Economy Class will provide customers more comfort and in-flight amenities. Complemented by the exceptional service that Singapore Airlines is so well known for, the new cabin class will be 'a great new way to fly'."
Premium Economy Class will provide an extensive range of food and beverage offerings, which includes the Premium Economy Book the Cook service, enabling advance ordering of a selection of main courses.
Priority check-in and baggage handling, with a generous baggage allowance of 35kg (70 pounds), will be offered to customers. Members of the KrisFlyer frequent-flyer program will also receive 10% more miles when they fly in Premium Economy Class.
Premium Economy Class will be progressively introduced on 19 Airbus A380s, 19 Boeing 777-300ERs and the first 20 Airbus A350s. It will enter commercial service on August 9, 2015 to Sydney, before being introduced to other destinations such as Beijing, Delhi, Hong Kong, Frankfurt, London, Mumbai, New York, Shanghai, Tokyo and Zurich.
Flights in the U.S. will launch later this year beginning in December in Los Angeles and New York, followed by San Francisco. Tickets are already on sale. To purchase or for any more details, visit www.SingaporeAir.com