Trinidad & Tobago Fusion Cuisine

By Jon Haggins
Trinidad is the furthest southern Caribbean Island, just seven miles from the tip of Venezuela. Several chefs told me that they prepare their cuisine in a Caribbean, European and Asia, fusion Style. After all, its local people are Africans, East Indians, Europeans, Asians and Native Americans.
Imagine the thought of the first European settlers to arrive in Tobago: the beach with its natural background of white powdered sand dotted with swaying palm trees where the wind blows to the east. Trinidad and Tobago do not have a global supply of produce as other islands, therefore everything is seasonal, which allows the chefs to be creative with what they find locally on a daily basis. There are lots of cottage industries, fishing, cattle, and pork in local markets.
Nicholas Hardwicke, the executive chef at Seahorse Restaurant on Black Rock, Tobago prepares local flair creole dishes with international flavors using local seafood. He said the sea air enhances the flavor of the food. Seahorse restaurant is located on Stone Haven Bay on Grafton Beach.
I visited Cocoa Estates where visitors can learn the history and process of cocoa in Tobago. The Estate is nestled in the green hills of Roxborough overlooking the Atlantic Ocean.
Tobago Beach BBQ experience at No Man's Land includes a variety of fresh local foods such as crab and dumplings, curry goat, grilled shrimp lobster, fish, chicken, fruits, macaroni pie. Imagine having these succulent dishes while soaking in some of Tobago's sun and crystal clear waters.
Carlson the chef at Magdalena Resort Hotel operates four restaurants, but his favorite is the Kalina Caribbean Fusion. Kalina is a fine dining restaurant with a Trinidad and Tobago flair mixed with European and Asian styles. Caribbean fusion is local ingredients using lots of pepper sauce, coconut oil and rosemary dusted over lamb chops.
The Trinidad and Tobago Hospitality Institute offers three levels of degrees; Associate, Bachelor of Science and a Culinary Management Degree. Students are trained in the culinary arts. After graduation they have an opportunity to go abroad to Italy, Brazil and France to work and gain experience.
The House of Angostura is located on a twenty acre complex in Trinidad, which includes its state of the art rum distillery, administration offices, a museum, art galley, wine and spirits retail outlet, a tasting room with a professional bartender who offer a full range of rum products made at the facility.
The San Antonio Green Market was developed in 2012 to promote healthy lifestyle choices with sustainable development for vendors from all over the island. The farmers don't use pesticides and of course they work with healthy soil to grow healthy food.
The Green Market is a great showcase for their products such as Callaloo, which is a spinach like leaf of a tropical American plant that is widely used in Caribbean cooking, sushi, jerk chicken and pork. The Green Market offers a variety of other products such as soups, lotions, coconut oil, fruits, vegetables, wines, honey and Coco products. The main aim is to encourage relationships between producers and consumers and to promote healthy lifestyle choices. The green Market is also a source for farmers to earn income and communicate with one another.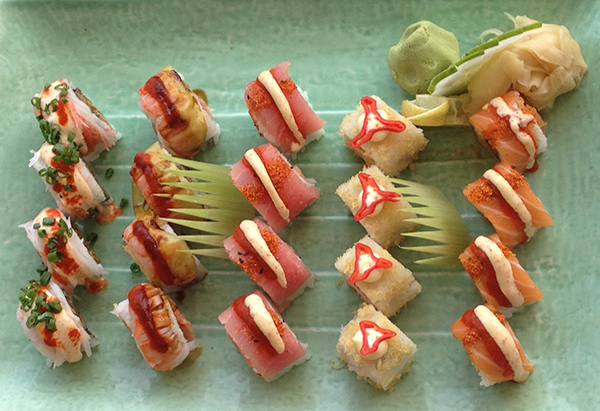 The Fanatic Kitchen Studio offers guests an opportunity to participate in preparing meals with the guidance of a variety of in house guest chefs. The Kitchen also offers Mixology lessons. You can't have a proper meal without a proper libation. Trinidad and Tobago have the best rum and Rum Punch is the national drink and it's oh so refreshing.
The night market offers a wide selection of homemade products: ice cream, local sandwiches such as the doubles. Doubles is a street food, a sandwich made with two flat breads filled with chick peas topped with mango, cilantro, cucumber, coconut, tamarind and extra pepper sauce. The Hyatt Regency Trinidad Hotel served the freshest sushi.
Maracas North Coast was a special highlight because that's where I sample shark at Richard's Bake and Shark. Bake and Shark is a Trinidadian classic street food sandwich that consists of deep fried shark stuffed in freshly baked bread complimented with lots of condiment of your choice.
Bake and Shark Recipe
Bake Recipe: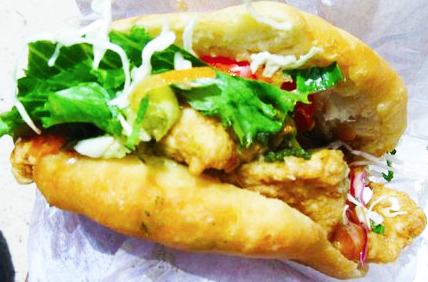 (Serves 5)
3 cups all-purpose flour *
1/4-teaspoon salt
1-teaspoon baking powder
1/2-teaspoon yeast (instant)
1 cup of warm water
1 tablespoon vegetable shortening
1-tablespoon margarine or butter
2-3 cups of vegetable oil for frying
In a large bowl place the flour, yeast, salt, margarine, shortening and baking powder. Use your hands to mix everything together. Break up the margarine and shortening. The flour will take on the consistency of peas. Now start adding the water and form into a smooth dough. Please make sure the water is lukewarm to help the yeast activate. It will take about 5 minutes of kneading to form a smooth dough. You can always use your standing mixer or food processor if you wish.
Cover the bowl with a piece of plastic wrap to make it air tight and place it in a warm corner of your kitchen. Allow it to 'rest' for about 45 minutes. Dust the top of the dough with some flour)
After 45 minutes, it's time to work the dough into smaller dough balls.  All you have to do is break the main dough ball into 5 equal sized smaller balls (like the size of a tennis ball). Place them on a parchment lined cookie sheet (after you smooth them out) and cover with a kitchen towel to 'rest' further. All it takes is 15 minutes this time.
It's now time to shape them into bake-like form and fry them. Set up a sort of station… the frying pan with the vegetable oil and a draining basket lined with paper towels.
Rub a little vegetable oil on your kitchen counter surface and place one of the dough balls then rub some vegetable oil on your fingers and start to stretch the dough while pressing to form a 6 inch (diameter) circle. Work from the center out.
Heat about 2 cups of vegetable oil on med/high and gently add the now formed bakes into the pot. Remember to place it away from your body, when adding it to the hot oil.
As soon as it hits the oil, be prepared to flip them over so that you'll have evenly fried and shaped fried balls. Allow them to cook for about 3 minutes, flipping them a couple times so each side cooks evenly. You can also spoon the hot oil on the exposed surface if you like. You're looking for a crispy surface and a golden color.
It's then time to fish them out of the hot oil and place on the paper towels to drain off the extra oil. Repeat the steps until they are all fried.
All you have to do now is slice them open and stuff with the fried shark.
Shark Recipe: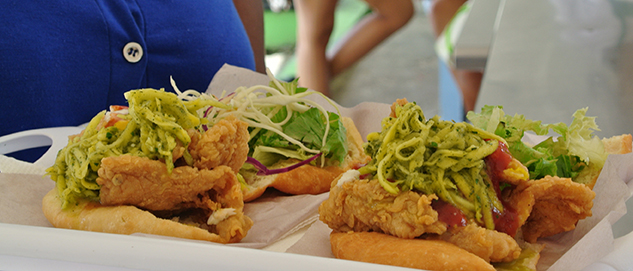 (Serves 5)
2 lbs. shark
1 lime or lemon
1/2-teaspoon salt
1/4-teaspoon black pepper
2 cloves garlic
1 tablespoon green seasoning
1/4 scotch bonnet pepper
1 cup all purpose flour
Vegetable oil for frying (about 2-3 cups)
Notes: Save a few drops of the lime or lemon juice for seasoning the shark as well.
The first step is to prep the shark (cut into thin pieces). The idea is to remove the skin, then remove the meat off the center bone and finally slice thinly.
Next up we need to wash the shark pieces with a bit of cool water and the juice of the lime or lemon. Rinse with cool water and squeeze dry. Shark 'meat' is known to hold extra liquid, so do remember to squeeze dry. Then place in a bowl and season with the salt, black pepper, crushed garlic, green seasoning and scotch bonnet pepper chopped finely.
Give it a good stir and allow it to marinate for about 30 minutes in the fridge. Personally I like frying fish outdoors as the smell can be very strong inside the house. So we used the burner on my propane grill for this step. But before we get started you'll need to create a sort of frying station as we've done in the past. Plate with flour, seasoned shark, pot with vegetable oil and a wire basket (or bowl) lined with paper towels to dry off the extra grease from frying.
Heat the oil on a med/high heat, then take each piece of seasoned shark and dust all sides in the flour, then place into the now hot oil. Cook about 2-3 minutes on each side and remember to flip. If you over-cook the shark, it may go a bit tough. Remove from the hot oil, drain and get ready to assemble your bake and shark sandwiches.
Condiments are just as important as the sandwiches themselves. So be a bit creative, top with fresh tomato, red onions, slices of pineapple, fresh lettuce and how could one forget the variety of sauces.
Now, what could be more wonderful than that?