Vail, It's A Lot More Than Just Snow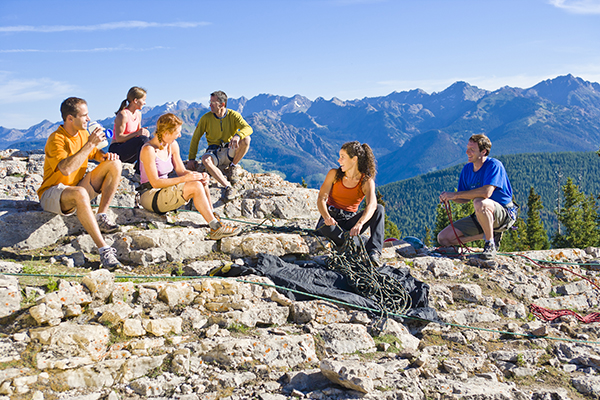 By Jodie Jacobs Photography by Erin Baiano
You stroll down a charming Alpine street backed by glorious mountain scenery but you are not in Switzerland. You listen to violinist Midori play Mendelssohn's Violin Concerto in E minor with the New York Philharmonic. It is conducted by Music Director Alan Gilbert but you are not at New York City's Lincoln Center.
The place is Vail, CO where ski trails morph into mountain biking and hiking paths, gorgeous bronze sculptures replace snowmen along village streets and strains of Mozart and Copeland float on the air from the Gerald R. Ford Amphitheater on the edge of town. www.vailgov.com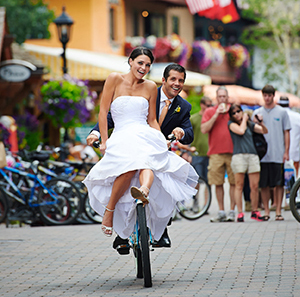 Go Exploring Set in the Vail Valley along the Gore Creek, the town teems with art galleries, home and fashion boutiques and walkways lined with wonderful eateries and art. Whether you have arrived by a shuttle bus from the Denver Airport (recommended) or rented a car and drove to Vail, you will be instantly captivated by its grand scenery and picturesque, almost Disney-like, town. www.coloradomountainexpress.com/cme-locations
Sculptures take over plazas, parks, store fronts and fountains, all overlooked by gabled roofs and Bavarian styled balconies. It's so much fun to walk the village, poke into art galleries and check out cafés for later stops that it is easy to lose track of time.
No problem. There is a free bus service. Pick up a map of the Town of Vail at your accommodations before you go walking. You will see that Vail is divided into East Vail, Vail Village, West Vail, Golden Peak, Lionshead and Cascade Village. Motor traffic is not allowed so the free bus routes go to specific sections. Indeed, taking the buses is a way to become acclimated. Other buses (ticket charge) go from the center of town to the nearby communities of Avon, Edwards, Eagle, Gypsum and Minturn. www.visitvailvalley.com/general.asp?id=51
Now, go up. You've investigated horizontally so it's time to get a bird's eye view. Take the Eagle Bahn Gondola from Lionshead Village (a short walk west from Vail Village) up to Adventure Ridge on Vail Mountain. www.vail.com/summer/mountain/summer-gondola.aspx#/HoursofOperation
From Adventure Ridge you can mountain bike, hike and horseback ride but you may just want to check out the scenery and what is available the first time up. Don't worry about fitting everything in on day one. And don't worry about heights. Good hikers manage to walk up but the gondola is glassed-in and an easy, small-sloping, non-threatening way to go up the mountain. Go for the view and snap pictures to Twitter. www.visitvailvalley.com/general.asp?id=238
The Nature of Art, the Art of Nature If you visit the Art in Vail website you will find some sculptures at the far eastern end in Ford Park (yes it's to the left on the art map because North points down on it). www.artinvail.com
You will also see art of another kind because this is home to the Betty Ford Alpine Gardens, a four-acre gem of wildflowers, waterfalls, streams and Alpine House. "This is nature's art," said Liz Campbell, head of development. She recommended visiting midday Wednesdays in July when nationally known bluegrass bands play at the garden first before their evening series in local pubs and restaurants. Check online for the Bluegrass Series schedule. www.vail.com/summer/events/vail-summer-bluegrass-series.aspx Sitting 8,250 feet above sea level, it has the distinction of being North America's highest botanic garden. No surprise that it is a perfect place for an Alpine House, an indoor "cold" house" rather than a hothouse.
"Our alpine flowers are covered with snow. Here, we can grow alpine plants under glass where they can be seen. It's a miniature landscape," said Garden Director Nicola Ripley. That is true inside the Alpine House and outside in the gardens. "It's little but it's so special. It' beautiful and the surroundings are beautiful," Ripley said. www.bettyfordalpinegardens.org/visit-us
According to Molly Eppard, coordinator of Vail's Art in Public Places program, there are more than 40 pieces scattered around Vail and not all show up on the Art In Vail website. However Eppard conducts an hour-long Wednesday walking tour of Vail Village that highlights the works while she explains the history of the valley and Vail Mountain.
A piece not on the map is that of famed artist Steve Tobin whose sculpture from his 'Roots' series whimsically sprawls in Golden Peak across from the library along the bus line. It's on loan unless someone donates it to the town. Some of the hotels have also commissioned art works and galleries often loan out pieces to sit in front of neighboring shops. Eppard says that art in public places is a natural outcome of Vail's affinity for the arts that includes music and dance. "It's important to highlight public art in a world class community that values the arts, not just for visitors but also for residents," she said.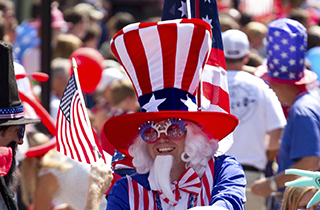 The Art of Music and Dance The Town of Vail really appreciates fine music and dance genres. Bravo! Vail is a wonderful mid-summer concert series that this year runs from July 1 to Aug. 6. Mostly held in the Ford Amphitheater, it also does some concerts in neighboring towns such as Beaver Creek. The Midori/New York Philharmonic program is July 29. The Philadelphia Orchestra, Dallas Symphony Orchestra and other guest artists are earlier in the series.
If you go the last week of July, get inside seating or lawn tickets to hear New York Philharmonic in the Amphitheater. An American Celebration with the music of Barber, Copland, Anderson, Rodgers, Bernstein and Gershwin is July 30, then Mozart and Shostakovich is July 31. Munch on gourmet sandwiches picked up in town or purchase food at the Amphitheater to picnic on the hilly lawn above the seats. www.bravovail.org
While in town catch the Vail International Dance Festival, July 27-Aug. 10. Tony award winning tap dancer Savion Glover opens the dance festival in the Amphitheater with his jazz quartet, The Otherz, July 27. Dancers from several companies, including the Compañía Nacional de Danza, Colorado Ballet, BalletX and BalletCollective will showcase contemporary to classic numbers backed by the strings of Brooklyn Rider, Aug. 2. www.vvf.org/arts/vail-international-dance-festival
Fun Food and Fine Hotels With so many choices from every type of ethnic eatery to upscale bistro, visitors can happily eat somewhere different each meal. Here are a few favorites.
At the west end of Vail is The Vail Chophouse in Lionshead opposite the gondola. This is a good place to sit outside while chomping down on excellent steaks, great truffle fries or a Mac and Cheese while watching the action. www.vailchophouse.com/location
Terra Bistro is near the east end of the shuttle route and a short hike to the Amphitheater. The restaurant is a longtime local favorite so reservations are needed. www.vailmountainlodge.com/terra-bistro
With PEI mussels and truffle fries on the menu you know Tavern On the Gore, above Gore Creek, is not your typical sports bar. But, it does have gourmet burgers and great views to enjoy when not watching your tableside TV screen. www.tavernonthegore.com
Vail visitors often book a condo. However the town has several fine hotels. Two places to stay are the Sebastian and the Sonnenalp Resort. They lie across the road from each other on the free shuttle route.
The Sebastian has a pool, spa, casual snack and breakfast market, an impressive lobby, library and art. www.thesebastianvail.com
The Sonnenalp Resort is an all-suite property with a good pool, spa, library, bar, charming breakfast space and fun casual pub. www.sonnenalp.com
No matter where you stay you are sure to have an amazing album of Vail vacation photos to look at later.
Jodie Jacobs is a Mid-Western travel writer who has traveled the globe but still relishes destinations in the United States.