Virginia Beach... It's Military, But Civilians Love It As Well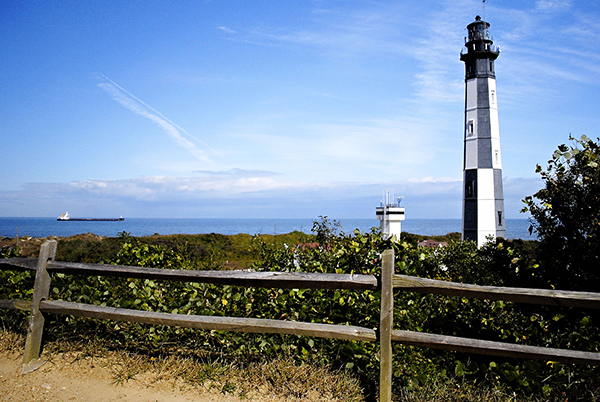 By Bob & Sandy Nesoff
There was a time in the not so distant past that Virginia Beach was a quiet, sleepy seaside town populated by tourists, mostly from the area, and the military.
That has changed.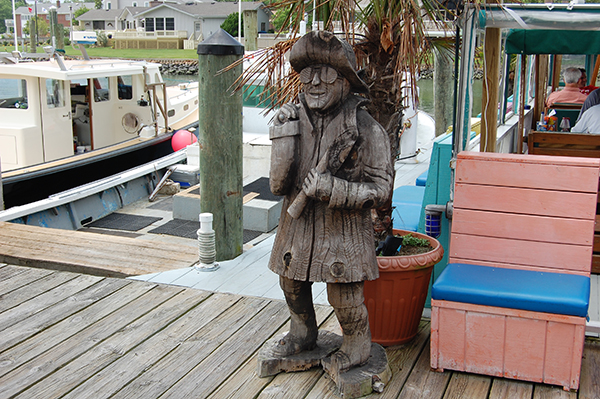 Today Virginia Beach is host to thousands of seasonal visitors with many driving down from the Northeast. And now, with gas prices dropping, it has become an even more affordable vacation destination.
The city itself, a short hop east of Norfolk, has grown like the fictional Topsy with both top grade hotels and smaller motels lining the drive parallel to the ocean front. The road is crowded with souvenir shops and others catering primarily to the tourist trade and does give the area a bit of a tacky appearance.
But appearances can be deceiving. Along that same route are affordable restaurants in elegant settings. Top of the chart are a number of seafood eateries... and how could you expect less from a seaside resort?
We stayed at the Courtyard by Marriott, Oceanfront/South on Atlantic Avenue, practically kissing the white sand beach. In fact, the boardwalk and beach were easily accessible from the rear entrance to the hotel.
The lobby lounge had added relaxation as it permitted guests to sit, talk, have a drink or whatever while watching passersby strolling on the boardwalk. Adjacent to the boardwalk pedestrian area is a path restricted to bicyclists. This restriction, however, was more ignored than observed but no one seemed to mind. In addition to traditional bicycles, there were four-seater and two seater pedaled vehicles rented from concessions along Atlantic Avenue.
While Virginia Beach has grown in popularity as a tourist destination, the military is still a major presence in the area. There are any number of military installations from Virginia Beach's Oceana Naval Air Base to Norfolk with its massive naval base and huge ships in port.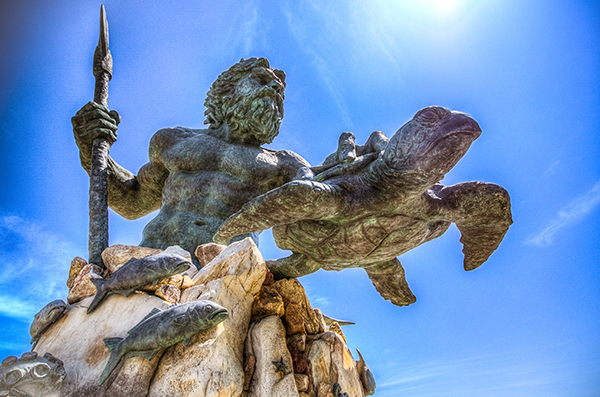 Beachgoers peer skyward to watch as fighter jets from Oceana zip overhead, pointing toward the vast Atlantic as they streak out for training missions. The scream of their engines fades to the back of your mind after the first ones pass overhead and you become used to the noise. We had a pleasant lunch interlude at Rudee Inlet at the aptly named Rudee's on the Inlet, a restaurant and cabana bar. We opted for outdoor dining and were seated in what at home would have been a covered swing set. The slight movement of the seat had the impression of dining aboard a boat being rocked by gently rolling waves.
While seafood is the mainstay at Rudee's and most other eateries, there are more then sufficient options for the carnivore.
From there we took a short hop to the marina and boarded the Rudee Flipper, a punt-nosed sightseeing boat that moved easily through the chop at the inlet entrance and out into open water. This was a dolphin watching cruise and passengers were surprised to see a pod of dolphins swimming literally yards off the shore.
They put on quite a show surfacing, diving and surfacing again. The beautiful mammals were unconcerned by the proximity of the boat and, more surprisingly, by the swimmers and those on paddle surf boards where the person stands and provides propulsion with a long handled paddle.
The boat moved slowly northward along the beachfront giving passengers a unique look at Virginia Beach. Overhead fighter jets shrieked while below dolphins put on a show. Quite a day!
Located not far from the beach is the Edgar Cayce Association for Research and Enlightenment. This organization professes to "Take your spiritual path to the next degree," and although it is not a religious group, it does come off rather mystical.
Cayce, whom some considered to be a mystic, claimed to have insight and foresight where he appeared to tell of future events. He claimed to be a healer and was an early proponent of healthy eating.
Symposiums at the Cayce ARE focus on "Haunting Experiences: Ghosts, hauntings, phantom phenomena and their relevance to our lives." Much of what the ARE espouses was hard to digest for some visitors but there was no hard push from staffers to convert anyone. More mainstream speakers at the organization include such internationally known experts as Zahi Hawass, who heads Egypt's archeological efforts and is well known from appearances on television.
Some left the ARE complex with the feeling that it bordered on being a cult, but, that being said, there are thousands of followers who have faith in the organization and the ideas espoused by Cayce.
One must stop, as far removed from Cayce's healthy living thoughts, is the Royal Chocolate at 164 Central Park Avenue in the Virginia Beach Town Center. This is without doubt Nirvana for chocoholics.
There are edible chocolate sculptures, gift baskets Royal Berries (chocolate dipped strawberries) and, best of all, platters of free samples. But understand that there is little to no possibility that you will depart this chocolate haven empty handed.
Virginia Beach, not relying on the summer sun for visitors, has developed a hugely cultural grip on the area with opportunities for the entertainment arts as well as magnificent art work.