The CIA's Best Kept Secret: Saturday Kitchens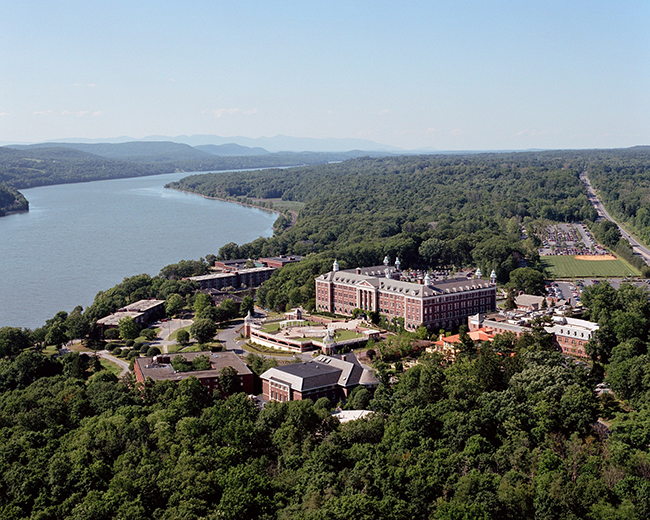 By Jeff and Stephanie Sylva
You love food – not just food, but culinary creations that excite the gastronomic senses. Your enthusiasm for food is evident, not just in the restaurants you frequent, but in your own kitchen and the meals you prepare. Rather than join the Clandestine Service, a great way to build and enhance your culinary enthusiasm is to spend a Saturday at America's most esteemed culinary school, The Culinary Institute of America, in Hyde Park, NY with a CIA chef and a class of fellow food lovers in a hands-on cooking or baking class.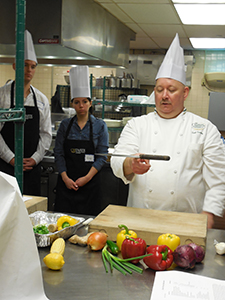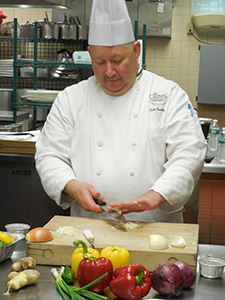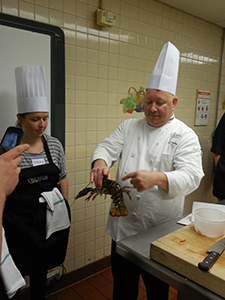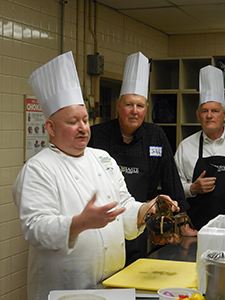 Work with a CIA chef-instructor
Whether you are a beginner in the kitchen, a seasoned gourmet, or just an all-around food lover, The Culinary Institute offers a wide variety of cooking and baking classes in its CIATASTE program. Each class is conducted by an expert CIA chef, who will share his knowledge and love for food and cooking, as you create masterful meals with your classmates in the famed kitchens of CIA. The best part of the day is to then indulge in the sumptuous lunch your class has prepared.
An endless array of cooking classes
Perhaps you have a specific passion for a certain food or simply an interest in discovering a new world of global flavors and ingredients. You will certainly find a Saturday Kitchens class that will interest you. Maybe you crave Indian or Italian food; or you want to create impressive desserts at home; or possibly you want to hone your skills with sauces and gravies. From "Artisan Breads at Home," "Cake Decorating," "Chinese Cuisine," and "Behind the Meat Counter" where you will experience a comprehensive lesson in meat butchery, to "Bistros and Brasseries" with its focus on comfort food, the choice of classes is nearly endless.
Teaming up for "Gourmet Meals"
We recently experienced the "Gourmet Meals in Minutes" class where, under the expert tutelage of Chef Scott Swartz, we learned a number of culinary techniques and skills to increase our speed and efficiency while preparing a variety of outstanding recipes. Our morning began with a continental breakfast where we were introduced to Chef Scott, who then led our group of 14 aspiring gourmands to his kitchen. After donning our CIA aprons and chef hats (which were ours to take home), we were divided into four teams, each tasked with four recipes to prepare for our bountiful feast.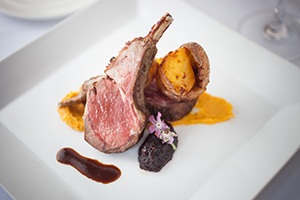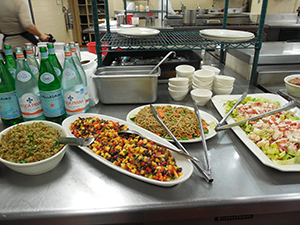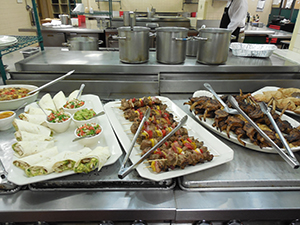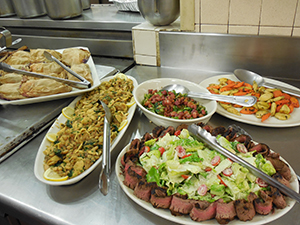 Our team of four prepared four items: a papaya and black bean salad, roasted carrots and parsnips with rosemary and sage, grilled marinated lamb chops with white bean and rosemary ragout, and mussels in a white wine and saffron broth. And with honest humility, we can say each item was outstanding. We must also say that the other three teams in our class prepared dishes just as delicious as ours. A few of the dishes included a lobster and roasted red pepper salad, jerked pork kabobs, grilled steak salad with horseradish dressing, and salmon en papillote (in parchment) with fresh herbs and purple potatoes. All ingredients in our recipes were created from scratch (yes, we were squeezing lemons and limes, peeling ginger and garlic, and shelling lobsters).
Chef Scott and his two student assistants, Travis and Isaac, provided a wealth of guidance and interesting techniques, often stopping the class to gather to watch a demonstration such as knife techniques for slicing different vegetables, constructing the salmon en papillote, and preparing lobsters for the boil. Our class spent about three hours preparing and cooking our recipes, with some time taken for the various demonstrations. Each group then proudly plated their culinary creations. We then had the pleasure of eating a wonderful lunch from our buffet of "gourmet meals." We also were able to take home some of the leftovers (you might want to bring along some plastic food containers for them). Although our preparation time wasn't exactly "minutes" (as the class title suggests), we did learn a number of techniques to increase our efficiency and ways to prepare certain things ahead of time, all of which will help save time when we try our recipes at home. For any of the Saturday Kitchens classes that don't prepare a meal, such as the various baking classes or a sweets class like "Creative Cupcakes," a buffet lunch prepared by CIA chefs and students is provided.
A great gift and a way to bond
A Saturday Kitchens class at CIA is a great way for a group of friends to get together and experience a fun class in cooking, baking, and enjoy a delicious meal with wine. It can also be a great gift idea. Maybe you know someone who would be interested in "Everyday Grilling," "The Flavors of Asia," "Global Street Foods," or how about "Everything Chocolate"?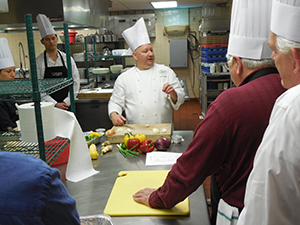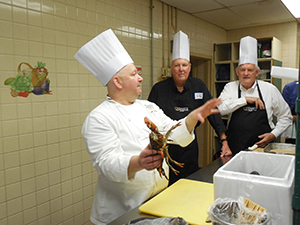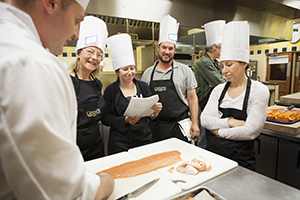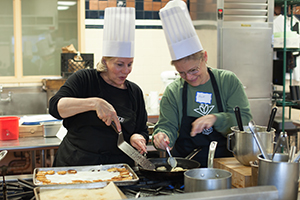 The Saturday Kitchens classes also offer a great way for a parent to spend some time together with their teen working side by side in one of CIA's famed kitchens. The usual minimum age for the Saturday Kitchens is 18 years old; however, the program devotes one of its Saturdays to Parent and Teen classes with a minimum age of 12. Teens will be relieved to know that all of the classes on these days are Parent/Teen sessions, so they will have plenty of other teens in their class to experience the joy of cooking.
Maybe you are interested in an even more intense culinary experience than a one-day Saturday Kitchens class. CIA offers a more in-depth experience in its 2-day to 5-day culinary Boot Camps. With cooking-themed Boot Camps and baking and pastry-themed Boot Camps, you will spend a few days working side-by-side with a CIA chef-instructor and other Boot Campers learning fundamental culinary techniques, gaining confidence in the kitchen, and bonding with others that have a passion for food.
"The food world's most famous classrooms"
If you enjoy fine food but don't have the desire to get into the kitchen and prepare your own by taking one of CIA's classes, you can experience the exquisite food, gorgeous ambiance and super service of one of The Culinary Institute of America's fine restaurants at its New York campus in Hyde Park. The American Bounty Restaurant focuses on the seasons and products of the Hudson Valley in its contemporary and traditional regional dishes. The Bocuse Restaurant, named for the most famous chef in France, Paul Bocuse, re-imagines the execution of classic French cuisine through the lens of ultra-modern cooking techniques. Pangea presents creative cuisine with unique flavors and an urban flair with a belief that dining should be a global adventure. For a truly authentic Italian experience, Ristorante Caterina de' Medici and the more casual Al Forno Trattoria provide exceptional dining experiences. The last and most casual of the CIA's restaurants is The Apple Pie Bakery Café, which showcases the talents of the baking and pastry arts students and faculty.
Some food for thought (pun unintended), why not make a visit to CIA a mini getaway? Student-guided public tours of the campus are available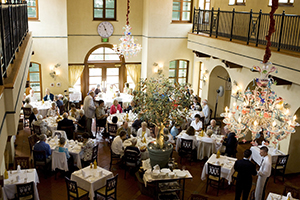 Mondays at 10 a.m. and Monday-Friday at 4 p.m., when classes are in session (tour cost is $6, reservations required). Not only will you see the students actively participating in their culinary and baking classes, you will tour the beautiful grounds of the campus. Originally founded in 1946 in New Haven, CT to provide culinary career training for World War II veterans, the CIA moved in 1972 to the expansive main campus in Hyde Park, the former Jesuit novitiate St. Andrew-on-Hudson. With stunning views of the Hudson River, the campus is quite impressive. So plan a tour for a Friday, enjoy an exquisite meal in one of the restaurants, spend the night in a nearby hotel (information available on the CIA website), and be ready and raring to cook on Saturday.
Our day at CIA reflected the school's commitment to excellence. While interacting with Chef Scott and assistants Isaac and Travis, and then talking with our student-guide on a tour of the campus, we were impressed with the hospitable and professional manner of everyone. Food enthusiasts will find The Culinary Institute of America a perfect way to embrace their passion for fine food, whether they take one of the Saturday classes or experience a meal served in one of the "food world's most famous classrooms – the CIA's public restaurants."
For information about Saturday Kitchens, CIA Boot Camps, and other cooking and wine classes call 1-800-888-7850 or visit www.enthusiasts.ciachef.edu