Pat Collins' Picks of New Home Entertainment Releases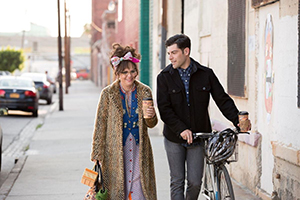 MY NAME IS DORIS
RATED R FOR LANGUAGE
RUNNING TIME: 1 Hour 35 minutes
The titular character, who lives in the modest Staten Island home she shared with her recently deceased mother, is an eccentric 60 something bookkeeper who is all but invisible to her workmates. Enter a young handsome co-worker whose friendship she mistakes for a budding romance. The plot takes a U-turn when the possessive Doris witnesses John (Max Greenfield) embracing his gorgeous blonde fiancée. Devastated by what she regards as a betrayal Doris turns into spiteful stalker and the movie is reduced to a pity party devoid of the humor that somewhat enlivened the first half of this dramedy. The reliably wonderful Tyne Daly contributes a first rate performance as Doris' best friend.
Ms. Field, a two time Oscar, winner shines in a film unworthy of her extraordinary talent.
---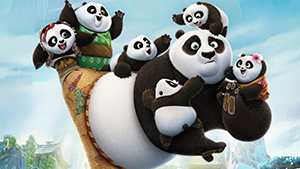 KUNG FU PANDA 3
RATED PG
RUNNING TIME: 95 minutes
In Kung Fu Panda 2, the large, lovable hero asked "where am I from?" in the franchise's third installment.
Po gets an answer when he is reunited with his biological father (Bryan Cranston) and subsequently emotionally torn between a newfound parent and his adoptive father Mr. Ping. The Furious Five are back as well and Po has a girlfriend named Mei Mei, (Kate Hudson). The other starry voices are provided by Angelina Jolie, Dustin Hoffman, Jackie Chan, Lucy Liu, Seth Rogen and J K Simmons as the villainous Kai. Panda 3 delivers humor, heart, action and a believe-in -yourself message to Po's young fans. And there are millions of them as evidenced by the global box offices grosses: Kung Fu Panda (2008) $631,744,560 Kung Fu Panda 2 (2011) $665,692,281 and Kung Fu Panda 3(2016) $516,121,844).
---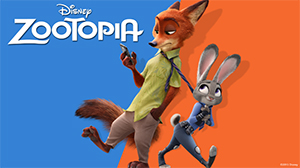 ZOOTOPIA
RATED PG
RUNNING TIME: 1 Hour 48 Minutes
Disney's delightful animated comedy pairs Judy Hoops (Ginnifer Goodwin), a resourceful quick thinking bunny with Nick (Jason Bateman), a wise cracking fox. He's a con artist. She's a newbie ambitious Zootopia police officer relegated to meter maid duty despite being number one in her class.
Not a bunny to be easily discouraged or dismissed Judy persuades the water buffalo-police chief (Idris Elba) to assign her the case of a missing otter and enlists Nick's help despite his habit of not being entirely trustworthy. One of the innumerable funny scenes which parents will especially enjoy involves a slow moving sloth behind the counter at the Zootopia DMV. Another is a rodent mobster with a Don Corleone personality. Those references will not register with young movie goers but Zootopia brilliantly and comically presents a world in which prejudice is replaced by tolerance and any good hearted hardworking bunny can hop to the top.
---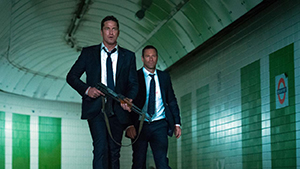 LONDON HAS FALLEN
RATED R
RUNNING TIME: 99 minutes
President Benjamin Asher (Aaron Eckhart) and his bodyguard/buddy Mike Banning travel to London for the Prime Minister's funeral at St Paul's Cathedral. In attendance are nearly all the world leaders who are killed by terrorists disguised as police officers. POTUS and the well-armed Mike survive a deadly dull game of hide and seek between them and the goons working for Pakistani arms dealer Aamir Barkawi bent on exacting revenge for a drone attack that killed his daughter on her wedding day. In the 2013 "Olympus Has Fallen" North Koreans held the President hostage in the White House. The sequel requires the Commander In Chief to keep pace with the muscular Mike as they outrun the enemy through the streets, alleys and demolished buildings of London (actually Bulgaria where most of the film was shot).
In Washington Secret Service director Lynne Jacobs (Angela Bassett) and Vice President Allan Trumball (Morgan Freeman) are powerless, having exhausted all options to prevent Barkawi from beheading the President live on You Tube. Director Babak Najafi is responsible for one of the worst movies of the year and it's most xenophobic thus far.
---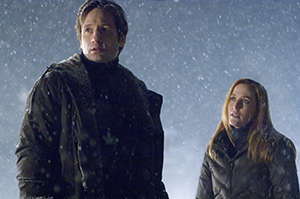 X FILES
NOT RATED
The truth is out there and on June 14 so is the complete series on Blu Ray.
The box set contains nine seasons of television's longest running sci-fi series starring David Duchovny as Fox Mulder and Gillian Anderson as Dana Scully. Also included are six new episodes in the Event Series with the show's stars reprising the roles that made them famous X-files creator and executive producer Chris Carter contributes a commentary on how the X series evolved. The Event Series can be purchased separately on DVD and Blu Ray.
---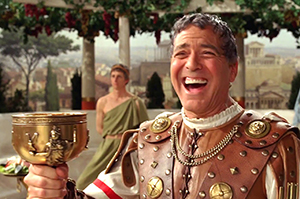 HAIL CEASAR
RATED PG-13
RUNNING TIME: 1 hour 36 minutes
Directors Ethan and Joel Cohen return to the Capital Pictures, a fictional Hollywood studio and the setting for their 1991 film "Barton Fink"
The film begins with the kidnapping of the studio's biggest star Baird Whitlock (George Clooney), a Charlton Heston like actor currently shooting a Ben Hur-like movie. Investigating Whitlock's disappearance and keeping the crime from becoming front page news is a job for Capital's "fixer" Eddie Mannix (Josh Brolin) whose responsibilities include preventing and containing scandals that would sully the reputation of the studio and its A list stars. One example of Mannix's damage control involves a pregnant Dee Ann Moran (Scarlett Johansson). He arranges for Dee Ann to adopt her out of wedlock baby in order to satisfy the media's curiosity. Mannix, a practicing Catholic devoted to his family, is based on a real life MGM fixer during the day of Louis B Meyer. The Coen's cast includes Jonah Hill, Channing Tatum- terrific as a Gene Kelly like tap dancer, Tilda Swinton playing 2 rival gossip columnists and Ralph Fiennes, a snobbish director saddled with a young awkward cowboy Hobie Doyle (Alden Ehrenreich).
I will not divulge the identity of Clooney's unlikely captors who demand a $100,000 ransom. Hail Caesar is best enjoyed by TCM viewers and AARP members who remember the waning days of Hollywood's golden age.
---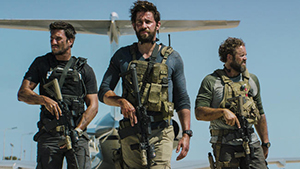 13 HOURS
RATED R
RUNNING TIME: 144 MINUTES
Americans looking for a Hillary Clinton connection to the events that unfolded when she was Secretary of State and/or a thoughtful analysis of what went tragically wrong on September 11 2012 in Benghazi are well advised to avoid "13 Hours" which runs a seemingly interminable 2 hours and 24 minutes. This is a Michael Bay production and Mr. Bay does not do subtle. His version of that horrific event is long, loud and often bewildering. 13 Hours recreates the attack on the American diplomatic compound that killed ambassador Christopher Stevens and three other Americans. A second deadly assault at a nearby USA complex claimed two more lives. The  private security officers who are called upon to control an uncontrollable situation include an ex-Navy Seal played by John Krasinski and a number of other equally brave men. I give credit to Mr. Bay for honoring those who so nobly serve our country. My wish is for him to do it as well as Clint Eastwood.
---